Beijing Lili West (Closed)
5860 N. Mesa St.
El Paso, TX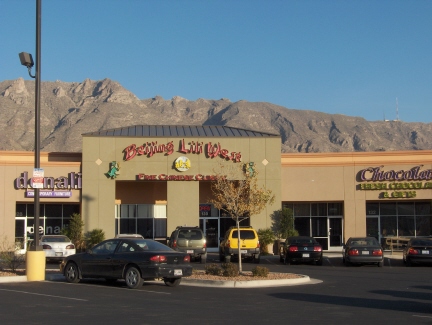 The west branch of Beijing Lili, originally located near the UTEP campus, became popular largely because of its buffet. When Beijing Lili West relocated near Sunland Park Drive, it underwent a total change in concept, eliminating the buffet and serving "bistro style" food. I interpret "bistro" to mean that items are served individually, and if you want soup or an egg roll, these cost extra (although Beijing Lili does offer some combination lunch plates that include these items).
Changing to a bistro also gives the expectation that the food will be individually prepared and higher quality than the typical buffet restaurant that builds its reputation on serving large quantites of food at cheap prices. Beijing Lili West certainly raised its prices to the level I would expect in a more upscale Chinese restaurant, although I think the prices are only high by El Paso standards (and not compared to large city Chinese restaurants).
The Hunan and Kung Pao sauces are the best ones here, but do not have the complexity or flavor I find in high-end Chinese restaurants. The garlic sauce does not have as good a flavor as I can find elsewhere in El Paso.
There are eleven items served as lunch specials (available seven days a week), but none are tofu dishes. The Hot and Sour Soup that comes with the lunch plates is one of the best in El Paso, and lunches are the best deal if you like any of the limited number of items being offered, but are not good for vegetarians.
The Tofu Family Style has very good tofu and vegetables, but the sauce does not have offsetting flavors as it should, and is too sweet.
Pan Fried Noodles make a good meal if you desire a more traditional Chinese dish, and also if you have a pretty big appetite. It comes with a dark sauce that contains a generous amount of soy sauce, and the flavor is not noteworthy when compared to some of the more authentic Chinese restaurants. The ingredients are good, though, including the chicken and shrimp that are normally served with the dish.
One of the biggest problems with Beijing Lili West is with the hot tea. The menu advertises that you get "herbal tea," but the jasmine tea (and probably some others) are actually made with bags of ABC tea, the cheapest institutional grade tea that is served in almost all El Paso Chinese restaurants. Not only is this nothing special--they charge $2.50 for a pot with two tea bags, and they charge another $2.50 if you get a refill.
I have also noticed a drop in the food quality since the restaurant opened. While the chicken dishes started out as white meat, they now contain a majority of dark meat. The worst thing, though, is that the food started out to be MSG-free, but now it is being added. Some dinners can be prepared without MSG, but there seem to be quite a few pre-prepared sauces and other ingredients, and these quite likely contain MSG.
Beijing Lili West has a pleasant décor that is comfortable rather than making me feel that all my money is going to pay for the building (as at P. F. Chang's). Also there is a piano bar on some evenings with live performances. The owner of the restaurant also puts on an excellent piano performance. As for the cuisine, though, Beijing Lili West has not lived up to the expectation I had when it first opened. It is to be applauded, though, for at least bringing the food to a higher level than is found in the majority of El Paso Chinese restaurants.
Go to Index
RESTAURANT DETAILS
RATING: 17
Cuisine: Chinese
Cost: $$
Hours: Open Daily
Accessible: Yes
Tea: Jasmine
MSG: Yes
Smoking: No Smoking
Alcohol: Beer
Buffet: No
Most Recent Visit
Nov. 24, 2006
Number of Visits: 10+
Best Items
Tofu Family Style, Hunan Chicken, Pan Fried Noodles, Hot and Sour Soup
Special Ratings
Hunan Chicken:


Hunan Tofu:


Tofu Family Style:


Pan Fried Noodles:


Kung Pao Chicken:


Tofu with Garlic Sauce:


Hot and Sour Soup:


Egg Roll:

MORE ABOUT THIS WEB SITE