Bella Napoli (Closed)
6331 N. Mesa St.
El Paso, TX



Bella Napoli was built when this portion of Mesa Street was more rural than urban, and the "red sauce" Italian food served here has not seemed to change since the era when it became one of the most popular types of dining destinations for American families. Bella Napoli has since faced increasing competition not only from chain Italian restaurants, but from a number of other small family run operations that I think better typify the various styles of food that would be served in Italy. Bella Napoli seems to have maintained its popularity over the years, though, not only because the quality has stayed consistent, but also because of the personal attention customers receive.

With the restaurant set back from Mesa, it could easily be missed unless you look for the sign next to the street. The restaurant itself has the feeling of an Italian villa with a fountain in front and an outdoor patio in back, creating the perfect setting for Italian "comfort food." Live music is frequently performed, always being the type of classical or soft music that contributes to an intimate and leisurely dining experience.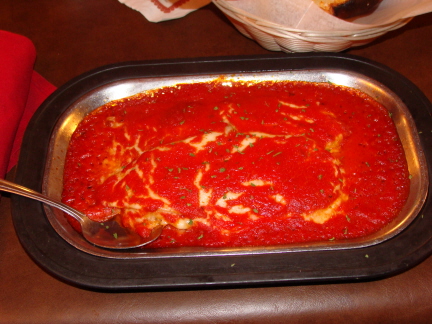 Bella Napoli's famous eggplant parmigiana
Bella Napoli's staple red sauce sometimes seems very bland and nondescript except when served on my favorite dish here, the Eggplant Parmigiana. Somehow you don't even think you are eating a vegetable with this dish--it almost has the texture of veal or chicken. The slices of parmesan cheese on top may be a key to the dish being so enjoyable. I would judge the eggplant to be better at Michelino's, but the one at Bella Napoli is quite unique, and the combination of the eggplant, sauce, and cheese make it one of the most enjoyable ones to eat. Eggplant is something I do not enjoy eating except when it is cooked just right and preferably disguised to taste like something else, and I think that is what Bella Napoli has done. Even though I have been disappointed by some other dishes here, I always enjoy the eggplant.
There are no other entrées that I like quite as much as the eggplant parmigiana, but if you order anything else I would recommend getting something that comes in a half order, since full orders are huge (and expensive). The Manicotti and other non-meat items are probably average to above average for Italian restaurants. Whatever magic Bella Napoli does to the eggplant does not seem to come through as much with the manicotti.
Lasagna has been more enjoyable than some of the other pasta dishes. I am not completely thrilled with the red sauce (I think I mentioned that already), and ordering the meat version does not really improve the taste but it at least adds another element to the mixture of flavors that are served. The baked pasta served in the lasagna, though, was actually surprisingly good after a long period in which I had not ordered the dish. I know other restaurants serve better lasagna, but the one here is good if you want something simple cooked correctly. Sometimes Bella Napoli offers nightly specials in which lasagna or other dishes come at a lower price than a half order of eggplant or something else I would normally order. When lasagna is on special, I certainly think it is worthwhile.
The Cheese Pizza lacks the variety and to some extent the flavor that I like for a dinner entrée, but I do like it when it can be shared by other people as a supplement to the "regular" menu items. This is the type of pizza I used to eat across the street from high school in which we would have to wash our hands before returning to class to get the grease off our fingers. I mean all of this in a good sense, since I certainly think Bella Napoli has one of the better versions of this type of pizza.
The House Salad uses the typical iceberg lettuce found in El Paso that varies in color from pale green to a few darker leaves. The tomatoes also taste like the commercial variety, but at least they are good enough that I usually eat them. The house dressing, though, is great, and I always try to get a salad with my meal (the small salad is priced pretty reasonably when compared to other Italian restaurants). On a recent visit the lettuce was crisp and fresh enough that I do not think any of it remained uneaten except for the heart that got a little bit too crispy for me. Like much of the other food at Bella Napoli, the salad does not represent fine dining, but it is very good.
I think many people go to Bella Napoli for the garlic bread, either consciously or unconsiously. These are the kind of rolls with garlic butter smeared on them that make you think you are being served a cheap substitute for real Italian bread until you notice at the end of the meal that the rolls have magically disappeared. Like much of the other food, I think one of the keys to the bread's enjoyability is not so much any gourmet ingredients as the fact that they are usually cooked just right without being either burned or cold.
Bella Napoli reminds me of some of the "old style" ethnic and Tex-Mex restaurants which I have enjoyed since I was growing up. I know there is probably more authentic food to be found at some of the newer restaurants, but I like the way the old favorites do things, and I really do not want them to change very much. I do not have much advice for Bella Napoli except to keep doing what they are doing.
Go to Index
RESTAURANT DETAILS
RATING: 18
Cuisine: Italian
Cost: $$$
Hours: Dinner Wed.-Sat.; All day Sun.
Accessible: Yes
Smoking: No Smoking
Alcohol: Beer, Wine
Most Recent Visit
Feb. 21, 2010
Number of Visits: 10+
Best Items
Eggplant Parmigiana, Pizza, Salad
Special Ratings
Eggplant Parmigiana:


Lasagna:


Manicotti:


Pizza:

cheese
Salad:

house dressing
MORE ABOUT THIS WEB SITE