In trying to figure out what Bistro East is all about, it is probably instructive to look at other restaurants in El Paso. There are a number of Mexican restaurants, and the majority of the others specialize in a certain cuisine such as fish, barbecue, steaks, etc. Trying to find an eating establishment that does not fall into a niche category can be rather challenging. One of the hardest things to find in El Paso is the type of American restaurant that serves a variety of dishes and has that "home cooking" flavor that is so prevalent in the South or Midwest.

I began to understand Bistro East when I heard a little bit about its story. Several owners have come together in a collaboration of talents in order to provide "something for everybody." The former baker at Lo Mart is now baking the home made bread that is served at Bistro East and is for sale to take home. (I assume this was the baker from Lo Mart East, since the one from Lo Mart West has opened International Bakery and Deli on the west side). Another owner oversees the kitchen. I get the impression that most of the people involved in Bistro East have been around the food business for quite a long time, and they had their own vision for this restaurant.

The menu at Bistro East is so varied it is hard to categorize. A large part of the food consists of the American dishes that are so hard to find at other restaurants. Mexican food is served, and I think they have included all the types of food that any of the partners think will taste good. If I had to identify a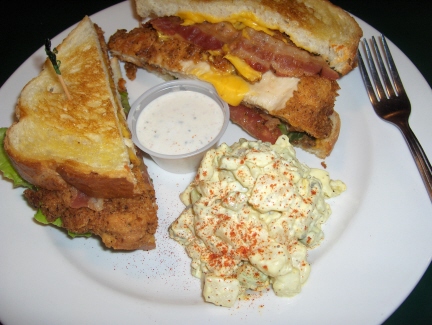 predominant style, though, it seems to be Southwest. There are a number of dishes that are not Mexican, but use the characteristic Southwestern ingredients that have been developed into their own type of cuisine.
The Dagwood Sandwich has received some notoreity with a write-up in the local newspaper, and with Bistro East saying it is their most popular item. This is a sandwich that I would classify as Southwestern, with a tangy avocado spread providing a heat factor that is close to that which is found in most local Mexican restaurants. The sandwich itself, though, is quite complex, with as many different ingredients as Dagwood Bumstead would pile between two slices of bread. The bread used here is baked on the premises, as is all the bread that is served. The "meat" of the matter is the deep fried chicken breast that I found juicy and flavorful. I remember that the Lo Mart deli had nothing but high quality meat, and this seems to be the case at Bistro East as well. The meat is topped with melted provolone cheese and strips of bacon (to me it did not sound very good, but it turned out better than it sounded). Surprisingly, a creamy dipping sauce balanced the other flavors almost perfectly to make a good sandwich even better. Probably the only thing I did not like very much was the fact that it was fried, but I knew that before ordering, and I am always anxious to expand my food horizons with new and different things. In this case I am glad I got to experience Bistro East's signature sandwich. I could not feel as guilty about eating fried food as I wanted because of the fact that everything was fresh and home made, and it probably had enough nutrition to balance out the fried part.
Several side dishes are available, such as the Potato Salad that came with my plate. These were chunks of potato with a mustard and mayonnaise sauce. The quality reminded me of Lo Mart, but the style was different than the potato salad served at International Deli, El Paso's other successor to the Lo Mart deli food.
A number of sandwiches are served, and if they are all made with the same care and balancing of flavors I found in the Dagwood, I would be quite happy with just about any of them.
The key to Bistro East, then, may be that it has found its own niche in the El Paso restaurant scene. It specializes in serving a number of different types of food, and in striving to maintain a consistent quality. There are all too few restaurants in El Paso that do the same thing.