Important Notice:
An update of this review can be found at okgourmet.com .
Los Bandidos de Carlos & Mickey's
1310 Magruder St.
El Paso, TX
(915) 778-3323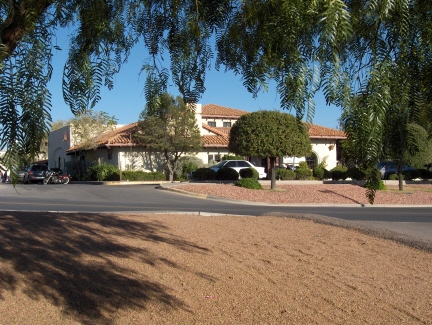 Carlos & Mickey's (as it is known in town) has a well-deserved reputation as one of El Paso's premier Mexican restaurants. The enormous restaurant (by El Paso standards) is usually packed on weekdays, and almost impossible to get in on weekends.
One reason for its popularity is that it is a good family restaurant--there is a wide variety of menu items, mariachi music (sometimes), and adult beverages for the grown-ups (it is reputed to have good margaritas). Like many of El Paso's more upscale Mexican restaurants, there does not seem to be any one outstanding item, but almost everything is good.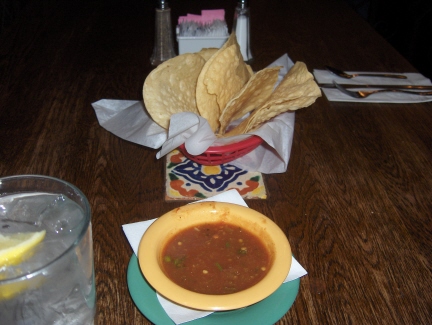 Salsa and chips at Carlos & Mickey's
The chips here are more impressive than most, with large round tortillas cut in half and arranged in a container so that you break off what you want to eat.
The Salsa was a little too generic for me, not having a distinct flavor that made it special. Although it was very fresh, it seemed to get most of its heat from jalapeños rather than the local chiles used in many restaurants' versions. The recipe also seemed to rely way too much on cilantro for flavoring. It was a good representation, though, of the type of salsa usually served around El Paso.
For first time visitors I would probably recommend the combination plates, since part of the appeal of Carlos & Mickey's is the mingling of different flavors and the presentation of the different colors. Everything is fresh here--nothing tastes as if it comes out of a can (as is the case in some restaurants). Although the heat level of the red chile is not as high as would be found in northern New Mexico, it is pretty spicy for El Paso, and it woud be advisable to order some non-spicy items (tacos, flautas, etc.) along with the spicy ones (enchiladas, tamales, or rellenos).
Red Enchiladas are a standard item I order at just about any Mexican restaurant. The ones here are spicier than most of the ones served in El Paso, and are near the top in flavor.
Carlos and Mickey's also serves a steamed version of the red enchilada without cheese in the "light and healthy" section of the menu. It did not have as much flavor without the cheese, but I still liked the red chile. I think this is a good choice for those who want a meal with less calories but still with quite a bit of flavor. (It does have chicken, though, so it is not vegetarian).
One interesting twist here is the way the Green Enchiladas are made--they are topped with a melted cheese queso sauce much like the sauce served on the "cheese tacos" in Oklahoma, except the one here is ten times better. It is not the typical El Paso style green enchilada, and is not the one that would receive my highest recommendation; still it is very enjoyable for those of us who grew up eating Tex-Mex.
The Tamales have a flavorful corn masa and are topped with the same red chile used on the enchiladas. While I think there are some tamale stands and hole-in-the-wall restaurants in El Paso with better tamales, the ones here are some of the best to be found among the sit-down restaurants in the city.
The Chile Relleno uses a somewhat mild chile, but the red sauce poured on top has a high level of spiciness. The batter is about medium in greasiness, and overall I think it is above average in flavor. The chile does not taste like the spicy New Mexico variety, but is more like the Anaheim variety that is milder with somewhat less flavor.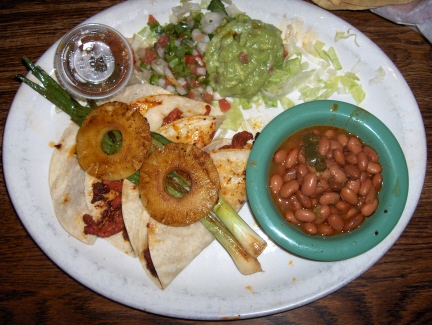 Tacos al pastor with pineapple on top
Tacos al Pastor are an example of one of Carlos & Mickey's menu items that give a wider choice than is typically found in El Paso restaurants. These are pork tacos that are quite popular in Mexico City but not served very often in the El Paso "border style" restaurants. To me the tough meat showed, though, that this was not really one of the restaurant's specialties. I think the fact that Carlos & Mickey's serves a lot of items does not guarantee that they will all be as good as the restaurant's signature dishes.
I certainly have not tried everything at the restaurant, but I do have a theory about Carlos & Mickey's. While about ninety percent of El Paso's Mexican restaurants have better meat dishes than enchiladas, chiles rellenos, and other items without meat, I have enjoyed the non-meat items more at Carlos & Mickey's. I do think some of the restaurants that specialize in tacos serve better meat than Carlos & Mickey's, but Carlos & Mickey's has some of the best red chile, chiles rellenos, sauces, and other ingredients that are used in the non-meat items. Most restaurants in El Paso used to serve good enchiladas, and Carlos & Mickey's is one of the relatively few that still does. It is not perfect at everything, but it is good at many things.
The main drawback of Carlos & Mickey's is that it does not serve horchata or other authentic Mexican drinks. It is a large restaurant and has to use somewhat of an "assembly line" approach to prepare the food. It always seems to be good quality, though, and I have never had anything that did not taste fresh. It is a bit overpriced, but good if you want a sampling of a lot of different things. I hear it has good margaritas (but of course I would not know about those things firsthand).
Go to Index
RESTAURANT DETAILS
RATING: 22
Cuisine: Mexican El Paso
Cost: $$
Hours: Open Daily
Accessible: Yes
Smoking: No Smoking
Alcohol: Beer, Wine, Margaritas
| | |
| --- | --- |
| Chile Index: | |
Most Recent Visit
May 7, 2008
Number of Visits: 10+
Best Item
Tacos, Chile Relleno, Tamales
Special Ratings
Red Enchiladas:


Tacos:


Tacos al Pastor:


Chiles Rellenos:


Tamales:


Chips:


Salsa:

MORE ABOUT THIS WEB SITE