Casita Linda Mexican Restaurant
5315 Hondo Pass Dr.
El Paso, TX
(915) 757-9025

Casita Linda is one of the many neighborhood Mexican restaurants in El Paso that tourists rarely find, but has the type of food I think out of town visitors envision when they come to the borderland for its nationally known cuisine. There is a good reason Casita Linda is not well known--it is located on a relatively little traveled street in the part of the city that is as far away from Interstate 10 as it is possible to get. However, readers from Alamogordo or who regularly travel on U.S. 54 have told me they make regular stops at Casita Linda, partly because although the Mexican food in Alamogordo is good, it is not quite the same as can be found in El Paso.

As a former resident of northeast El Paso I know I have been to Casita Linda, but I do not know how many times. For the purposes of this web site I am "starting over" on my count of the number of times I have visited. The point is, though, that the length of time Casita Linda has been in business for me to remember it as long ago as I do makes it one of El Paso's established institutions in Mexican food. In fact, it is almost the stereotype of the unique El Paso style Mexican food found along the border. A variety of items are good, but probably the best thing that can be ordered is a combination plate with contrasting flavors, colors, textures, and levels of spiciness.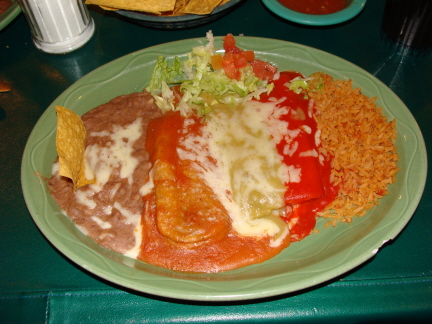 Combination plate with refried beans, chile relleno, green enchilada, red enchilada, and rice
Casita Linda allows substitutions on the combination plates, so the one shown in the photo has two types of enchiladas but no taco. Otherwise, though, it is probably representative of the most popular plate served at the restaurant (the other combination plate I remember seeing on the menu offered more items, but substitutions would allow customers to get just about anything they wanted).
The spiciest item served was the Chile Relleno, and it was also one of the best. The breading was light and fluffy (sort of the Mexican version of angel food cake) and the chile had a good heat level. The cheese was in the state of being semi-solid and semi-liquid that typifies a good chile relleno, and the tomatillo sauce was flavorful. This was a classic El Paso style relleno.
Like most El Paso style restaurants, the Red Enchilada had the deep red color that distinguishes it from Tex-Mex enchiladas. The flavor made it obvious that the owners know how to find good chiles to use in the red sauce. Every restaurant in El Paso used to serve enchiladas like these, and many are now changing but Casita Linda still does it the traditional way.
I also knew what to expect from the Green Enchilada--something less spicy than the red enchilada with pureed green chile (the classic El Paso style). This is the one that I think New Mexico chile aficionados would have the most trouble with since the chile is quite mild and seems to have more additives than the red chile. Still, though, I cannot say this is like Tex-Mex food since I have never seen Tex-Mex restaurants serve green enchiladas with this type of color or flavor (the flavor is quite good despite being mild).
I thought the beans and salsa were both excellent. The only aspect of the meal that was not memorable was the chips.
The restaurant is so small that if tourists "discovered" it there would probably not be enough room for them all to sit. I do think, though, that if I could compose a list of about ten restaurants where people could go to get classic El Paso style Mexican food Casita Linda would be included. For those going to or coming from Alamogordo, it is also one of the most convenient. Like many El Paso restaurants it closes early (about 8 p.m. on weekdays), but otherwise it always seems to be there, helping it fit into the category of "comfort food."
Go to Index
RESTAURANT DETAILS
RATING: 23
Cuisine: Mexican El Paso
Cost: $$
Accessible: Yes
Smoking: No Smoking
| | |
| --- | --- |
| Chile Index: | |
Most Recent Visit
Feb. 27, 2010
Number of Visits: 2
Best Items
Red Enchiladas, Chile Relleno
Special Ratings
Red Enchiladas:


Green Enchiladas:


Chile Relleno:


Chips:


Salsa:

MORE ABOUT THIS WEB SITE