Dyer Street in northeast El Paso has a multitude of low priced, mostly low quality Chinese buffet restaurants that give you more than your money's worth of fried food and MSG. Chan's Garden is in a totally different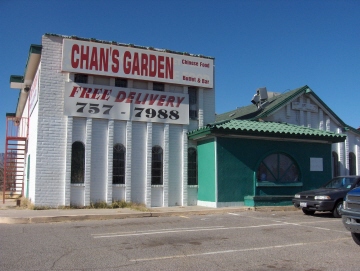 category than many of the other restaurants, however. While Chan's provides the same type of all you can eat buffet as the other restaurants, some of the items ordered from the menu are of a significantly higher quality than can be found at other Chinese restaurants.

The House Pan Fried Noodles is one of my favorite dishes at restaurants that go beyond the typical Americanized menu, and the one at Chan's Garden was a good example of this dish. Served on a bed of crispy noodles, it comes with a choice of meats and sauces (all versions come with vegetables).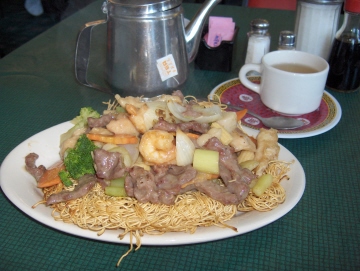 The noodles here were excellent, the vegetables were fresh, and the chicken was very good. I ordered it with white sauce, and the sauce was excellent as well (I think it normally comes with brown sauce). The tips of the noodles were burned, which I believe to be the authentic Chinese cooking style. The dish seemed to be a little salty, but otherwise the way I like it.
I also tried the dish served the chef's default style with shrimp, beef, and chicken (see photo). I will have to say that I did not like this one as much as the chicken version, partly because I did not think the shrimp was as high a quality as can be found in other restaurants. Also the sauce seemed a little off compared to the first dish I tried, and I am not sure which one is more representative of the way the dish is usually prepared. Although the chicken dish was difficult to finish, the one with three types of meat seemed far too filling for a single meal.
I wish to thank Nicole, who recommended the Combination Fried Rice Noodles and thus alerted me to the high quality of the food here. While the buffet looks like the typical Americanized food that has little resemblance to true Chinese cuisine, some great treats can be ordered from the menu. The chef will attempt to fix anything ordered to the customer's preference, and prices are very reasonable. The decor is not the most impressive in El Paso, but the food is far superior to most Dyer Street Chinese places.