Charcoaler Drive-In
5837 N. Mesa St.
El Paso, TX
(915) 581-0660

Having grown up with charcoal broiled hamburgers being one of my favorite foods, it was somewhat surprising to find these Oklahoma style burgers in the Sun City. There is a good reason for the Charcoaler Drive-In to serve this type of flame broiled hamburger--the family who opened the restaurant came from the Sooner State and apparently liked the charcoal burgers so much they wanted to share them with the population of El Paso.

There was originally another location on Montana Avenue near the airport, but at present only the Mesa Street restaurant remains. Charcoaler is a drive-in in the classic style of the 1960's, with patrons driving up to a speaker to order and then picking up the food at a large window. Customers can either eat the meal in their car or take it elsewhere, but there are no tables on site. A large grassy area in the middle might invite a picnic on a nice day, but this type of set-up is really meant for people who are in a hurry and do not mind eating in the car.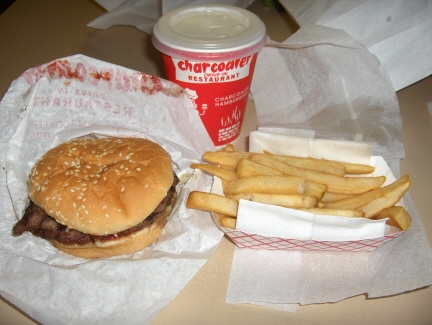 Hamburgers, or course, are the specialty. The main choice will be whether to get a single or double patty, and what toppings to put on it. The meat is cooked over a flame for the "flame broiled" flavor, and I would say the patties come out medium well. Very little grease is left in the meat, which is probably why I like these hamburgers better than the fried ones.
The classic flame broiled burgers I first experienced had the hickory smoke sauce made famous by the Split-T in Oklahoma City. At Charcoaler it is called "barbecue sauce," and I do not think the one at Charcoaler is quite as flavorful, but it is nevertheless the way I like to order the hamburgers.
Hot dogs are also available, as well as french fries. The Milk Shake is very good, except that it takes some time to melt enough to sip through a straw.
Charcoaler Drive-In does not do hamburgers quite as well as I remember at the Split-T, but the ones here are quite a bit better than most of the ones found in El Paso. Even if someone were to commit what I consider to be sacrilege with these burgers, and order them with mustard or mayaonnaise, I still think it would be one of the better hamburgers in town.
Go to Index
RESTAURANT DETAILS
RATING: 19
Cuisine: Hamburgers
Cost: $
Hours: Open Daily
Special Features: Drive-Through Service
Most Recent Visit
Dec. 16, 2007
Number of Visits: 10+
Special Ratings
Hamburger:


Milk Shake:

MORE ABOUT THIS WEB SITE