China Star Bistro (Closed)
9225 Dyer St.
El Paso, TX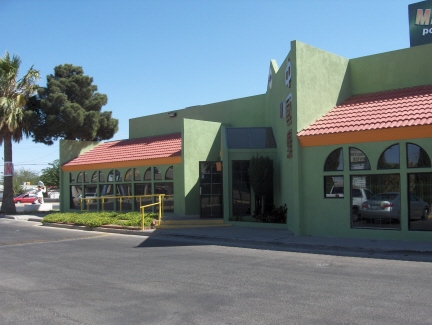 Note:&nbsp As of 2009 Chef Mike has moved to Sam's Restaurant's newest branch, Red Lantern at 1841 N. Zaragoza Road. Because of this, I am not sure the food at China Star is the same as before. When I visited I was not able to order the special dishes or get the traditional Chinese food described in this review. Everything I have described should be available at Red Lantern, since that is where the former personnel of China Star have moved. In the meantime I am changing the rating of China Star from 24 to 20, but it will take more visits to both restaurants to establish what I think should be the true ratings at each. Currently I have not visited Red Lantern and I do not have a review of it on this site.
Asian bistros traditionally offer higher quality food than is found in the typical buffet restaurant, but they have been slower to catch on in El Paso than in other cities. I used to enjoy Yung's Asian Bistro in east El Paso, but I think the fact that it was a little more expensive than most Asian restaurants reduced the number of customers to the point that the owners decided to change to a different concept.
China Star Bistro has overcome some of the problems Yung's experienced, but the issue now is getting the word out to the public. China Star costs more than some of the cheaper Chinese restaurants, but prices are reasonable for high quality Chinese food. China Star has an upscale decor that makes it look as if it will be expensive, but it offers lunch specials and other dishes that will not put a bigger dent in the pocketbook than most other Asian restaurants in town.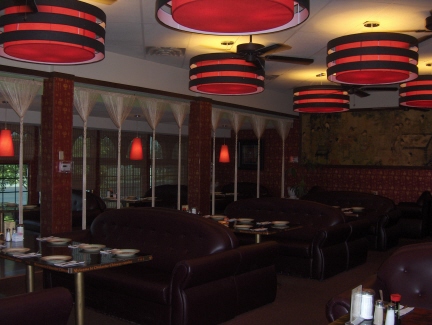 China Star offers a comfortable, modern interior
China Star Bistro is an outgrowth of Sam's Restaurant, one of the most successful non-buffet Chinese restaurants in El Paso. One of the families who started Sam's, along with the former chef at Moon Star, formed a partnership to open China Star using the same formula of success that has made Sam's popular. The menu is similar to Sam's, with an emphasis on spicy Szechuan and Hunan style dishes. Lunch specials are available, but no buffet is served. I know buffets are popular in El Paso, but most people I know who have tried Sam's lunch specials did not regret the fact that no buffet was available.
From talking to the owners of China Star, I know they have tried to keep prices at the lowest level possible. The menu seems to be a little more extensive and upscale than at Sam's, and of course the more exotic dishes are more expensive. Patrons have a choice, though, that fits all budgets and hunger levels.
Michael, one of the owners and head chef at China Star, cooks the type of food that in my opinion could command higher prices than are charged. I became acquainted with him when he was the chef at Moon Star, Sam's first venture at branching out from the original restaurant. Mike has worked for a number of years in New York, and prepares the style of inventive and flavorful food that frankly is not found very much in El Paso. This combined with good quality meat, fresh ingredients, and lack of MSG, make China Star one of the few places in the city where I think "real" Chinese food can be found.
Moreover, China Star is one of the few places in El Paso with a full time Chinese chef, ensuring that the food is the same every time people go.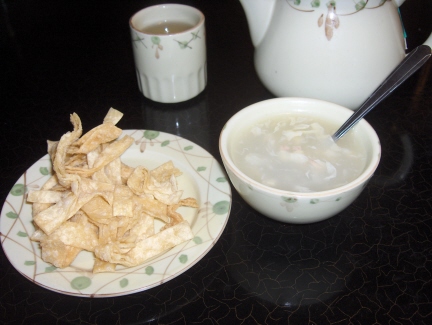 Egg drop soup is usually offered with every meal
The Egg Drop Soup here is light, without too much salt and the yellow food coloring that seems to be used by some restaurants. The soup here is very similar to the one served at Sam's Restaurant.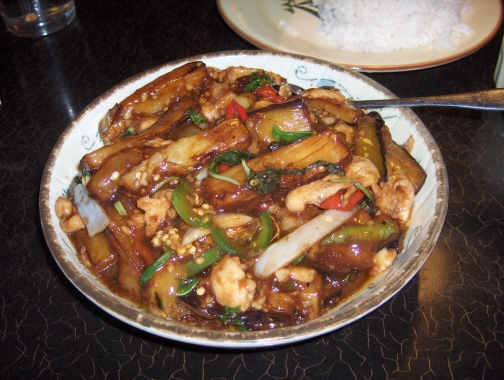 Eggplant with basil
Eggplant with Basil is one of the more upscale dishes at China Star that is typical of its "bistro style" food. It comes with a choice of meats, and does a very good job of showcasing the chef's ability to blend complex spices and flavors into an enjoyable and unusual Chinese dish. It worked well in disguising the fact that eggplant was used as the main vegetable, something I always hope will happen when I order an eggplant dish. I will have to say that this was a truly enjoyable dish, and something that I would expect to be served in a large city Chinese restaurant.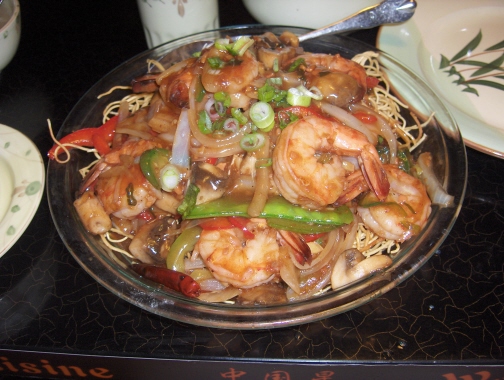 Pan fried noodles are a traditional Hong Kong style dish
Pan Fried Noodles are served representing one of the more popular dishes around Hong Kong and the southern area of China, providing a filling meal with meat, vegetables, and noodles. The trick to serving pan fried noodles is for them to be crispy at the ends but soft in the middle as sauce is poured over the top. The noodles at China Star were crispy at the ends without being burned (a common practice I have seen in restaurants), making them one of the better versions I have seen. The chef includes whole red chiles that make the dish spicy, a modification to the traditional Hong Kong style dish. The shrimp I tried was quite good, but other types of meat can be ordered. The dish is usually made with a combination of beef, chicken, and shrimp.
Many of the dishes on the menu are spicy Hunan and Szechuan style, although I found that some of the traditional Cantonese dishes are made spicy unless customers specify otherwise. Everything has been very good, it is just a matter of letting them know if you do not want anything spicy.
SPECIAL DISHES
When I used to eat Mike's cooking at Moon Star, I found that most of the best food was not on the menu. This was either because they thought customers would not order the more traditional Chinese food, or because the ingredients were not available on a consistent enough basis to put the dishes on the menu. The same is true at China Star, with the exception that a few more items seem to be on the menu than were previously available at Moon Star.
By ordering some of the more traditional Chinese food that Mike is able to prepare, though, customers will be treating themselves to meals that I think are comparable to the ones served in many of the better restaurants in the United States. I know El Paso has a severe limitation in importing fresh ingredients that may not be the case in New York or San Francisco, but Mike can do quite a bit with what is available. Customers can either call ahead of time to place a special order or take their chances with whatever can be prepared when they come into the restaurant. In any case, I think the best food at China Star (and at most Chinese restaurants that serve authentic food) comes by letting the chef or the host recommend something. I particularly recommend trying some of the more unusual dishes Mike can prepare.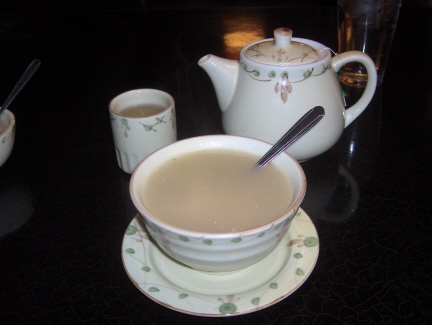 Ginseng soup is only available by special order
Even though the menu consists largely of Hunan style dishes, the traditional style "special" food will be mainly Cantonese or Hong Kong style, with most of it being non-spicy. Cantonese style soups are particularly good, with one example being Ginseng Soup that is a special medicinal soup that is only prepared when the staff eats it for their own meals (or when a customer places a special order).
There is usually something unusual available, if customers are willing to let the staff make a recommendation. Even if a order is not all that unusual, I think there is a good chance it will be quite good. I have found the food at China Star to always be enjoyable.
Go to Index
RESTAURANT DETAILS
RATING: 20
Cuisine: Chinese
Cost: $$
Hours: Open Daily
Accessible: Yes
Tea: Jasmine (bags)
MSG: No
Smoking: No Smoking
Most Recent Visit
May 18, 2009
Number of Visits: 4
Best Items
Eggplant with Basil, Pan Fried Noodles, Special Dishes
Special Ratings
Eggplant with Basil:


Pan Fried Noodles:


Egg Drop Soup:

MORE ABOUT THIS WEB SITE