Chut-ney Indian Cuisine (Closed)
5435 N. Mesa St.
El Paso, TX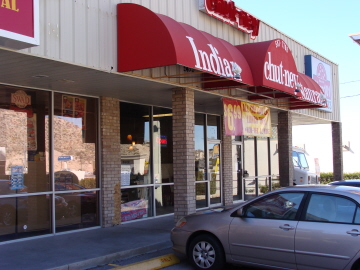 At first it may seem strange that the only two Indian restaurants in El Paso are within a short distance of each other, but they offer two different types of cuisine. Indian food is known for being spicy, but southern Indian cuisine, served at the recently opened Chut-ney Indian Cuisine, can be much more piquant than food from the north of India (but is only served that way if customers order it).
India Palace, which has served El Paso for a number of years (and which was an outgrowth of the original Delhi Palace on Airway) sticks with the northern Indian cuisine with which many Americans are most familiar. Chut-ney has a small northern style menu, but specializes in items from southern India such as dosas and curries with a flavor from the southwest coast of India. Chut-ney even offers Indo-Chinese dishes, a style of Chinese food popular in southern India.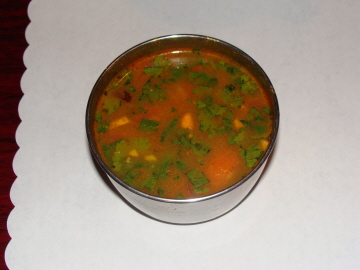 Rasam
Rasam is one of those dishes that after trying it, I was hooked on it. This was a vegetable soup similar to the vegetable soup served at India Palace (one of my favorite dishes there), but with different spices and quite a bit more piquant. Like the drink and the naan it costs extra, but to me is an integral part of the meal here.
Other soups are also available including mulligatawny soup (with chicken broth) and tomato soup (another vegetarian variety). So far, though, I have not wanted to deviate from the rasam.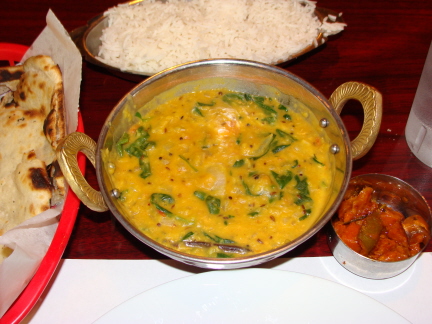 Daal palak
Daal Palak, yellow lentils cooked with spinach, is something I normally consider to be a northern Indian dish, but Chut-ney can give it a more southern flavor if you wish. In my case I have tried it twice, both being northern style. The one pictured was much like other versions I have tried, but the second one had more spinach, giving it a green color. Both were good, but were not extremely spicy.
They can also serve a small amount of lemon pickle (shown in the small bowl) to give it more of a kick and a south Indian flavor.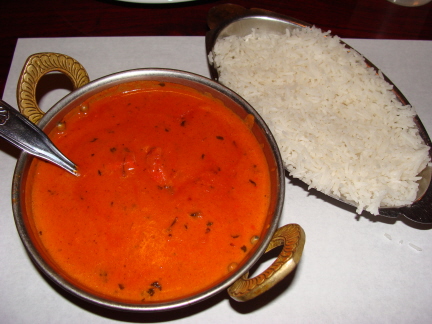 Chicken tikka masala
When I first started going to Chut-ney I would usually let the staff make recommendations about what to order. One dish they always seemed to suggest was Chicken Tikka Masala. This is boneless chicken cooked with tomato and a creamy yogurt sauce, and seems to be one of the most popular Indian dishes served in the United States. As a northern Indian dish, I thought it had a more subdued and less spicy flavor than the southern Indian food, and thus it was not one of my favorite items. However, I thought the one at Chut-ney was about as good as any that I have tried in other restaurants, so from that standpoint I thought it was a good choice.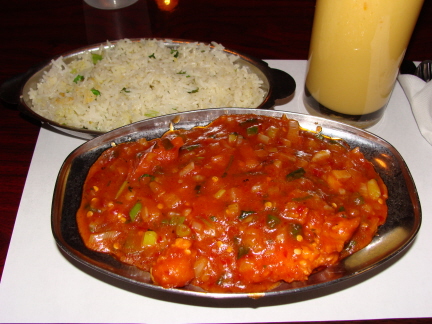 Gobi manchurian from the Indo-Chinese fusion menu
One sure sign of an authentic south Indian restaurant is the inclusion of an Indo-Chinese menu of Chinese food made with Indian spices and flavors. At Chut-ney I ordered the Gobi Manchurian, made with cauliflower and vegetables in a sweet and sour spicy sauce. This dish is cut into small pieces and I think is cooked in a wok (as its Chinese origin suggests), but the flavors are more Indian style. It is certainly interesting if you have never tried it.
Other Indo-Chinese dishes offered include noodles, fried rice, chili chicken, and chicken manchurian.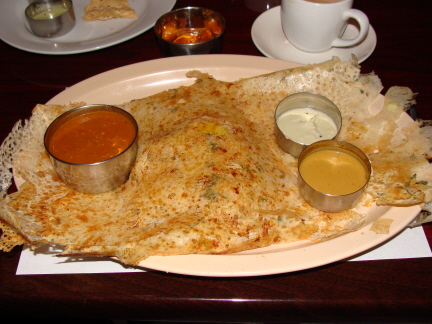 Rava masala dosa
Rava Masala Dosa is my choice for the best dish at Chut-ney. In the Bollywood film Haseena Maan Jayegi, two rather ne'er-do-well adult brothers lament the fact that their father has cut off their allowance, so all they can afford to eat is dosa (of course it never occurs to them that they should go out and find a job). Having the dosa at Chut-ney Restaurant, though, does not seem like such a sacrifice, and in fact to me is pure pleasure. The rice and wheat crepe has been the perfect texture and flavor (and after ordering it several times I have also found it to be quite consistent). The tomato sambar and coconut chutney tasted perfect, and the potato filling was cooked just the right amount so that it was not too crispy or too soft.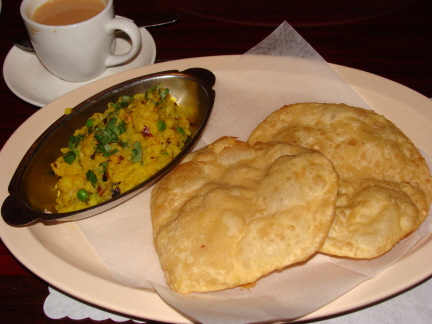 Poori with aloo bhaji
Poori are fried puffy wheat balls with the potatoes served on the side instead of stuffed inside. I thought this was another excellent south Indian style dish, except that I missed the sambar and chutney served on the dosa plates.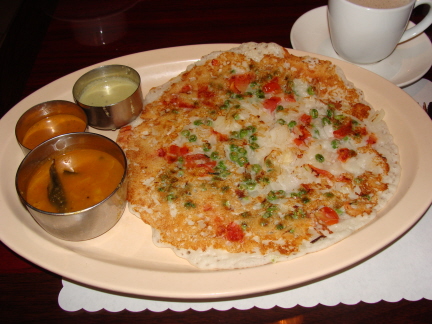 Masala uttappam
Masala Uttappam is another dosa style dish, but this one is made on top of a pancake that from the outside looks much like the pancakes served at Village Inn or any American breakfast place, but is made with ground rice and lentils. The topping is made with onion, tomato, cilantro, and chili, and is quite spicy.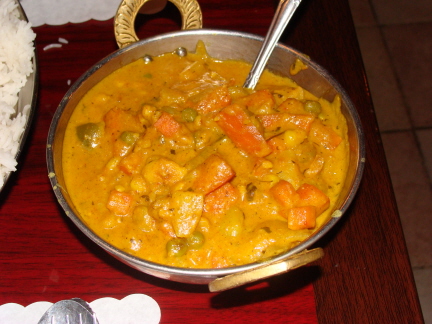 Vegetable korma
By default the Vegetable Korma is north Indian style, and somewhat bland. However, when I have requested a "south Indian style curry" dish they have prepared vegetable korma with different spices that I thought made it quite good. In fact, this, along with the rava masala dosa, are really my favorites at the restaurant, and the two items I most recommend to get a taste of south Indian food.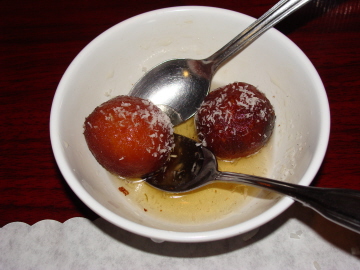 Gulab jamun
Gulab Jamun is one of several desserts that are served. This is the typical "cottage cheese ball" found in countless Indian buffets around the country, but I think the one here is better than most because it is fresh with the syrup poured over the top just before serving.
The rice is very good, and I do not think there is a time when I have left any of it unconsumed.
The Garlic Naan is excellent, and is one of the best I have tried. I have heard that the plain naan is authentic, but I did not care very much for it.
The Masala Tea (Indian style chai with cream) is one of the best I have tried, but sometimes comes out not hot enough (you can ask them to warm it, though). They do not give free refills.
There is no buffet at Chut-ney, but several lunch specials are served including a thali sampler plate (both a vegetarian and meat version are available).
My experience on the spiciness is that they do not serve the food to an authentic south Indian level unless the customer specifically requests it (and the times I have tried the "authentic" level I have not enjoyed it as much as when I cut it down to 7 or 8 out of 10). The other danger, though, is that when they suggest something like chicken tikka masala the spice level may be at 1 or 2 unless the customer specifies otherwise. I think Indian food, and particularly the south Indian curries, should be as spicy as the customer can stand for the best flavors to come out. Chut-ney is cautious about not making the food too spicy for new customers, but just be aware of this fact when trying to adjust the order for your taste.
Go to Index
RESTAURANT DETAILS
RATING: 24
Cuisine: Indian Southern
Cost: $$
Hours: Closed Mon.
Accessible: Yes
Tea: Indian Chai
MSG: No
Smoking: No Smoking
Alcohol: Beer, Wine
Most Recent Visit
May 16, 2010
Number of Visits: 10+
Best Items
Rava Masala Dosa, Vegetable Korma, Rasam, Garlic Naan, Indian Chai
Special Ratings
Rava Masala Dosa:


Masala Uttappam:


Poori:


Gobi Manchurian:


Vegetable Korma:

South Indian style
Vegetable Korma:

North Indian style
Daal Palak:


Chicken Tikka Masala:


Rasam:


Garlic Naan:


Indian Chai:


Lassi Drink:

MORE ABOUT THIS WEB SITE