Dominguez Mexican Food
1201 Airway Blvd.
El Paso, TX
(915) 772-2160

Dominguez Mexican Food is located on Airway Boulevard less than a mile from the El Paso International Airport, yet I rarely see it mentioned on travel web sites or forums as a place for out of town visitors to enjoy El Paso style Mexican food. Its popularity with locals, though, establishes it as one of the city's premier Mexican restaurants. I think visitors would enjoy it as much as the locals do.

Dominguez is one of the best examples of classic El Paso Mexican food the way I remember it from the 1970's and 1980's--the kind that not only offers a wealth of flavors, but also provides the deep, rich colors that are lacking from most Americanized Mexican food. Dominguez is excellent at almost everything--the only noticeable flaw is a greasy chile relleno.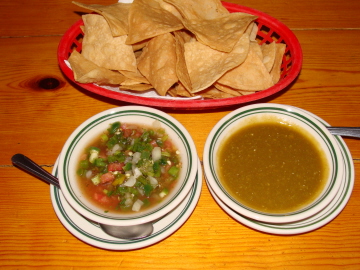 Chips and salsa
The experience starts with the chips which are thick, flavorful, and non-greasy. Traditional salsa is served along with pico de gallo. Different salsas have been served different times I have gone (sometimes red and sometimes green), but each has had a good bite and an even better flavor. The pico de gallo served with chunks of green chile, tomatoes, onions, and other seasonsing, is almost addictive. I challenge anybody not to request extra chips and/or salsa, but save room for the meal!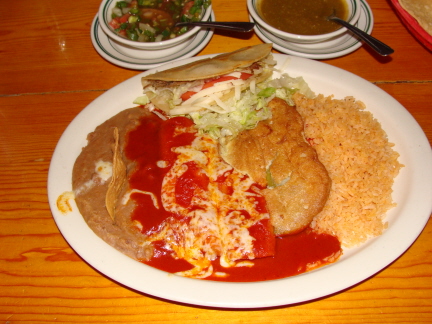 Mexican plate
The Mexican plate provides a good taste of traditional El Paso style food. Red Enchiladas are flavorful but not too spicy. I think these are among the best in El Paso, but after years of sampling enchiladas at different restaurants I think there is no one restaurant that can be called "the best" at the exclusion of all others. The ones at Dominguez always taste fresh, and are not diluted with too many additives that detract from the chile flavor.
The Chile Relleno is greasy but still worthwhile. I like the fact that it does not have any sauce poured on top.
A Taco or tamal would be the other item that comes with the Mexican plate (substitutions are allowed). The taco shell is fried and filled with ground beef, cheese, lettuce, and tomato. I do not think the taco here is as memorable as at other restaurants.
Rice and beans are actually good, in contrast to most places where they are just there.
Dominguez has some of the best Mole Enchiladas in El Paso--it's a safe bet that it is among the top two or three.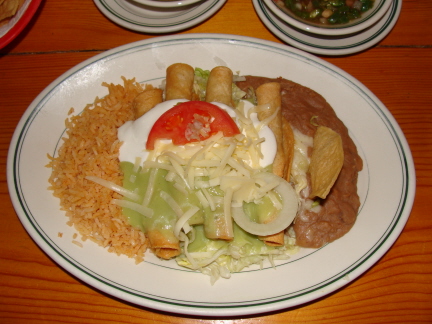 Flautas
The Flautas are made with a larger diameter than most, allowing more meat inside. The shell seems less dry than most, and I would put these among the city's best except that I think the guacamole is its weak point.
Domiguez is open late on weekends (until 10:00 p.m. on Fri.), has live music on Friday evening, and is an all-around happening place, or at least one that has an abundance of small kids running around. I think it is one of the city's top choices for family dining, although red enchilada purists will probably like L&J or Casa Jurado better, green enchilada aficionados will probably prefer L&J or the Little Diner, and relleno lovers will probably enjoy just about any place else better. I think the total experience, including the chips, salsa, rice, and beans, make Dominguez one of the city's best Mexican restaurants.
A number of special menu items are available such as Pescado Veracruzano, tortilla soup, and quite a few others. It is one of the handful of restaurants in the city that offer comida de cuaresma, or special meals on Fridays during Lent with fish or a vegetarian entree and special side dishes and dessert.
Go to Index
RESTAURANT DETAILS
RATING: 22
Cuisine: Mexican El Paso
Cost: $$
Hours: Closed Sun.
Accessible: Yes
Smoking: No Smoking
Alcohol: Beer
| | |
| --- | --- |
| Chile Index: | |
Most Recent Visit
Jan. 30, 2010
Number of Visits: 6
Best Items
Red Enchiladas, Mole Enchiladas, Salsa
Special Ratings
Red Enchiladas:


Mole Enchiladas:


Chile Relleno:


Chicken Tacos:


Beef Tacos:


Filete Veracruzano:

haddock
Flautas:


Chips:


Salsa:

MORE ABOUT THIS WEB SITE