E & C Subs (Closed)
955 N. Resler Dr.
El Paso, TX


I heard that E & C Subs was very popular when it was downtown, and it has now moved to west El Paso on Resler Drive across from Franklin High School. If I tried it downtown it did not make much of an impression on me, since I do not remember ever eating there. It is more likely that I did not eat at the downtown location, since I was more interested in Mexican and Chinese food for lunch than sandwiches or the things that "normal" people eat. Even though sandwiches are not really my thing when it comes to restaurant reviews, I will try to provide some information now that I have tried E & C's new location.

E & C serves spaghetti, burritos, soups, salads, and a breakfast plate (with scrambled eggs), but otherwise it is strictly sandwiches. The subs come in 8" or 16" sizes. I have tried an "Italian" sauce with olive oil, but American style is also available (with mustard and mayonnaise). One thing that is extremely important to know is that potato chips cost extra (they come free with sandwiches at Andre's). Actually I am just as glad chips are not given away here since they are too big of a temptation.

I have heard from several sources that some of the sandwiches can be considered the restaurant's specialty, and are the most popular. I do not know the full list, but one is the Hero sandwich with ham, pepperoni, and provolone cheese (not really something that sounds very appetizing to me, but others might like it).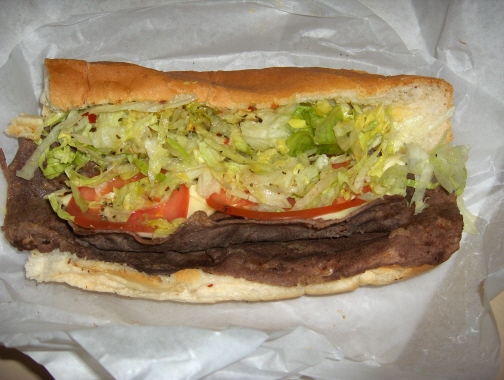 8" steak sub at E & C Subs
One sandwich I found to be good was the Steak Sub made with thin slices of beef. The huge topping of lettuce almost made it taste like a salad, and I thought the Italian dressing went well on it. The beef was good quality, especially compared to other restaurants where the beef tastes more like lunch meat than roast beef. While I did not think the sandwich at E & C was great, it was at least prepared the way I thought it should be, and I did not get any unpleasant surprises.
The Tuna Salad tasted fresh, and like the steak sub, the best feature was that it did not deviate from the way I thought it should be prepared.
Go to Index
RESTAURANT DETAILS
RATING: 18
Cuisine: Sandwiches
Cost: $
Accessible: Yes
Smoking: No Smoking
Alcohol: No
Most Recent Visit
Mar. 18, 2008
Number of Visits: 3
Best Item
Steak Sub
Special Ratings
Steak Sub:


Tuna Salad Sub:

MORE ABOUT THIS WEB SITE