Cyrus (or Ciro in Spanish) must make some pretty good Mexican food because he seems to have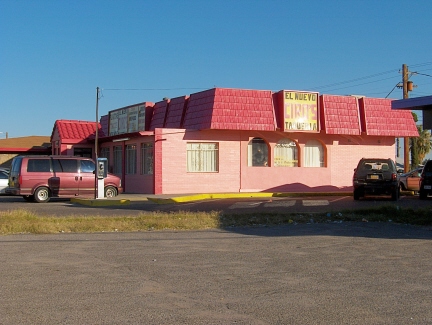 restaurants all over town that do a brisk business. The one at 3710 Montana has been around for as long as I can remember, and even though the sign on the building says "El Nuevo Ciro's," I think this must be the original.

Most of the Ciro's restaurants are open late, but this one is open until midnight, and 3:00 a.m. on Friday and Saturday. For the most part El Paso is pretty dead after 8:00 p.m., but Ciro's manages to maintain its clientele at night in a family atmosphere.

I had heard that this Ciro's (but not any of the other branches) had the best Flautas in town. The ones I ordered were good, but I think some other restaurants serve ones that are more memorable. The flautas at Ciro's are distinguished by the fact that they are covered with three toppings: avocado, sour cream, and tomato sauce (green, white, and red to make the "Mexican flag").

The combination plate is an inexpensive way to try several items, but their policy of "no substitutions" makes it easiest just to order a large combination plate and to not eat any item you don't want (it is cheap enough that you can do this). Most of the items served on the combination plate, including enchiladas and a chile relleno, were better when I tried them at El Portal del Ciro's. The best item turned out to be something that I would not normally order--Chile Rojo that I think is as good as you would get in northern New Mexico.

Although just about every Mexican restaurant serves chips and salsa, the chips here are some of the least greasy and the salsa is some of the best anywhere (two varieties are served and both are great--pretty high on the heat index but not the spiciest in town).