El Jacalito Restaurante
2130 Myrtle Ave.
El Paso, TX
(915) 532-4643

El Jacalito, or Jacalito's Restaurant, is one of a group of cheap and casual Mexican restaurants near downtown El Paso that I have frequented for lunch over the years to get the closest thing I could find to home style cooking. A couple of others in this category are Jalisco Cafe and Anita's, which like El Jacalito, serve lunch but close early in the afternoon. All three have had the same owners for years, and all are probably as good now as when they opened.

At Jacalito's the kitchen is open to the view of customers, and the activity there has increased substantially from the days when the restaurant first opened. The sisters who used to be the sole employees are still running things, but it looks as if they now have some help in the kitchen to keep up with the busy lunch crowd. More and more I am finding most of the tables being occupied during the busiest lunch period.

If you are looking for authentic Mexican style food it would be hard to find a better place than El Jacalito. One reason I believe El Jacalito to be authentic is that it was customary to see much of the City of El Paso Engineering Department and other people I knew eating there on a regular basis. Engineers tend to be a no-nonsense kind of person, and this applies to Mexican food as well.

El Jacalito is a little different from Anita's and Jalisco Cafe in that the best deal is a comida corrida lunch plate, while the other two restaurants have such good prices on individual items these are affordable as well. For everything except the comida I would say El Jacalito is more expensive than its competitors, but prices for the comida corrida are comparable at all three restaurants. There are other restaurants downtown that also serve good Mexican food, but these three always seemed to serve home style food, and to me were more suitable for going on a regular basis.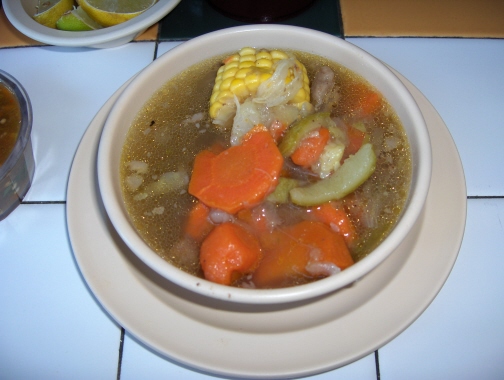 Caldo de res is classic El Paso style
These three restaurants also seem to be running a contest for the best Caldo de Res, a beef soup slow cooked with vegetables. Jalisco Cafe may have the best of the three, but all are very good. The one at El Jacalito has particularly good vegetables, and adding part of an ear of corn is according to the custom south of the border. The meat at El Jacalito seems more fatty than the other restaurants serve, thus the need for slices of lemon or lime to "cut" the grease that floats on top of the soup.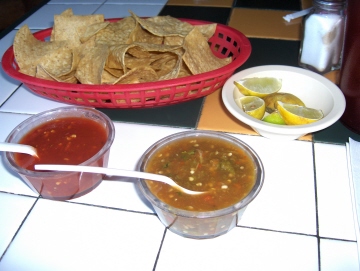 Chips, red salsa, pico de gallo, and lemon for either the caldo or iced tea
Chips and salsa are not the most important part of the meal, but they are very good at El Jacalito. Two types of Salsa are served, I think because each one goes better with certain dishes in addition to just eating them with chips. I particularly like the pico de gallo.
There is an extensive menu of lunch plates available, but usually a limited number of comida corrida (regular menu items served at a reduced price). Special plates (items not normally served) are usually listed on a board.
For any of the non-specials the caldo costs extra, but I would usually say is worth it. El Jacalito also serves other types of soup such as tortilla soup. My experience is that any type of soup served here will be one of the best parts of the meal.
When I adopted a vegetarian diet for a few years, I found the choices at Jacalito's to be quite limited (this also made me see how difficult it is to find good meatless dishes at Mexican or any other restaurants in town). The experience of trying to stick to enchiladas and chiles rellenos (as well as avoiding the caldo) definitely created a lower opinion of the restaurant than when I have eaten the meat dishes. El Jacalito is not for everybody, but it does give a good taste of the food normally eaten south of the border in working class homes and restaurants (much of which is meat based).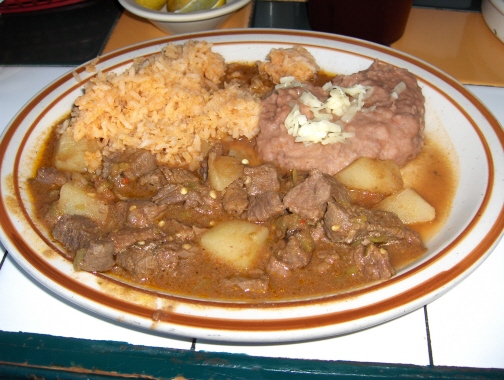 Chile verde is similar to a stew with green chiles
Chile Verde, a beef stew made with green chiles, is probably one of the better meat dishes. A recent experience with the same dish at Anita's demonstrated the two to be comparable. The one at Jacalito's was spicier and had a larger meat to potato content. The meat was very lean, and I think a little better than the meat served in the caldo. I would say that Jacalito's chile verde is one of the top ones in El Paso (with the one at Anita's being another top one). I thought the vegetables at Jacalito's were cooked perfectly, as was the meat. Probably the only reason to go elsewhere would be if you prefer something that is not near the top of the green chile spiciness scale.
The rice and beans were good, but as is the case with most restaurants, the Rice was better.
A small dessert is served with the comidas, and I think is always home made.
El Jacalito usually has several types of aguas frescas drinks. Lemonade is sweet like the ones at Anita's and Jalisco Cafe, but for some reason I think the one at El Jacalito tastes better, and is my preference. Horchata is also excellent at Jacalito's.
In my opinion, based on a number of years of experience, the meatless dishes at El Jacalito are the weak point of the restaurant. These include the enchiladas and chiles rellenos that seemed far too greasy. Enchiladas are usually made differently in Mexico than in El Paso, and the ones here are pretty true to the Ciudad Juarez style.
COMIDA DE CUARESMA (Lent Specials)
One thing that really distinguishes El Jacalito from other Mexican restaurants is the Comida de Cuaresma, or Lent specials served as the comida corrida on Fridays during Lent. Fewer restaurants are serving the traditional Mexican Lent dishes than before, and so far I have found none that I enjoy as much as at Jacalito's.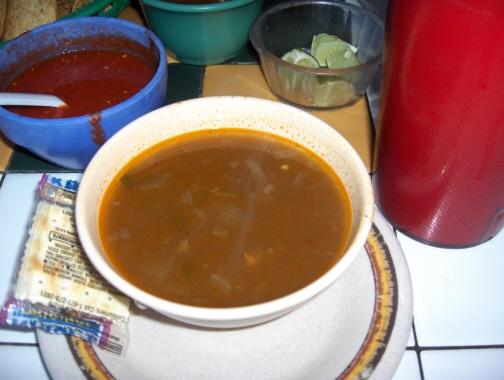 Lentejas (lentil soup) served for Lent
The soup is either vegetarian or seafood, but my favorite is Lentejas, or lentil soup. Some other restaurants, such as Carnitas Queretaro, do a very good version, but I always think of El Jacalito as having the original and the best. The lentils are fresh (as is all the food here) and the spicing seems just right. It really makes me wish they would serve lentil soup all the time, and not just during Lent.
For me the Corn Tortillas are a "must" accompaniment to the soup. They are served free with the meal anyway (for both Lent and regular meals), so I like to ask for them early.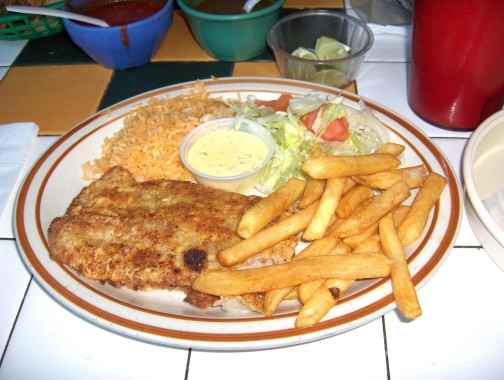 El Jacalito served different styles of fish on the various Fridays during Lent
The main plate for Lent is either fish or shrimp. Sometimes enchiladas, a torta, or other vegetarian plates will be included as well. Usually during the several weeks of Lent the fish and seafood will come in a different preparation each week, such as veracruzano style with a tomato and chile garnish, breaded, or al mojo de ajo (garlic). I will have to say that I do not think the fish is usually the greatest, but I always enjoy the way it is prepared.
The mashed potatoes and side dishes are sometimes better than the meal itself.
Horchata always goes especially well with the Lent dinners, and is usually the drink I order (it costs extra, though).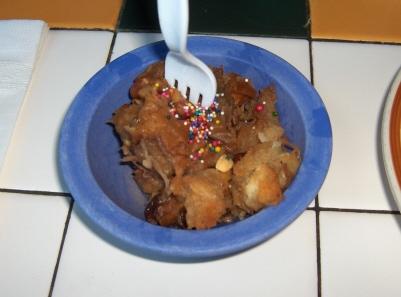 El Jacalito was my first experience with capirotada, and I still think it is the best
The highlight of the Lent dinners has many times been the Capirotada for dessert, a bread pudding with raisins soaked in a syrup that made me think this could not possibly be a special dish for comida de cuaresma since Lent is supposed to be a sacrifice, isn't it? Jacalito's still has the best capirotada I have found. Like the lentil soup, Carnitas Queretaro comes close with its version of capirotada, but I have had a hard time finding any other restaurants that even serve these traditional parts of a Lent meal.
El Jacalito has many things I love, and some I could easily skip. If you have a chance to try the comida de cuaresma, though I definitely think this is something that should not be skipped. The regular menu is pretty good as well, as long as you are comfortable with meat dishes.
Go to Index
RESTAURANT DETAILS
RATING: 22
Cuisine: Mexican Chihuahua
Cost: $$
Hours: Until 4 p.m. Mon.-Sat.
Smoking: No Smoking
| | |
| --- | --- |
| Chile Index: | |
Most Recent Visit
Mar. 21, 2008
Number of Visits: 10+
Best Items
Caldo de Res, Chile Verde, Lent Specials
Special Ratings
Caldo de Res:


Chile Verde:


Chips:


Salsa:


Corn Tortillas:


Lemonade:


Horchata:

MORE ABOUT THIS WEB SITE