El Rincon de Cortez
3415 Sun Bowl Dr.
El Paso, TX
(915) 544-2808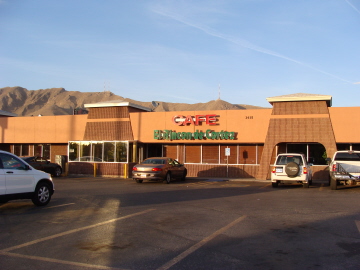 El Rincon de Cortez is a favorite lunch hangout in the UTEP area, located near the Sun Bowl on a street that is quite busy on game days and when classes are in session, but otherwise would not be called one of El Paso's main drags. Instead, it seems that word of mouth brings consistent business to this modest restaurant.
With a second location now on the east side of El Paso, El Rincon de Cortez remains a favorite place to order Mexican steaks (in fact, I usually think of it as the place for Chihuahua style steaks). In the 1990's I had the opportunity to visit the city of Chihuahua and go to one of the city's most famous steak restaurants, so I have some point of reference for this type of cuisine. I do not think El Rincon de Cortez uses cuts of meat that are quite as good as I experienced in Chihuahua, but they are good nonetheless, and El Rincon offers so many good items to go with the steaks that it is a very worthwhile experience. The menu at El Rincon has a wide variety of items so that it is not exclusively a steak house, but I think the steaks are what set it apart from most other restaurants.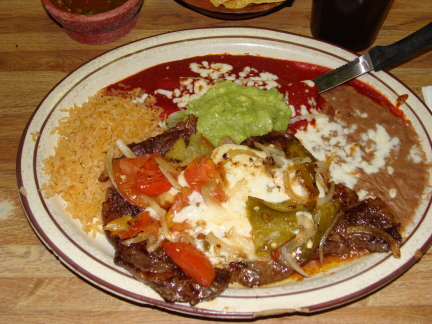 Tampiqueña steak
Most of the most popular steaks at El Rincon de Cortez are rib-eyes with different Mexican style toppings. The Tampiqueña Steak is one of the best, with a tomato, pepper, onion, and Mexican style cheese topping that is hard to beat. The Guacamole that comes with it is the only aspect of the dinner that I think could use some help, but the rice and beans were delicious.
The Red Enchilada that came with the tampiqueña steak had a strong, earthy red chile flavor (as I have usually found it in northern Mexico), and was quite good.
I used to order the Chuleta Mexicana on a regular basis, and found the meat a little tough but the flavor delicious. This is a rib-eye steak topped with tomato, pepper, and onions, with guacamole on the side. I think they might add some extra seasonings to the meat to give it a different flavor from the tampiqueña, because I thought it had a more distinct taste than simply omitting the cheese that is on the tampiqueña.
I thought the Chicken Flautas were some of the best in El Paso, despite the fact that the guacamole was mediocre. The shell was cooked to just the right crispiness, and the white meat chicken chunks were very fresh. They are not stingy with the sour cream, as is the case at some restaurants. Even though El Rincon is famous for its steaks, it seemed that the chicken was better in terms of meat quality.
The chips tasted mass-produced (not home made), but the salsa was very good.
The Horchata was possibly the best in El Paso. It had a creamy texture, was well flavored with cinammon, and was not too sweet. It would really be worth ordering just to get an idea of what good horchata should taste like.
A good selection of tacos is available, and I imagine they are as good or better than the steaks. If you want vegetarian Mexican food, though, I think you are out of luck at El Rincon de Cortez (the cheese enchiladas do not have meat, but I would not be surprised if they are made with lard).
Prices are moderate, and I do not believe they use bad cuts of meat but they are not the most expensive either. It certainly gives customers the type of experience they would have in a family style steak restaurant in northern Mexico.
Go to Index
RESTAURANT DETAILS
RATING: 22
Cuisine: Mexican Chihuahua
Cost: $$
Hours: Open Daily
Accessible: Yes
Additional Location: 8900 Viscount
Smoking: No Smoking
Special Features: Serves Breakfast
| | |
| --- | --- |
| Chile Index: | |
Most Recent Visit
Apr. 25, 2009
Number of Visits: 10+
Best Items
Steak Tampiqueña, Flautas, Horchata
Special Ratings
Red Enchiladas:


Steak Tampiqueña:


Flautas:


Guacamole:


Rice:


Chips:


Salsa:


Horchata:

MORE ABOUT THIS WEB SITE