El Taco Tote
7101 N. Mesa St.
El Paso, TX
(915) 584-3244

El Taco Tote is extremely popular in El Paso, and with all the excitement about it I was expecting either extremely good tacos or extremely cheap prices. I found the quality to be varied, with some of the beef and chicken being very good, but some of the meat falls short (if you are a vegetarian this is not the place to go, although fish and shrimp tacos are served).

The bargain prices seem to be limited to large orders, such as "family packs" that are available. El Taco Tote is a fast food style restaurant, where orders are taken at the counter, and I am not sure if tips would be expected. I can see, then, how a family may save money by dining here as opposed to restaurants where each person would have to place an individual order.

Placing individual orders at El Taco Tote, though, costs as much or more than at most other restaurants, so I am not sure that patrons save anything by coming here. My main complaint is that several of the items I have tried have not been equal to the quality found at other restaurants, so experimenting until I could find the best tacos has been a fairly expensive proposition.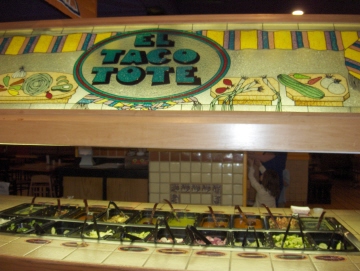 El Taco Tote's salsa bar
The salsa bar is one of the biggest draws to the restaurant, with quite a good variety of salsas and other condiments available (some of the tacos I have tried have needed quite a bit of help from the salsas to make them more enjoyable). For those tacos that were good, though, the salsa bar definitely made them better.
One characteristic of the tacos here is that they are individually cooked, and they all taste fresh. Tacos have always been cooked well and have been fresh off the grill. Several varieties are served including beef, chicken, pork, fish, and shrimp. There are probably a half dozen varieties or more of chicken and beef, ranging from mild to spicy.
Tacos are served on soft tortillas, the authentic Mexican style, and of course the importance of the fresh salsa served cannot be minimized.
The Chicken Fajita Taco was one of the best I tried, and was made with a good flavored white meat. I would rate these to be better than most in El Paso.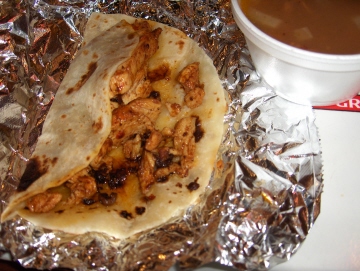 Chicken adobado taco
The Chicken Adobado Taco was spicy and also had good quality meat. The meat was spicy enough that I did not think much needed to be added from the salsa bar.
The Beef Fajita Taco was not quite as impressive as the chicken version in terms of the meat quality or flavor. There was nothing really wrong with it except that I found the chicken to be more enjoyable.
The Fish Taco tasted good, but had very little meat. There are several restaurants in town that specialize in fish tacos and Mexican style seafood, and most of these would be a better bet.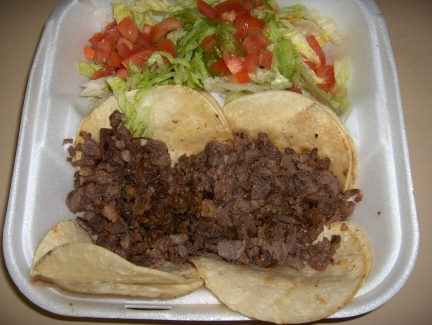 Carne asada
Carne Asada is served only as a plate, and not as individual tacos, but the soft tortillas that come with the dinner are perfect for making your own tacos (using your choice of toppings from the salsa bar). I found this to be the best beef dish I have had at El Taco Tote, and comparable to some of the better beef tacos in town. I believe this dish has been added since the restaurant opened, and to me demonstrates an improvement in the food over the original menu.
The Charro Beans were very good, and had a flavor I particularly liked. I thought they were rather thin, though, with too much water.
Several of the salsas pack a good punch, but other condiments are available such as guacamole and cilantro. I would say that the salsas are Mexican quality, and do not taste like franchise sauces that are found at some other chain restaurants (El Taco Tote has now branched out into Albuquerque and other U.S. cities, so it probably qualifies as a "mini-chain"). No chips are served, as is the custom with non-tourist restaurants south of the border.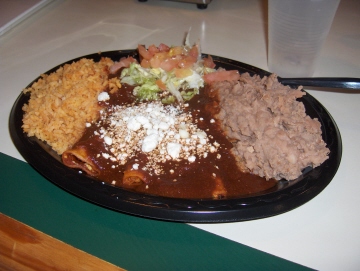 Enchilada plate
El Taco Tote has recently begun serving Red Enchiladas in order to help build their selection of non-meat items. These are not vegetarian, though, having the distinctive taste (and aftertaste) of lard that is the traditional Mexican cooking style. I found the tortillas to be so tough they were hard to cut with the plastic forks provided to dine-in customers. The Mexican cheese sprinkled on top was good, but the red chile sauce was extremely spicy, pretty much unflavorful, and was so thick it was almost a solid rather than a sauce that could be poured over the enchiladas. I really thought the enchiladas were made as cheaply as possible rather than showing an effort to be as authentic as possible (although they were fairly representative of Mexican "street food" style enchiladas).
The allure of Taco Tote is that it has such a large variety of tacos at one place. The tacos are seved fast food style (you order at the counter), and it does blow away many of the Mexican fast food joints. This is not fine Mexican dining, but it can be good for families and large groups.
Side dishes are almost as expensive as the tacos themselves, and ordering several items is not as cost effective as getting a large order of one item.
El Taco Tote does not serve the traditional Mexican home made drinks such as lemonade--you are pretty much limited to sodas, water, tea, or beer.
Go to Index
Restaurant Web Site
RESTAURANT DETAILS
RATING: 19
Cuisine: Mexican Chihuahua
Cost: $$
Hours: Open Daily
Additional Locations: 2921 N. Mesa, 9910 Montana
Cooking Oil: Lard
Smoking: No Smoking
Alcohol: Beer, Margaritas
| | |
| --- | --- |
| Chile Index: | |
Most Recent Visit
Mar. 13, 2008
Number of Visits: 7
Best Items
Carne Asada, Chicken Fajita Taco, Salsa
Special Ratings
Carne Asada:


Chicken Fajita Taco:


Chicken Adobado Taco:


Beef Fajita Taco:


Fish Taco:


Red Enchiladas:


Quesadilla:


Charro Beans:


Salsa:

MORE ABOUT THIS WEB SITE