Famous Dave's Barbeque
7501 N. Mesa St.
El Paso, TX
(915) 760-5355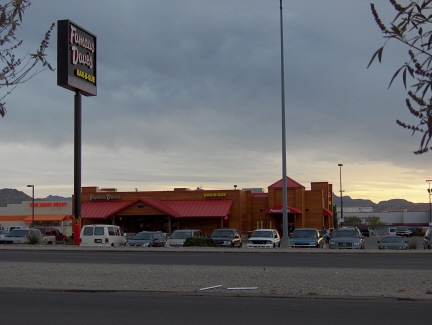 I had heard that Famous Dave's had just opened in Tacoma, Washington, and that it was one of the better BBQ places in that part of the country (which is probably about as meaningless as trying to find the best Mexican food there), but I thought this was enough of a recommendation to give it a try.
Although Dave's is most famous for ribs, I prefer to eat chicken, so I ordered the BBQ chicken sandwich. It had a good smoky flavor, but I thought it was strange that it had cheese on top (something I do not see at other Texas BBQ places, but I don't think the food here is Texas style BBQ). The sauce was a little weak-- definitely not as good as at State Line BBQ. Probably the most disappointing aspect was that I got Famous Fries with the order instead of the cole slaw I ordered, and since it was a take-out order I did not discover the mixup until it was too late. I did not think the fries were anything special, and I really dislike a meal that does not contain any kind of green vegetables.
Famous Dave's is not bad, it's just that I have a lot of prejudices about barbecue-- Oklahoma and Austin barbecue are best, and it is hard for me to be impressed with anything else. Also, I just think if you are going to get BBQ in El Paso, State Line and several other places are better.
Go to Index
Restaurant Web Site
RESTAURANT DETAILS
RATING: 17
Cuisine: Barbecue
Cost: $$
Hours: Open Daily
Accessible: Yes
Additional Location: 1360 George Dieter Dr.
Smoking: No Smoking
Most Recent Visit
Jul. 13, 2005
Number of Visits: 1
Special Ratings
BBQ Chicken Sandwich:

MORE ABOUT THIS WEB SITE