Il Posto Italiano (Closed)
7128 N. Mesa St.
El Paso, TX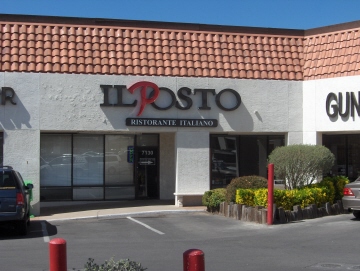 My trips to Il Posto began when it was located at Doniphan and Thorn in the building later occupied by Mi Piaci. The restaurant was the brainchild of the brother and sister owners and chefs who began producing what I thought were almost inspired dishes in a city where the Italian food was generally good but pretty much the same anywhere you went. The informal atmosphere of the old place made it feel like a neighborhood hangout where customers could relax and enjoy a meal. I was frequently able to talk to the owners to find out what they recommended, and if there were any special dishes that could be prepared. Il Posto offered daily vegetarian specials in addition to the usual meat versions which are still regularly posted on a display board at the new restaurant. As a result of my early experience I have probably experimented more with different dishes here than at any other Italian restaurant in the city, and in the process have found some pretty good food.
I have come to appreciate the lighter cooking style of some restaurants that use healthy oils, fresh vegetables, high quality cheese, and chunks of tomatoes that are not completely puréed into a sauce. Il Posto still falls into the "red sauce" category, but the cooking here brings out the food's natural flavor rather than overwhelming it with garlic, spices, and oils. Il Posto has been one of El Paso's better Italian restaurants, with a style of sauce that is traditional but somewhat toward the lighter style.
Il Posto's selection of vegetarian dishes was larger when it was located on Doniphan, with daily vegetarian specials also available. Although the vegetarian menu is now more limited due to one of the original owners leaving, I still enjoy the non-meat items that are served.
The Three Cheese Tortellini was one of the best vegetarian dishes I tried, and was about as good here as any place I have had it.
The Eggplant Parmagiana is an example of the dishes that are certainly worthwhile if you are looking for a vegetarian dish, although I am starting with the bias of thinking that the most well disguised eggplant is the best one. Il Posto did it the way I liked, with the eggplant almost resembling a zucchini. Part of the success of this dish was the fact that the eggplant was round, green, and not mushy, fried, or oily. The very light marinara sauce on top was better than average quality. I found the bed of penne pasta to be somewhat ordinary, but certainly good enough. I will admit, though, that I would be tempted to go to Bella Napoli down the street for their eggplant that is probably not anywhere as close to being as expertly prepared, but which I consider to be an El Paso "classic" that I have been enjoying for years (and which is similarly disguised so that it does not taste like eggplant).
The Cheese Manicotti comes with the same marinara sauce as the parmagiana dishes and the lasagna, and makes a good vegetarian substitute for some of the meat dishes (as well as providing an alternative to the eggplant).
The Gnocchi and Farfalle Primavera, although vegetarian, were not among my favorite dishes. I ordered these in the early days when I was experimenting with different dishes, and I do not remember enough about them to write a description. I am including them, though, because they pretty much complete the list of vegetarian items that are available.
The Spinach Ravioli is highly recommended, but I've only been able to order it as a special dish. It is not as frequently offered at the new location, but if I ever see it as a special it is definitely something I would like to try again.
The Minestrone Soup seemed very high quality to me and I thought was a better choice than the salad even though it had a meat broth. The fresh vegetables were outstanding, and the broth was excellent. As of 2009, though, the chef has begun using a vegetarian broth, and I think it is still as good as before in terms of flavor.
For the most part, though, I have found the meat dishes to offer the best choice for interesting items. The Chicken Parmagiana serves too large a portion for my appetite, but it has been quite good when I have been able to sample it or split it. In fact, I cannot think of anything at Il Posto that has been better in terms of flavor.
Lasagna has been one of my favorite dishes here (but only available with meat except when spinach lasagna is served as a special).
My own personal opinion is that the food that has usually impressed me the most has been the special items that are not on the menu. I keep hoping for more vegetarian specials, such as the spinach lasagna, but I have not been disappointed with any special item I have ordered. It makes my job harder because of having to review items that are infrequently served, but I would suggest taking advantage of any special items that sound appetizing.
The House Salad was mostly iceberg lettuce with some dark green leaves mixed in. The house made Balsamic Vinaigrette dressing impressed me at first, but it did not compare to the superb dressing I tried later at Monteleone's. I do like the fact that Il Posto's salad comes with the dinner plates at no extra charge (you also get a choice of soup).
With the new restaurant on Mesa Street being larger and more upscale than the old location, I do not see the chef very much and I miss the relaxed atmosphere of the old restaurant. Surprisingly, the prices did not increase a great amount when the restaurant moved into its new digs. One of the reasons I like the vegetarian dishes is that they are still very reasonably priced.
The wine selection looks pretty good, but I am not really an expert on such things. Il Posto is becoming well known for its special events that include wine tasting dinners. One thing is for sure--I always feel that I have had light and healthy Italian food when I have eaten at Il Posto.
Go to Index
Restaurant Web Site
RESTAURANT DETAILS
RATING: 23
Cuisine: Italian
Cost: $$$
Hours: Closed Mon.
Accessible: Yes
Smoking: No Smoking
Alcohol: Beer, Wine
Most Recent Visit
Jun. 3, 2009
Number of Visits: 10+
Best Items
Daily Specials, Chicken Parmigiana, Lasagna, Ravioli, Three Cheese Tortellini, Minestrone Soup
Special Ratings
Chicken Parmigiana:


Lasagna:


Ravioli:


Three Cheese Tortellini:


Manicotti:


Farfalle Primavera:


Spinach Ravioli:

not always available
Eggplant Parmagiana:


Gnocchi:


House Salad:


Minestrone Soup:

MORE ABOUT THIS WEB SITE