India Palace
5380 N. Mesa St.
El Paso, TX
(915) 833-2245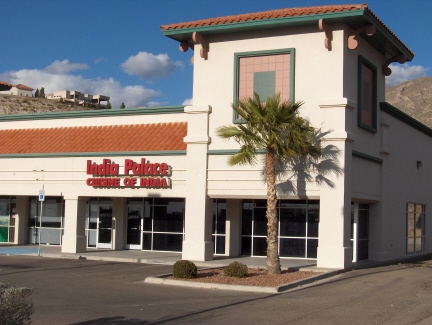 India Palace is an outgrowth of a former restaurant, Delhi Palace, that was located on Airway Boulevard in the 1990's. Delhi Palace was part of a successful chain of northern Indian restaurants around the Southwest, with locations in Phoenix, Flagstaff, and Albuquerque. Delhi Palace was one of my introductions to Indian food, and except for the overuse of garlic I cannot think of a single aspect of the former restaurant I did not like. While India Palace has different owners and is not part of the chain, many of the former cooks and employees have moved to the new restaurant on the west side.
There will be inevitable comparisons between India Palace and El Paso's former Indian restaurant by those who have dined at both. When India Palace opened I thought there were major problems with some of the flavorings, the service, and most of all logistics in the kitchen so that it took an inordinate amount of time for food to reach the customer. While Delhi Palace had several dishes that I thought were outstanding, the standout dishes seemed to be lacking at India Palace.
Although it has taken a while, India Palace has now reached the point that I enjoy the food more, and the kitchen problems seem to have been resolved. When a restaurant seems to change I always wonder if it has actually changed or if it merely my perception, and I will probably never know for sure. It is always a good sign, though, when a restaurant seems to be improving, and I believe that to be the case with India Palace.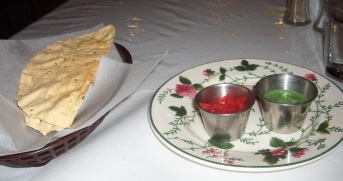 Northern Indian food is quite popular in the United States, being less spicy and arguably more flavorful than dishes from the southern part of the Indian sub-continent. My main problem with India Palace has been that the food tends to be less spicy than I think is the case at most northern Indian style restaurants. The simple solution is to ask for dishes to be "spicy" or "extra spicy," but I think it helps to know going into a meal that the default level is "mild" (every restaurant has its own definition of mild, but at India Palace the default level is less spicy than most Mexican restaurants in town).
To me the major appeal of Indian restaurants is that a vegetarian meal can be ordered that is just as delicious as ones with meat, and probably more healthy. I would classify the vegetarian selection at India Palace as medium--there are more selections than I find in Oklahoma but not as many as are served in most west coast restaurants. If all the vegetarian selections were are good as the two or three that I usually order I would be quite happy, but my satisfaction has varied quite a bit depending on what I have ordered.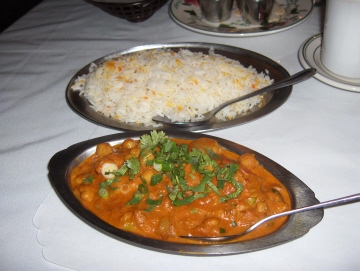 Chana masala is one of the more flavorful dishes
The Chana Masala, a chickpea dish with tomato sauce, is one of the dishes I have found to be consistently good. Since I frequently order this dish in other cities I would say that the one here does not have quite as many vibrant spices and flavors as I find elsewhere. However, I like the fact that the chickpeas and the tomato sauce are fresh, and I really do not know how they could do it much better in terms of the basic ingredients. I am not sure how satisfying this would be to a meat lover, but for someone who prefers non-meat items whenever possible, the chana masala makes a great meal.
Vegetable Soup was one of my favorite dishes at Delhi Palace. The employees who used to work at Delhi Palace brought the recipe for the soup with them, and I find it to be one of the most flavorful dishes now served at India Palace. The problem with it is that it is not really large enough to make a meal by itself, and I find it too filling and too expensive to order along with an entrée. For something that is flavorful and healthy, though, it is hard to beat. The soup is tomato based, but like many good tomato dishes it becomes much more when they add the herbs and spices that go along with the vegetables.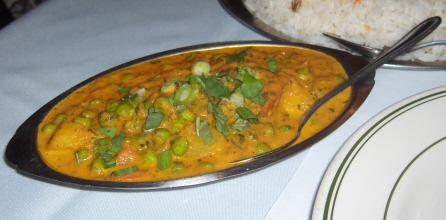 Aloo matar is a delicious way to eat your peas
Aloo Matar is a dish of potatoes and peas in a tomato sauce that always seems to be good. I do not care much for the idea of eating two carbohydrates together (potatoes and rice), but with the peas and tomato sauce it ends up being a fairly balanced meal. I do not know anywhere else in El Paso where you can get this quantity of peas for a meal unless you go to a cafeteria, and a meal there would not be anywhere near as flavorful as at India Palace. India Palace has replaced the cafeterias as one of my "to go" places when I am hungry for vegetables, and the aloo matar is definitely one of the better dishes.
Mixed Vegetables come with a rather boring selection of vegetables, being dominated by potaotes and carrots, but everything tastes fresh and not as if it comes from the frozen food section of the grocery store. The sauce is more than delicious enough to make up for the unexciting vegetables, though, so this continues to be one of my most frequent choices.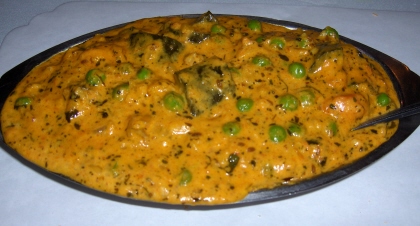 Vegetable korma is a creamy dish with a mild curry
Vegetable Korma (vegetables and nuts in a cream sauce with curry) is probably my favorite entrée at India Palace, with a sauce that is rich but not too heavy on the cream and a good selection of vegetables. Normally curry is one of the least appealing features of Asian food to me, but the one in this dish is just enough to add some flavor to the vegetables. Like most of my favorite vegetable dishes at India Palace, there is a generous amount of peas. If I am looking for good quality vegetables over the sauce, the chana masala would be my choice, but the korma dishes definitely seem to have the most flavorful sauce.
Malai Kofta is another good vegetarian dish with "fresh vegetables cooked in grain flour batter and deep fried in creamy and onion sauce," according to the menu's description. I should point out that the vegetables have always tasted fresh to me when the menu says they are fresh, and I think this is one of the best features of India Palace compared to other Indian restaurants, especially ones that do not serve a lot of vegetarian orders. The deep fried vegetables in the malai kofta have a texture and flavor somewhat like meatballs, and this is probably one of the things that makes it appealing as a vegetarian dish. I like the fried vegetables, but what I like less is the sauce that I think is a bit too creamy. Everyone will have their own taste, but I prefer the vegetable korma that is maybe not quite as creamy as the malai kofta.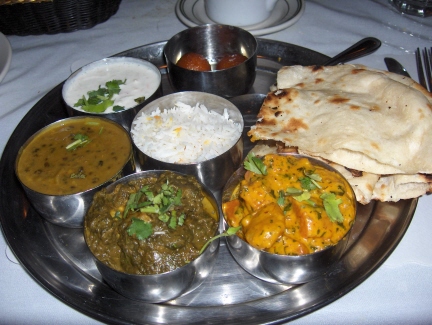 Vegetarian dinner contains daal, palak paneer, and vegetable korma
The vegetarian dinner is a good way to sample some of India Palace's best dishes, and get naan, a drink, and dessert thrown in at no extra cost. Palak Paneer, made with spinach, is not something I would normally order as a dinner, but comes in just the right size for me on the vegetarian dinner. Two other main dishes are served, vegetable korma and Daal (made with lentils). As I find with combination plates or thali in most Indian restaurants, the individual items do not all have to be my favorites in order for the combination of them to be good. In the case of India Palace each item was good (the vegetable korma was my favorite) and the plate as a whole was good. I think this is one of the best deals at the restaurant (a combination meat plate is also served).
The Rice served with all meals is quite flavorful, with the herbs and spices included enhancing just about any meal with which they are consumed. After trying several Indian restaurants in other cities (unfortunately there are no others in El Paso to try), I began to really appreciate the Basmati rice served with all plates at India Palace. Most of the rice I find is predominantly white and largely flavorless, but this one is colorful and almost good enough to be eaten by itself (India Palace does in fact offer a Basmati rice pilaf as a plate or the plain Basmati rice as a side dish).
The Cheese Naan has been very good at times, but greasy at other times. Regular naan costs extra and I rarely order it, especially since the rice is of such high quality. I have heard many comments that the naan was very good, but I have found a few better versions in other cities.
The lunch buffet did not leave me impressed when I tried it. Perhaps it may be a good idea in terms of a person's budget, but it probably does not offer the best food at the restaurant. When I used to eat the buffet at Delhi Palace the vegetable soup was usually available, and perhaps there are some features of India Palace's buffet that would make it worthwhile. Other than the soup, naan, and desserts, however, I never discovered the best aspects of the restaurant until I started ordering from the menu.
The Chicken Tikka Masala was one of the best things served on the lunch buffet, with a boneless Tandoori chicken cooked with a tomato and butter gravy. The mild spices made it taste much like barbecue chicken, and the Tandoori style of cooking over mesquite charcoal can make this a good alternative to heading toward your favorite "cue" joint.
To my way of thinking an authentic Indian restaurant would never serve beef, but India Palace does offer several beef dishes (although the Tandoori section of the menu lists only chicken, lamb, and paneer cheese).
The Indian Chai is one of the best I have tried, and free refills are given. This is a creamy flavorful tea spiced with cinnamon that I think goes well with just about everything served at the restaurant. It is quite strong, though, and when consumed in the evening would probably be suitable for keeping students awake for any type of late night study.
Several types of yogurt lassi drinks and fruit drinks are available for those who would rather have a cold beverage. The Mango Lassi I tried had a creamy flavor from the yogurt but the fruit flavor was dominant, and was very good. I like these drinks because they are not as sweet as Mexican or most other fruit drinks.
India Palace is near the top of my list of El Paso restaurants in terms of providing good, healthy food that provides a satisfying meal. I wish it were a little less expensive, but it is really not bad compared to trying to get the same amount of fresh vegetables and nutritious ingredients at other restaurants. I am not sure how authentic it is, but I do not think the food is very different from restaurants I have tried in other cities (except for having a smaller selection).
The owners of India Palace also operate the R.V. International Grocery at 4700 N. Mesa, where many Indian and other types of International food can be purchased. I think David Letterman's advice should be applied to Indian cooking, though, when he says "Kids, don't try this at home." I prefer to let Indian cuisine be prepared by the experts, and I would apply that label to the chefs at India Palace.
Go to Index
RESTAURANT DETAILS
RATING: 21
Cuisine: Indian Northern
Cost: $$
Hours: Open Daily
Accessible: Yes
Tea: Indian Chai
MSG: No
Smoking: No Smoking
Alcohol: Beer, Wine
Most Recent Visit
May 10, 2008
Number of Visits: 10+
Best Items
Vegetable Soup, Vegetable Korma, Indian Chai
Special Ratings
Vegetable Soup:


Vegetable Korma:


Chana Masala:


Malai Kofta:


Mixed Vegetables:


Aloo Matar:


Daal Turka:


Matar Paneer:


Mushroom Bhaji:


Mushroom Masala:


Chicken Tikka Masala:


Rice:


Indian Chai:


Lassi Drink:


Naan:

MORE ABOUT THIS WEB SITE