JB's Cafe (Closed)
5801 N. Mesa St.
El Paso, TX



JB's opened in 2005 at the site of Bryar's Deli that had operated for many years in the same location. While in many ways Bryar's cannot be replaced, JB's has provided an attractive alternative with a refurbished décor and upgraded menu to provide a more upscale dining experience, with a wide variety of breakfast, lunch, and dinner options.

JB's Cafe seems to be based on a Jimmy Buffett theme, with Margaritaville and Parrothead decorations giving a unique character to the restaurant. If you do not like Jimmy Buffett music playing while you are dining, it would probably be a good idea to avoid JB's Cafe. I do not know very many people, though, who would not enjoy these sounds at least long enough to get a taste of the tropics while enjoying a meal.

JB's is what I would call casual dining, and was probably inspired by visites to bars and restaurants on the Florida Gulf Coast where many of the patrons are in tourist and beach attire. I would not call JB's a seafood restaurant, although there are some items that would probably be representative of Gulf Coast restaurants.

There is so much variety on the menu there is probably something that anyone would like, with the possible exception of vegetarians. JB's serves steaks, wraps, pot roast, sandwiches, salads, pastas, and probably a lot more I have yet to discover. I have been happiest with the Southwest style food, although I certainly have not tried a great variety of the items offered.

A breakfast menu is offered, although so far this is what I have liked the least. I have not sampled enough items, though, to either encourage or discourage others from trying it.

The Penne Chicken with feta and pine nuts I ordered from the dinner menu contained about the right portion of white meat chunks but was heavy on pasta. The dish was fairly enjoyable, although I did not like the sauce as much as I had hoped. It was substantial enough, though, to allow some of the dinner to be taken home as leftovers, and I thought it tasted better when reheated (it was actually quite good).

On another occasion I tried the Wild Mushroom Ravioli to see what the vegetarian dishes were like, and it had a similar large amount of pasta although I liked the sauce a little better than the penne chicken. Again there was enough food for leftovers, and I would have been happier with a smaller portion that I could have eaten in the restaurant. The worst disappointment, though, is that there were only two flavors--mushroom (both inside the ravioli and the sauce on top) and pasta. The menu says that the mushroom ravioli comes with a vegetable medley but I did not receive any vegetables, and I'm sure this contributed to the dinner being somewhat unsatisfying.

The Portobello Pasta was another enjoyable dish, and had a better mix of flavors than the wild mushroom ravioli.

The Chicken Enchilada Pasta demonstrated that the Southwest style dishes are some of the best ones at JB's. This consisted of chunks of chicken breast mixed in with pasta, some tortilla strips, and seasoning. The seasoning was very flavorful, and I did not even mind that it was made with pasta since it had enough sauce to penetrate the entire dish.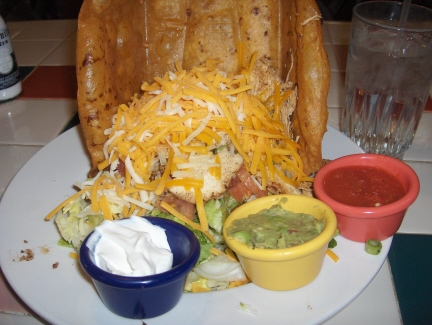 The taco salad at JB's is famous for its oversized shell
Taco Salad is always a dangerous thing to order, since there are so many interpretations of it that range from very good Mexican food to a pseudo-Southwest style dish. I rated the one at JB's near the top, almost to the point that it would be competitive with some of El Paso's better Mexican restaurants. One of the best features was the guacamole that was thick and fresh. Both white and yellow cheese were served, and the salad was good. The shell was greasy, but it was not necessary to eat any of it to be full. The salsa provided on the side was very good, adding to an already good dish. The taco salad comes with either ground beef or chicken. One surprising feature I liked was the refried beans that were served underneath the shell, rather than in the salad. These had a smoky flavor that many chefs around El Paso know how to do well.
JB's has a large sandwich menu, and it is probably no accident that many of the same sandwiches served at Bryar's are still available at JB's. The French Dip Sandwich I tried, though, seemed to have some of the same problems I find at many El Paso restaurants--it contained a huge quantity of meat but I did not find it to be of the best quality. My idea of French Dip is that the meat should be like the typical roast beef that is fatty, pulls away in strips, and absorbs the au jus quite well. This meat tasted more like the pressed beef served at Arby's, and did not absorb much of the juice (the white bread ended up with most of the au jus flavor). Since this web site is simply my opinion about food, I have to state that this sandwich did not meet my expectations of a French Dip sandwich.
JB's has such a large menu that it would take a large sampling of items to determine the best dishes. Clearly, some items served are a lot more to my taste than others, but there should be something on the menu for just about everybody.
Go to Index
RESTAURANT DETAILS
RATING: 19
Cuisine: American
Cost: $$
Hours: Open Daily
Accessible: Yes
Smoking: No Smoking
Special Features: Serves Breakfast
Most Recent Visit
Feb. 25, 2008
Number of Visits: 7
Best Items
Chicken Enchilada Pasta, Taco Salad
Special Ratings
Chicken Enchilada Pasta:


Taco Salad:


Portobello Pasta:


Penne Chicken:


Wild Mushroom Ravioli:


French Dip Sandwich:


Caesar Salad:


Muffin:

MORE ABOUT THIS WEB SITE