Jerusalem Grill Mediterranean Restaurant
5360 N. Mesa St.
El Paso, TX
(915) 231-9600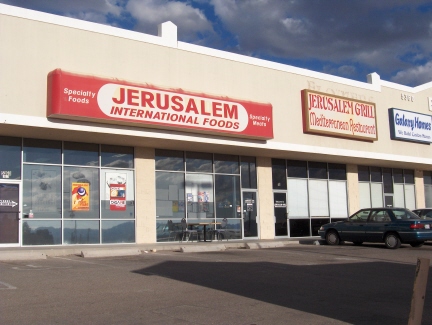 Jerusalem International Foods is a popular Middle Eastern grocery store in west El Paso, and within the same building is Jerusalem Grill, a small Mediterranean style restaurant that demonstrates how all these ingredients can be combined into some delicious delicacies.
It appears that the kitchen preparation is done by members of the family who own the restaurant. This seems to be one of the keys to the success of Jerusalem Grill--in addition to low overhead it assures quality food prepared in the traditional method.
The end result has been somewhat hit or miss, with some meals being more memorable than others. Spanakopita, one of the items on the vegetarian Appetizer Combo, tasted like it had been frozen and then microwaved. Other items I had on some early visits were similarly disappointing.
My latest visit in 2010, however, was an almost total transformation from some of the early visits. Some of the early disappointments are now very good, and some of the items that were good before are now better. In short, I now think Jerusalem Grill serves some of the best Mediterranean food in El Paso (or anywhere I have tried, for that matter). All of the items were consistently good, and I have special admiration for restaurants who can make vegetarian food taste as good as it comes out at Jerusalem.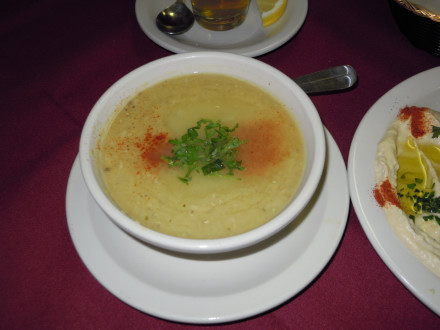 Lentil soup
Lentil Soup is normally one of my favorite items, but when I tried it before it was not spectacular. On my most recent visit, though, it tasted fresh and flavoful, as if it were home made (I do not know, though, if it is home made or not). It was spicy to the point that I have not seen in other El Paso restaurants except perhaps Mediterranean (another restaurant that I think serves authentic Middle Eastern style food). In any case, I was very pleased with the soup, as well as the amount of soup served.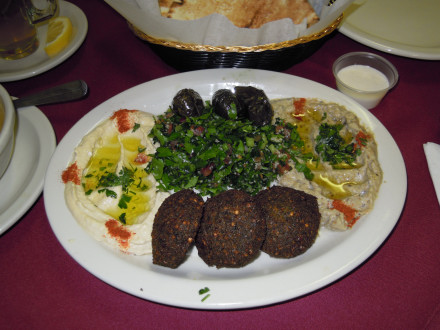 Combo vegetarian platter with hommus, falafel, baba ganouj, tabbouli, and grape leaves
The Combo Vegetarian Platter provides a good sample of vegetarian dishes, which on my latest visit were some of the best examples of vegetarian food I have had in Middle Eastern style restaurants. The price of the plate is rather high, but it is not too high when the quality of the food is taken into consideration.
The Falafel has consistently been one of the best items served at Jerusalem Grill. With greasiness on the low end, this may be the best example of falafel in El Paso. In fact, falafel is generally hard to do at Middle Eastern restaurants throughout the United States (at least based on the experiences I have had), and I thought Jerusalem Grill did a good job. I was especially impressed that the little balls of falafel were moist enough that they did not crumble when broken apart, yet they were not soggy. The flavor and aroma exhibited true Mediterranean style cooking.
Hommus was rather average on the flavor scale, but was fresh with good quality olive oil. The texture was good, being neither too thin and runny nor too thick and chunky. When compared to others I have tried this was one of the best overall.
Tabbouli was fresh and nicely spiced. It was crunchy with burgoul with a texture that was somewhat different from others served in town. The sauce had an excellent balance of flavors (with olive oil and lemon juice being the main ingredients).
The vegetarian Grape Leaves were one the best items served on the vegetarian combiation plate. I would even go so far as to say that these are some of the best I have had in a Middle Eastern restaurant.
Baba Ganouj was the biggest change between early and recent visits, with the new version being fresh and delicious. This was nothing at all like previous versions (or most versions in other restaurants) that remind me too much of eggplant, one of the vegetables that I find to be the most unpalatable.
Pita was an additional item that I think has changed for the better since the restaurant opened. I now find it to be fresh and delicious (I had suspected before that it was prepackaged).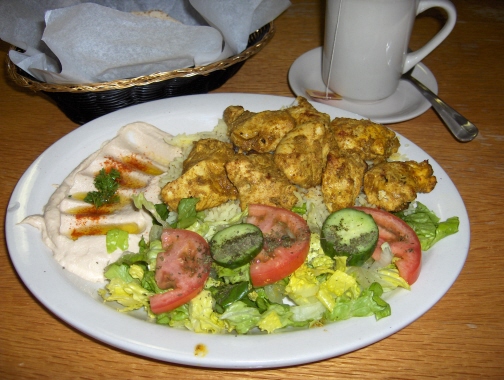 Chicken shawerma with hommus and salad
At most Mediterranean restaurants I can count on the meat items being good even if the vegetarian plates are not, but at Jerusalem Grill they are both good.
I was told the Chicken Shawerma was one of the more popular items, and I thought it was quite good. According to the literature this is chicken slow roasted on a skewer and topped with spices. I did not ask Jerusalem Grill how they cooked the chicken, but it tasted as if it were a good example of the classic dish. Slow cooked meat is usually a good choice at any restaurant, and Middle Eastern cuisine is no different.
Middle Eastern tea is available in the grocery store, and used to be served in the restaurant, but now they serve green tea. The restaurant also offers fruit juice, yogurt drinks, and Arabic coffee. My friends say the mango drink is especially good.
The baklava here comes in a larger than normal size, and makes a fitting dessert for the food here.
Many of the city's Mediterranean and Middle Eastern restaurants have good meat dishes, but I believe Jerusalem has the best vegetarian platter. Some items may be better at Mediterranean Cuisine or other restaurants, and the tabbouli is better at Su Casa, but Jerusalem is consistently good over the entire vegetarian platter, and may be the only restaurant for which I would make this statement.
Do not overlook the Middle Eastern grocery store next door for an even larger selection of treats than is offered in the restaurant.
Go to Index
RESTAURANT DETAILS
RATING: 23
Cuisine: Middle Eastern
Cost: $$
Smoking: No Smoking
Most Recent Visit
Aug. 18, 2010
Number of Visits: 7
Best Items
Grape Leaves, Falafel, Chicken Shawerma
Special Ratings
Chicken Shawerma:


Grape Leaves:


Falafel:


Hommus:


Lentil Soup:


Tabbouli:


Baba Ganouj:


Pita:

MORE ABOUT THIS WEB SITE