Kiki's Restaurant & Bar
2719 N. Piedras St.
El Paso, TX
(915) 565-6713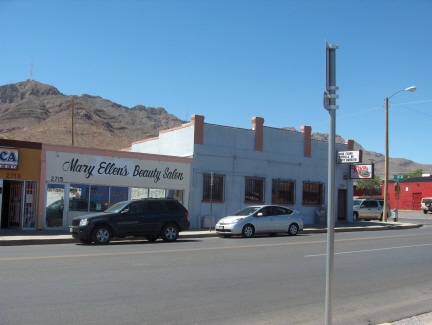 Kiki's has been around so long it is an El Paso tradition, yet even though the items served are similar to the ones found at just about every other restaurant in the city, they are done with a unique twist. Kiki's has solid Mexican food, and I especially like the fact that everything is cooked in vegetable oil (it was one of the first Mexican restaurants in El Paso to cater to El Paso's small vegetarian community). For years it has also been home to live blues music on Sunday nights, but I do not know if this is still the case.
The building shows obvious signs of age, and although the restaurant is not quite at the stage that it would be considered as a historic landmark, that honor might be bestowed upon the large bar if such a designation existed. Before the city's anti-smoking ordinance was passed the small dining room off to the side was the most comfortable place to sit, but patrons can now also dine comfortably in the several booths and large tables adjacent to the bar.
Kiki's has built its reputation more on the food than the bar. In my estimation, though, it has slipped from the former status it held as one of El Paso's premier Mexican restaurants. It is still very good. but I find myself coming here mainly for a change of pace from the other restaurants rather than because any of the entrées can blow away the food found at other restaurants.
Although the entrées can sometimes be less than exciting, this is not the case with the superbly flavored Spanish rice and refried beans, along with a huge, homemade, and always fresh flour tortilla served with every meal (I think they adjust the prices upward to pay for such a work of art, but what you don't eat you can take home and use it for breakfast the next day). I sometimes tend to take these normal accompaniments to a Mexican dinner for granted, but when you come to Kiki's you will likely realize how important they can be to the overall quality and enjoyment of the meal. If anyone thinks Mexican food has to be cooked with lard to taste good, I challenge them to come to Kiki's to see how good food cooked with vegetable oil can be.
Like some other restaurants, I think the standard "Mexican plate" items are not Kiki's specialties. The Red Enchiladas used to be among the best in town, but they seem to have been going steadily downhill. They don't have a lot of red chile spice, and are mostly cheese.
The Green Enchiladas remind me more of Oklahoma style "cheese tacos" than El Paso style enchiladas. Topped with Muenster cheese and large chunks of green chile, they taste OK, but the Velveeta filling does not contribute much to the flavor.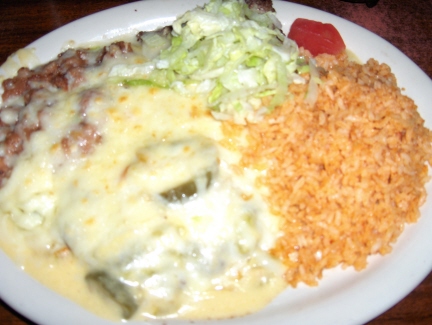 Hamburger steak con queso
A better way to enjoy the combination green chile and queso sauce served on the green enchiladas is to have it on the Hamburger Steak that is available as a special for dinner on Saturdays (Kiki's does change the specials from time to time, but they tend to stay the same for several years in a row). The now defunct La Paloma Restaurant had a chile con queso hamburger steak that was spicier and a little more flavorful than the one at Kiki's, but I think Kiki's is still ahead of most every other restaurant in town that tries to serve the same thing. Probably the key to the preparation of this dish is the inclusion of large chunks of green chile that bring it out of the realm of Tex-Mex food, that it would appear to be by looking at the cheese.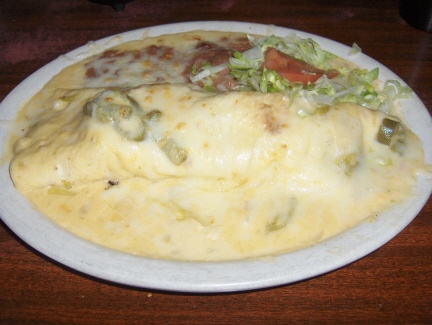 Beef burrito covered with green chile queso
The Beef Burrito, served with the green chile on top, is also an excellent combination of flavors (I see a pattern developing that involves different items served with green chile). This burrito, served with a beef stew inside, used to be one of the daily specials but is now one of the menu items. There are actually several types of beef that can be served inside, but I think the green chile stew is about as good as any of them.
The Chile Relleno was tough and lacked flavor, but had a good sauce.
One popular dish is the Crab Enchialdas served as a lunch special on Saturdays. While I would not classify this as fabulous Mexican food, it has been better than similar dishes I have had at some Mexican seafood restaurants (it comes with either red or green sauce). I usually enjoy the green sauce.
For a change of pace you can order Black Beans instead of refried--both are very good (and vegetarian).
At Kiki's the sum is usually greater than the parts, that is that I enjoy the total meal more than any individual item. The exception is the flour tortilla, that I think is probably the best in El Paso. The rice and beans are usually pretty good as well. Enchiladas (both red and green) are not as good as they used to be, but most other items are pretty good. My favorites are the ones with green chile queso sauce.
Go to Index
RESTAURANT DETAILS
RATING: 20
Cuisine: Mexican El Paso
Cost: $$
Hours: Open Daily
Cooking Oil: Vegetable
Smoking: No Smoking
Alcohol: Beer
| | |
| --- | --- |
| Chile Index: | |
Most Recent Visit
Mar. 15, 2008
Number of Visits: 10+
Best Items
Beef Burrito with Green Chile, Crab Enchiladas, Hamburger Steak, Rice, Refried Beans, Flour Tortilla (served free with each meal)
Special Ratings
Red Enchilada:


Green Enchilada:


Hamburger Steak:


Chile Relleno:


Flour Tortilla:


Refried Beans:


Rice:


Chips:


Salsa:

MORE ABOUT THIS WEB SITE