La Choza Menudazo Y Tamalotes
4012 Doniphan Dr.
El Paso, TX
(915) 581-1920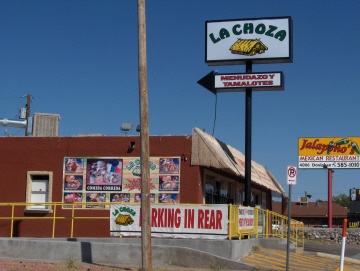 Note: This location was closed as of 2009. The restaurant on Zaragoza Rd. is still open. Hours may be different than the ones listed for the Doniphan restaurant.
About the same time that the free trade agreement was approved with Mexico, branches of our sister city's restaurants began appearing in El Paso (along with U.S. exports of fast food chains into Ciudad Juarez). I would say the Sun City has gotten the better deal, with restaurants such as La Choza Menudazo y Tamalotes. La Choza first appeared on Zaragoza near Interstate 10, but a branch has been open on Doniphan Drive just north of Sunland Park Drive since late 2005.
The El Paso Times spotlighted La Choza in its 2006 Best of the Border awards as serving the "Best Menudo" and as a runner-up in the "Best Tamales" category (as is reflected by its name Menudazo y Tamalotes). La Choza is certainly one of the city's better Mexican restaurants, and especially in the category of what I call "Chihuahua style Mexican food," or food that is more authentic and served the style that people tend to eat every day in Ciudad Juarez and throughout northern Mexico.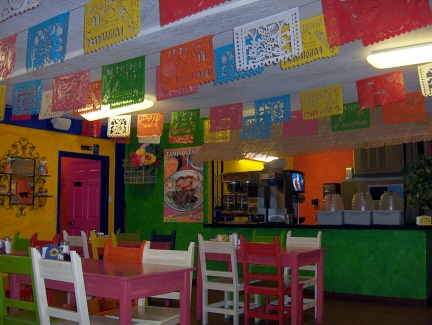 La Choza's dining room makes full use of a camera's color capability
Some Mexican restaurants concentrate as much on the "experience" as the food, with a large building, mariachis for entertainment, an extensive bar, and prices to match. La Choza has none of these things, and I am not even sure whether it serves beer or not. The restaurant on Doniphan is only open for lunch except on weekends, and it seems to be geared toward customers who want fast service at a reasonable price. Of course, the other factor is that the food is south of the border style. Personally I do not care for red enchiladas served Chihuahua style, but many other items are quite good when they are as authetic as possible.
The chips and salsa are usually a tip-off as to the quality of the meal that will be served. The Chips at La Choza were more than impressive--home made, thick, crispy, not too greasy, and only a bit too salty. In fact, these may be viewed as the classic El Paso and northern Mexico style chips by which others can be compared.
The Salsa may be even more impressive--a thin liquid with just the right amount of diced chiles and not too much cilantro or other spices that typically ruin a good salsa.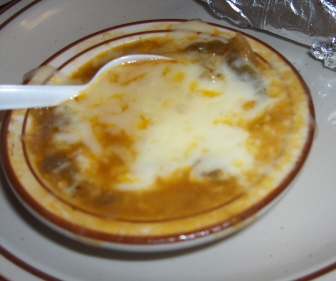 Small order of chile con queso
To me a very special meal would include a small order of Chile con Queso. A lot of restaurants serve this dish, but other parts of the country do not compare to the northern Mexican style that is typified by La Choza. This dish is served with a thick cheese that does not turn either too hard or too gooey, and fresh green chile strips that taste as if they come from the local area. Some people get the full order as a dinner, but my stomach is not prepared for that much green chile at one sitting. I loved the appetizer, though, and thought it was one of the best versions of chile con queso I had tried. I always think of the queso at G&R Restaurant as being the standard in El Paso, but I thought the one at La Choza was not only equally good, but was probably closer to the ones I have eaten in Mexico.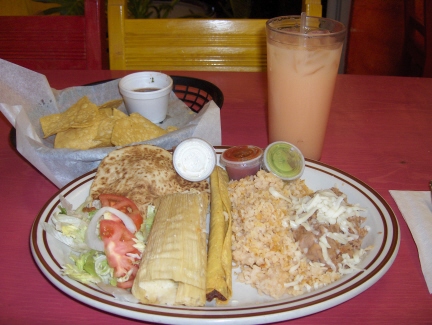 Combination plate with a gordita, chicken tamal, flauta, rice, and beans
La Choza serves just about every dish typically found in Chihuahua style restaurants, but in the interest of finding the the restaurant's specialties I have tried various items from the combination plates. I have yet to find a vegetarian item I would like to order as a main course, but the meat items have been clear winners.
The Chicken Tamal with green chile had to be one of the first things I tried after I read that La Choza was one of the best places in town for tamales. It had the traditional corn husk that was opened to reveal a moist masa outside with chicken and green chile inside. I thought the chicken was the weak point of the tamal, being a little dry. The green chile was not as robust as at other restaurants, but it was one of the better tamales I have tried. While there are different styles of tamales in Mexico and throughout the American Southwest, it is not easy to get a masa that tastes just right. I think the one at La Choza comes pretty close.
The Gordita was enclosed in a soft flour tortilla shell, with roast beef inside (other types of meat are available). While this type of meat seems superior to me than the ground beef used at Little Diner and other restaurants, the unfried shell made this a different type of food than the border style gordita--really it is more like a soft taco. I enjoyed the way La Choza made it but it was not really the same dish as the deep fried ones served at Little Diner and JJ's.
The Flauta was notable in its lack of greasiness. The guacamole, served in a small container, was excellent. I was served sour cream that was still cold and hard to use as a dip, but it was better on a subsequent visit. La Choza also provides a third topping that completes the colors of the Mexican flag: red, white, and green. The red container has a special red chile that is more robust with flavors than it is spicy (if you want something extremely spicy you can use the salsa served before the meal). Ciro's has been known in town for serving the same style flautas with three toppings, but I thought the one at La Choza was equally good, if not better.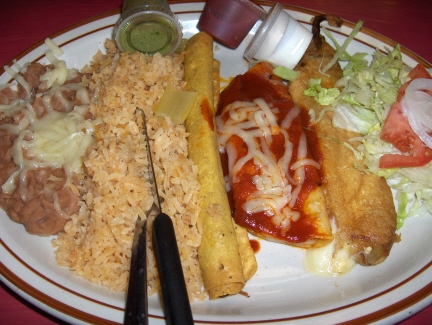 Combination plate with beans, rice, flauta, red enchilada, and chile relleno
The Red Enchilada had good cheese, but came with a rather weak red chile that was diluted with too many spices. If you are used to the ones in Ciudad Juarez you will feel right at home with the enchiladas here. Personally I prefer the ones that are more popular in El Paso using stronger chiles and without as strong of a comino flavor.
The Chile Relleno surprised me by coming plain without sauce on top. It also surprised me by being less greasy than most. I did not find it as flavorful as most of the ones I consider to be "New Mexico" style, but I think using the type of chile, cheese, and breading that are consistent with Ciudad Juarez style food, La Choza did a very good job.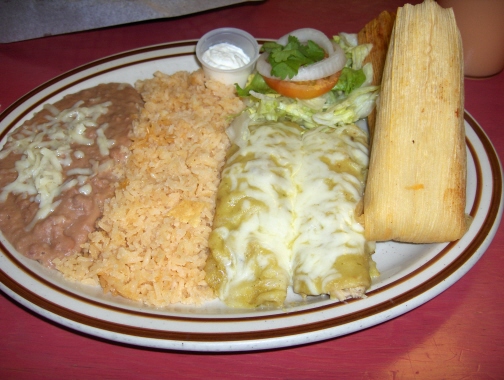 Green chicken enchiladas and green chile tamal
Green Enchiladas made Ciudad Juarez style are milder than the ones with New Mexico chile, and sometimes have a different flavor. The trick I have found to ordering them is to always get a chicken filling, and when possible get them with sour cream (enchilada suiza style). At La Choza it turned out I had nothing to worry about, since the green chile was quite good (although still not very spicy). The Mexican white cheese added a flavor dimension that is not found in New Mexico enchiladas that use yellow cheese, so in my opinion the green enchiladas at La Choza are on par with some of the city's New Mexico style enchiladas. I enjoyed them served with chicken and a container of sour cream that was served on the side, although I think ones without chicken might be my first discovery of a truly good meatless dish at La Choza.
A Pork Tamal I ordered with red chile was greasier than the green one, and I thought not as good as the tamales I can get in Canutillo (at either Lupita's Tamales or Little Diner). The green one, though, can probably compete with anyone in the area. I do not know if La Choza serves any other varieties of tamales besides these two, but if so they would be worth trying.
A Melón (canteloupe) drink I ordered was very good--not too sweet and a good representation of this type of agua fresca drink.
The prices were a little higher than are normally found in El Paso Mexican restaurants, but I thought were a bargain for the quality of food served. Even the items that I thought did not have the best flavor were very fresh and of good quality. The only thing I thought could use some improvement was the chicken.
The service has always been outstanding even though I have had different servers on different visits.
Breakfast is available from 7 a.m. to 11:30 a.m.
Even if a restaurant stays true to "Chihuahua style" cooking, there is still a great allowance for individual recipes and cooking methods. I like the way La Choza prepares the food, and I have found the total meals to be a pleasurable experience that makes up for any specific shortcomings found in individual items. To me the only real shortcoming has been in the red enchiladas, but this has been my general experience with Ciudad Juarez style restaurants. The green enchiladas and just about everything else, though, have been outstanding.
More than being good, though, the food has been very enjoyable-- something that is intangible but very important. I hope others will enjoy it as much as I have.
Go to Index
RESTAURANT DETAILS
RATING: 23
Cuisine: Mexican Chihuahua
Cost: $$
Hours: Lunch Mon.-Sat.; Dinner Fri. & Sat.
Accessible: Yes
Additional Locations: 1155 N. Zaragoza & Cd. Juarez, Mexico
Cooking Oil: Vegetable
Smoking: No Smoking
Special Features: Serves Breakfast
| | |
| --- | --- |
| Chile Index: | |
Most Recent Visit
Dec. 7, 2007
Number of Visits: 3
Best Items
Tamales, Flautas, Green Enchiladas, Gorditas, Chile con Queso, Chips, Salsa, Agua Fresca Drinks
Special Ratings
Tamales:

green
Tamales:

red
Flautas:


Gorditas:


Chile Relleno:


Green Enchiladas:


Red Enchiladas:


Chile con Queso:


Chips:


Salsa:


Beans:


Rice:


Melón Drink:

MORE ABOUT THIS WEB SITE