The emphasis of La Cuesta is on a large menu selection, good flavors, and brightly colored food. It also seems to always have some type of entertainment, but I think the best is provided by the mariachis on Thursday and Friday evenings (I used to play trumpet in high school, and I appreciate people who can play it much better than I was able to).

The Shredded Beef Taco is probably the best of the "standard" Mexican plate items I have tried. The menu offers a large variety of Mexican steaks and beef plates, leading me to believe this is what the restaurant is really all about.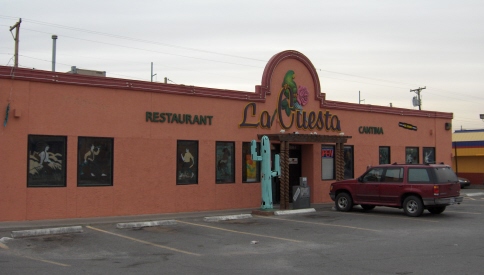 The Chile Relleno is a good representation of the El Paso style mild chile with sauce and melted cheese on top. I would recommend ordering this as part of any Mexican combination plate, since the Enchiladas are really not the best El Paso has to offer.
Chipotle Chicken is one of the more unusual dishes offered at La Cuesta. The one I tried was quite spicy (as opposed to the milder than normal enchiladas, rellenos, and other items). The chicken was rather tough and the tomato garnish did not add much to the enjoyment of the meal, although the chipotle sauce seemed pretty good. Overall I did not think this dish delivered much more excitement than could be obtained through just about any Mexican combination plate at any restaurant in the city.
Mexican seafood is offered in a variety of styles, and there is definitely a lot on the menu from which to choose.
The fresh squeezed Lemonade was excellent.
The bar seems to be pretty extensive, and this is a popular place to eat for large groups of people due to the fact that there is such a large menu selection (there is literally something for everybody) and they try to provide good quality entertainment (the place is fun). La Cuesta stays open until 9:00 p.m.--later than most places in town, so enjoy!