La Malinche Mexican Food
3910 Doniphan Dr.
El Paso, TX
(915) 833-7941

La Malinche is a local mini-chain with four locations around town, and is popular with the local population because of its cheap prices and authentic El Paso style food (you won't find "tourist" stuff here!). Although there is an abundance of Mexican restaurants in town, La Malinche attracts people because of its reasonable prices, homey atmosphere, and food that tastes as if someone made it in their own home. There are several locations in town, and although the food does not vary much between the different restaurants, the one at Doniphan and Sunland Park Drive has a larger dining room that I find more comfortable than the others.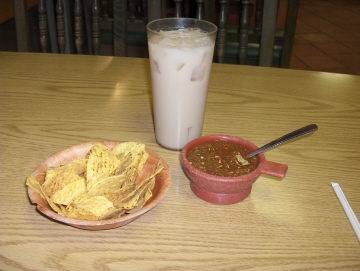 La Malinche's salsa is not for the faint of heart, but horchata cools it down
The chips here are quite salty and I consider them to be mainly a delivery device for the salsa. The Salsa is jalapeño based, and pretty flavorful for this style. Although I like to debate whether the jalapeño salsa or the puréed chile variety tastes better, there is no debate that the salsa at La Malinche is one of the hottest in the city.
An Horchata drink, made with rice and enough cinammon to give it a delicious flavor, seems to be an excellent fire quencher to go along with the salsa or the various spicy dishes served at La Malinche. They have perfected the process of making the drink to the point that there is no noticeable residue at the bottom as is the case with many of the home made horchatas, but the one here retains the home made flavor with enough cinammon and spices to separate it from the commercial varieties served at some restaurants.
La Malinche has a Spanish style tomato sauce with chunks of celery that I think is noteworthy, and is served on three items. Enchiladas Suizas (white meat chicken enchiladas covered with sour cream) are a very good way to sample the sauce, proving that delicious Mexican food can be served that is not spicy. Although I normally prefer these "Swiss enchiladas" to be served with green chile, I think La Malinche's Spanish sauce has a superior flavor to the green chile.
The Chiles Rellenos are also served with the Spanish sauce, with the chile relleno providing the spice so that extra spice on top is not needed.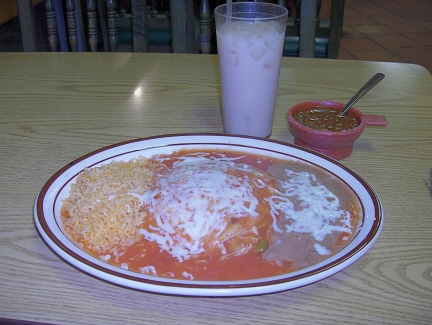 La Malinche's entomatadas are flavorful but not spicy
Entomatadas (enchiladas covered with mozzarella cheese, but with the mild Spanish sauce instead of regular chile) are probably my favorite dish at La Malinche, and I think represent one of the best examples of this dish I have had anywhere. The light sauce helps bring out the flavor of the cheese, which is also above average.
Red Enchiladas are also very good, with a strong chile flavor. With several types of enchiladas available, it would probably be advisable to sample a variety.
Tacos contain potato mixed with ground beef. This is a popular local style, and the potatoes are a way to make the tacos more affordable, but this is not my favorite version of the beef taco.
Rice is good but the refried beans are about average. I consider the beans to be on the greasy side.
It is somewhat annoying that they will not make substitutions on the combination plates, but this is balanced by the fact that prices are very cheap. It may be worthwhile ordering more than you think you can eat in order to get all the items you might like to sample.
The breakfast menu seems to be a little less of a bargain than the lunch and dinner menus, thus I have not tried it.
If you go to any of the La Malinche locations around El Paso, do not expect anything that is anywhere close to upscale food or atmosphere, just some pretty decent Mexican "comfort food" that people in El Paso like to enjoy.
Go to Index
RESTAURANT DETAILS
RATING: 19
Cuisine: Mexican El Paso
Cost: $
Hours: 7:30 a.m. to 8 p.m. Mon.-Sat.; 7:30 a.m. to 5 p.m. Sun.
Accessible: Yes
Additional Locations: 5901 Brook Hollow Dr., 301 Texas Ave., 9109 Dyer St., 910 N. Yarbrough Dr.
Smoking: No Smoking
Special Features: Serves breakfast
| | |
| --- | --- |
| Chile Index: | |
Most Recent Visit
Dec. 14, 2006
Number of Visits: 10+
Best Items
Entomatadas, Red Enchiladas, Chiles Rellenos
Special Ratings
Enchiladas Suizas:


Entomatada:


Red Enchiladas:


Chile Relleno:


Taco:


Rice:


Beans:


Chips:


Salsa:


Horchata:

MORE ABOUT THIS WEB SITE