Important Notice:
An update of this review can be found at okgourmet.com .
Leo's Mexican Food
7520 Remcon Cir.
El Paso, TX
(915) 833-1189

Leo's has become an El Paso institution, and along with Chico's Tacos and perhaps a handful of other restaurants, falls into the category of "El Paso comfort food" that provides the type of Mexican food people ate while growing up or when they first came to the city.

From the original restaurant that opened on North Loop Drive in 1946 to the several branches operating today, almost everyone in the city is familiar with Leo's. I would say what has probably kept it in business over the years has been the lunch specials that include combination plates of different items along with sopaipillas for dessert. Most of my business went to the location on Mills Avenue downtown, but all of the restaurants seem to have pretty much the same food. The downtown restaurant used to be called La Terraza, but this is simply another name for the Leo's Restaurants that are all owned and operated by various members of the Terrazas family.

Having a historical perspective of the restaurant, it is also my opinion that the food is not up to the level that it used to be. I know that tastes change, but several other restaurants seem to be as good as ever such as L&J Cafe, Little Diner, and the old La Hacienda that is now operating as Amigos Restaurant. It is frustrating seeing so many things I like on the menu at Leo's but not having them be prepared the way they should be. I would not make a point about this except for the fact that Leo's used to be a lot better.

One of the best features of Leo's continues to be the varied menu. One example is caldo de res (beef soup with vegetables), served any time of day (most restaurants only serve it at lunch).

The Tri-Color Baked Cheese Enchiladas are one dish I continue to enjoy at Leo's, although I have memories of it being better in past years. The red, green, and sour cream (white) enchiladas form the colors of the Mexican flag, and make a good flavor combination as well. Avila's also serves the tri-color enchiladas, and right now I like the ones there better. Previously it was a close call between Avila's and Leo's. I would say the main failing with Leo's is if you try to eat each enchilada individually and compare the flavor to the same type of enchiladas that would be served at other restaurants.

The Red Enchiladas have historically been the best of the enchiladas served at Leo's, and I like the fact that they are made with vegetable oil. When Leo's first starting preparing them this way it was rather groundbreaking in a city that was used to Mexican food made with lard. I am not sure what it means for the enchiladas here to be "baked," but I have always liked the way they are cooked that gives you soft tortillas as opposed to crispy ones that are over-fried in corn oil. Anyway, while there are aspects the red enchiladas that could be improved, they are still pretty enjoyable overall.

Chicken Mole was average--it came with white chicken breast meat, but the meat was dry and the mole pretty flavorless.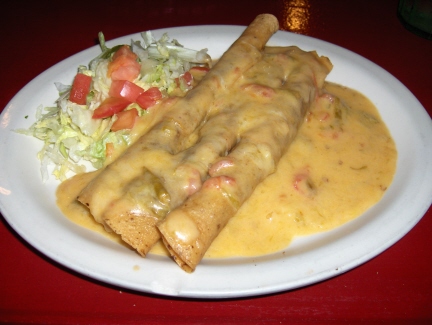 Flautas with chile con queso
I think the menus at many Mexican restaurants are far too dependent on beef, but the beef dishes at Leo's are the one thing that seems to have maintained its quality over the years. One example is the Flautas that had very good shredded beef with a crispy shell. The fact that the waitress recommended beef over chicken confirms the observation I had that the chicken at Leo's is probably not as flavorful as the beef.
Flautas usually come with guacamole and sour cream, but I ordered some with Chile con Queso to see if they would be anything like the queso flautas I had at Casa Jurado. Unfortunately, these flautas turned out to be pretty much a disaster since the queso turned quickly into a solid mass that did not taste like real cheese. For that matter I did not really get much flavor from the chile that was mixed into the queso. Ordering the chile con queso on flautas is more economical than getting an order of chile con queso, one of the more expensive items on the menu, but I would pass on either one of them (as well as ordering the queso as an appetizer). Frankly, the runny glop many Tex-Mex places serve for free in Oklahoma is much better than the one served at Leo's.
Everyone seems to enjoy the free Sopaipillas that are served for dessert at Leo's. I do think they are good, but anyone who is on a true sopaipilla quest should probably go to one of the New Mexican restaurants in Las Cruces or Mesilla to get the best ones. In any case, the prices at Leo's seem to be a dollar or two higher than for the same dishes served at other restaurants, so customers are paying for the sopaipillas one way or another.
To me Leo's falls in the same category as so many other El Paso restaurants-- this would be considered a good restaurant if it were in just about any other city, but with so much stiff competition in El Paso there are better options for Mexican food.
Go to Index
RESTAURANT DETAILS
RATING: 16
Cuisine: Mexican El Paso
Cost: $$
Accessible: Yes
Additional Locations: 315 E. Mills Ave., 5103 Montana Ave., 1921 N. Zaragoza Rd., La Terraza Restaurant 11250 Montwood Dr.
Cooking Oil: Vegetable
Smoking: No Smoking
Special Features: Free Sopaipillas
| | |
| --- | --- |
| Chile Index: | |
Most Recent Visit
Sep. 15, 2007
Number of Visits: 10+
Best Items
Red Enchiladas, Tri-Color Enchiladas, Flautas
Special Ratings
Red Enchiladas:


Chicken in Mole:


Refried Beans:


Rice:


Chips:


Salsa:


Sopaipillas:

MORE ABOUT THIS WEB SITE