Li's Cafe
632 Sunland Park Dr.
El Paso, TX
(915) 833-8889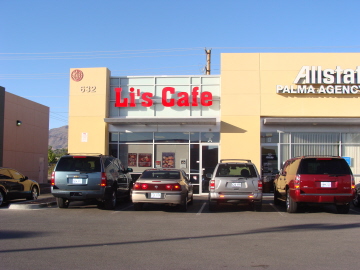 I consider Moon Day Chinese Restaurant to be not only one of El Paso's best places to eat, but also to be one of the most unique Chinese restaurants in the United States. The northern Chinese style cuisine served at Moon Day is like none other I have tasted anywhere, and comes from family recipes that make it a place that has developed a loyal following not only in El Paso, but for many who visit from out of town.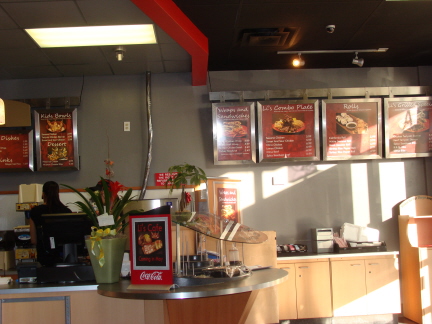 Orders are taken at the counter and brought to customers' tables
Li's Cafe is the second restaurant in El Paso to be opened by Lili, Moon Day's owner, with a more casual fast food menu than the original restaurant. Li's Cafe has a few of the same menu items as Moon Day, but also offers Japanese style sushi rolls and teriyaki meat as well as Asian flavored wraps. A kid's menu includes a sesame chicken bowl, teriyaki chicken skewer bowl, and sweet and sour chicken bowl.
The menu at Li's Cafe is limited when it comes to the Beijing style Chinese food for which Moon Day is famous, but I think much of the food has the same flavors as Moon Day (there are just fewer choices). One big advantage of Li's Cafe, though, is that the prices are quite affordable (Moon Day has the reputation for being expensive, although I do not mind paying for high quality).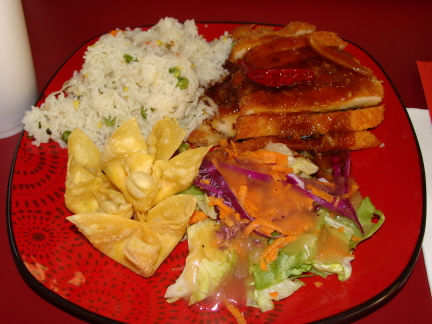 Citrus chicken with a salad and crab rangoon
I was very happy to find Citrus Chicken available at Li's Cafe. Although covered with a sweet sauce, something I usually do not find with authentic Chinese food, this sauce is very complex and well flavored so that I do not consider it to be "Americanized." The breading on the chicken is the same that is used on the tempura dishes, so that this also does not fit the stereotype of Americanized Chinese food. Both Moon Day and Li's Cafe use top quality chicken, both in this and other dishes. In short, the citrus chicken here is the same as at Moon Day, except that I think it is a slightly smaller portion.
The Egg Fried Rice was also excellent, and helped to make sure that this plate was just as filling as the one at Moon Day. A salad is also served, along with a crab rangoon appetizer (I do consider crab rangoon to be primarily an American style item, although the one at Li's Cafe was very good).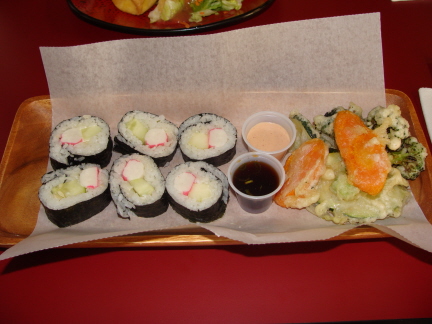 California roll with tempura vegetables
The California Roll was one of five types of sushi rolls served on the menu, and it was quite good (those who read my Japanese restaurant reviews know that I seldom order California rolls, and I am usually less than impressed by them). Lili, though, has found the secret of a good California roll. The tempura vegetables that come with all the rolls is also quite good, although I would not put it in the same category as some of the ones served in the Japanese restaurants on Lee Trevino.
As a fast food style restaurant, some items served at Moon Day are not available here, one being hot tea. The Ginger Iced Tea, though, was excellent, and another style of iced tea is also served. I think Li's Cafe is based on an excellent idea: serve high quality and nutritious fast food at prices that are comparable to other casual restaurants, and lower than many of the city's other Chinese restaurants.
I was struck that Li's Cafe fills a niche that is probably quite popular in California and larger cities, but which so far has been lacking in El Paso. The flavors here, though, are quite unique, and I think will turn Li's Cafe into the type of "destination restaurant" for which Moon Day is already known.
Go to Index
Restaurant Web Site
RESTAURANT DETAILS
RATING: 23
Cuisine: Chinese & Japanese
Cost: $
Hours: Open Daily
Accessible: Yes
Tea: Ginger Iced Tea
MSG: No
Smoking: No Smoking
Most Recent Visit
May 10, 2010
Number of Visits: 1
Best Items
Citrus Chicken, California Roll
Special Ratings
Citrus Chicken:


California Roll:


Vegetable Tempura:


Egg Fried Rice:


Ginger Iced Tea:

MORE ABOUT THIS WEB SITE