Important Notice:
An update of this review can be found at okgourmet.com .
L&J Cafe
3622 E. Missouri Ave.
El Paso, TX
(915) 566-8418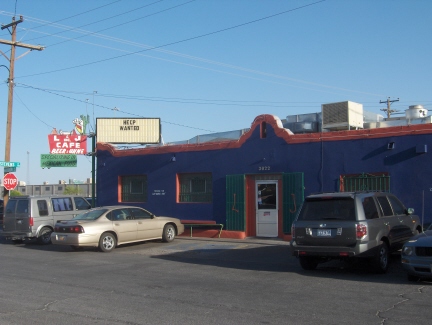 L&J Cafe is truly a one-of-a-kind El Paso institution, and I think belongs on any short list of Mexican restaurants that represent El Paso's unique cooking style. L&J is often referred to as "the place next to the cemetery," more properly known as Concordia Cemetery, a tourist attraction in itself with a history that rivals Tombstone's Boot Hill (although I will admit that the Arizona landmark has a much more colorful name, originating in the fact that many of its occupants were buried with their boots on). Concordia is the resting place of John Wesley Hardin and other characters made famous by Western lore, but also has the grave stones of many of El Paso's most prominent settlers.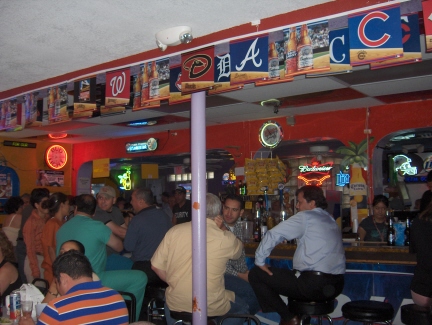 L&J's bar is quite popular for drink specials and conversation
One thing that makes L&J unique is the fact that it has been operation in the same location since 1927, and it has never lost its popularity as a local hangout. The largest section of the building is devoted to the large bar that encourages patrons to interact with each other or with the employees dispensing the beer and other drinks in copious amounts, with business made even more brisk due to the fact that many happy hour and "bar specials" are made available that are not offered in the dining room.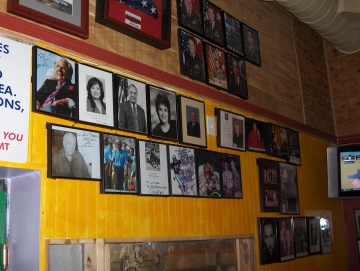 Just about every prominent El Pasoan has dined at L&J, and many have photos on the wall.
The tiny dining room was actually mostly an afterthought until it was expanded several year ago to now house a dozen or so tables. Even with the expansion, though, the room is not large enough for the normal lunch crowd, but extra tables are available in the bar area. The large number of cars parked on the surrounding streets on Friday and other evenings usually belong to the bar patrons, with the restaurant being less popular at night than during lunch hours.
I was introduced to L&J Cafe by co-workers who frequented it as a lunch hangout, and it has remained one of my favorite spots for Mexican food. While several El Paso restaurants are known for standout dishes, L&J probably best known for the large number of items that are good representations of the Chihuahuan Desert border region. This is one place where a combination plate or individual items would be equally good.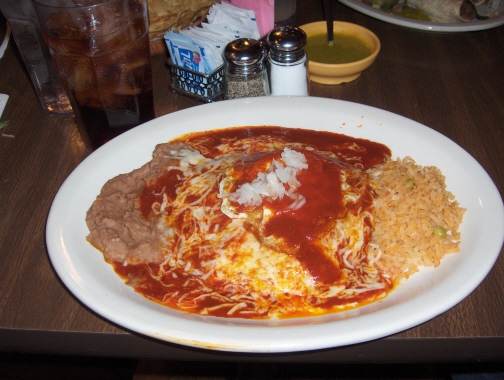 Red enchiladas served flat with an egg on top
Most patrons seem to come to L&J for their "chile fix," with Red Enchiladas being one of the standout items. Individual enchiladas are rolled, but the enchilada plates can be served with the tortillas flat if requested (I prefer them flat because the cooks tend to pour more chile over the tortillas when they are spread out rather than rolled). This is a deep red chile with just the right amount of spices that are not overwhelmed by comino or other added substances that tend to make the Tex-Mex style of chile, served farther east in the state, less desirable than they might be. The cheese is yellow, and is probably not the strong point of the enchilada, but it does not need to be of gourmet quality to enhance the flavorful sauce poured on top. Tortillas are cooked in vegetable oil, but not in such great amount that it leaves a "corn oil" aftertaste. White onions are added, but the enchiladas are usually as good if they are omitted. Spiciness varies with the season and the chiles used, much the same as in New Mexican restaurants. While L&J used to have some of the spiciest chile in El Paso, it has become less so recently. A friend of mine described the red chile as "earthy," but I think this is because enough spices have been added to distinguish it from the more unadulterated "New Mexico style" chile.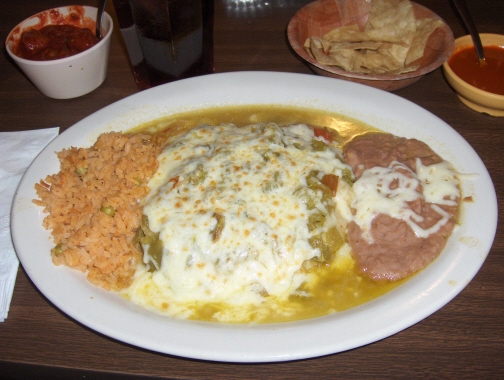 Green enchiladas at L&J are closer to New Mexico style than the typical El Paso style
Green Enchiladas are made with very hot green chile strips in a soupy sauce poured over the tortillas, and would probably be considered the spicier of the two types of chiles. With enough cheese to give some flavor, the inspiration for these enchiladas probably comes directly from New Mexico (although they are not as spicy as the ones at Chope's in La Mesa, N.M.). If I had sufficient time for a culinary tour of the El Paso region, I would probably try the green enchiladas at Chope's first, but the ones at L&J are quite good as well.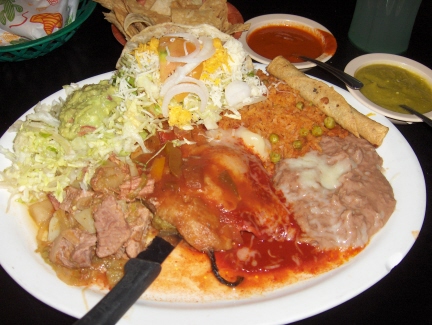 The Mexican combination plate with the following (clockwise starting at lower left): caldillo, lettuce with guacamole, beef taco, rice, rolled taco, beans, red enchilada, chile relleno
The Chile Relleno is another outstanding dish--topped off with a light Spanish sauce. Many restaurants in El Paso seem to use a Spanish sauce to cover up a greasy batter and inferior chile, but L&J offers a high quality chile relleno with a sauce that enhances it. I definitely think Chope's Restaurant in La Mesa, New Mexico has a better chile relleno, and some other restaurants use a better cheese. The sauce on L&J's relleno, though, is such a critical component that the overall quality rates right up there with the best.
Caldillo is one of L&J's signature dishes, and for good reason. Differing from the New Mexico style chile verde in that it is made with beef instead of pork, the green chile, tomatoes, and other spices are much the same. To me the benchmark for caldillo was found at the lunch counter at Mc Crory's Drug Store near downtown that closed years ago (Mc Crory's is still operating in the Coronado area of El Paso, but without the lunch counter. I hear the cooks from Mc Crory's now work at Adventure Zone on Redd Road, but they do not serve caldillo). Since my memories of this dish cannot be replicated by the current restaurant scene, the caldillo at L&J Cafe is the next best thing.
Beef Tacos are made with potatoes, something that seems to be uniquely an El Paso style. This is one area where my memories of the Tex-Mex style served in Austin, without the potato filler, seem to surpass what El Paso has to offer.
Rolled Tacos come with a marinated shredded beef that is flavorful but not very voluminous. This long rolled tortilla shell looks like a flauta except it does not come with the customary sour cream. The Guacamole served as a side dish on the Mexican combination plate, and probably with other plates, could easily turn this into a delicous flauta with the flavorful avocado dip providing more enjoyment than I have experienced with the majority of flautas in town that also come with sour cream.
The Rice served as a side dish on most plates is another stellar item, with just the right amount of spices blended in. I love the fact that the rice is made with a generous mixture of peas, the tomato sauce is flavorful, and the rice is almost never overcooked.
Refried Beans are bland, but made with vegetable oil so they do not leave a "lard" aftertaste. The melted cheese on top sometimes makes this an even more enjoyable side dish than the rice.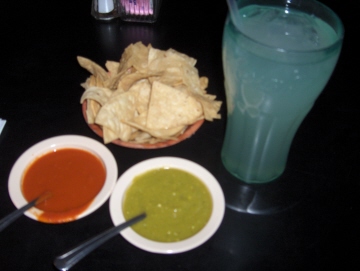 It is not advised to dig into the chips and salsa until a refreshing lemonade or other drink has been delivered,
Both the red and green Salsa are liquid concentrations of high chile potency, and are among my favorites in El Paso. If you intend to order L&J's homemade lemonade, ice tea, or something from the bar, it would be a good idea to have it delivered to the table before indulging in either of the deceptively harmless looking bowls of salsa before they start having their effect. While the salsa is so delicious I find myself wanting to keep pouring it on the chips, the after-effects almost always require me to stop before very much is consumed. Occasionally the restaurant will be out of one of the salsas, or will only serve one on the table. It is worthwhile for chile aficionados to request both, and usually they will be able to supply the missing variety to give the customer the "Christmas" effect of both red and green.
Although beer seems to be the drink of choice to go with a spicy L&J dinner, I think the Lemonade is one of the best in El Paso with the semi-sweet and semi-sour flavor of a classic Mexican style agua fresca drink.
L&J Cafe has the appearance of a classic "divey" Mexican restaurant with a building that has changed little since the 1920's. The inside is comfortable, though, with both small and large tables available. The servers are some of the friendliest in the city, and the food is the very essence of El Paso style cuisine. I have found the quality of food preparation to be a little inconsistent over the years, and more so recently. Still, even though L&J would be a worthy destination due to its history, the main reason to go is for the food.
Go to Index
RESTAURANT DETAILS
RATING: 24
Cuisine: Mexican El Paso
Cost: $$
Hours: Lunch Mon.-Sat.; Dinner Mon.-Fri.; Breakfast Sat.
Accessible: Yes
Cooking Oil: Vegetable
Smoking: No Smoking
Alcohol: Beer and Wine
| | |
| --- | --- |
| Chile Index: | |
Most Recent Visit
Apr. 28, 2008
Number of Visits: 10+
Best Items
Red Enchiladas, Green Enchiladas, Chile Relleno, Caldillo, Guacamole, Rice, Salsa, Lemonade
Special Ratings
Red Enchiladas:


Green Enchiladas:


Chile Relleno:


Caldillo:


Beef Tacos:


Guacamole:


Salsa:

especially the red salsa
Rice:


Refried Beans:


Lemonade:

MORE ABOUT THIS WEB SITE