Los Jarrones Mexican Food
120 E. Redd Rd.
El Paso, TX
(915) 581-9990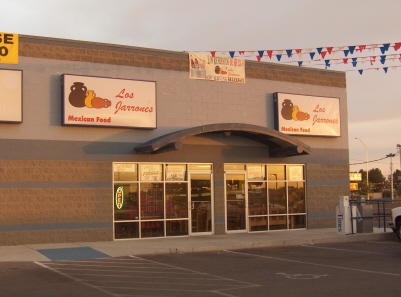 Although Los Jarrones' menu says it is located at 120 W. Redd Road, it is actually located just east of Doniphan (and therefore on East Redd Road), between Doniphan and Interstate 10. It is well worth searching out, since I believe it serves high quality, authentic Mexican food at reasonable prices (of course all of these qualifications are subject to interpretation, but I have tried quite a few Mexican restaurants in the border area).
The front view of the restaurant may not indicate how large it is, with the space used to provide adequate distance between tables rather than to cram in as many tables as possible. To me this is one of the factors that contributes to an upscale dining experience where I feel that the restaurant has thought as much about the diners' comfort as the food.
Los Jarrones seems to be modeled after a Ciudad Juarez style family restaurant with as many items on the menu as they could manage. Breakfast plates are listed and a kid's menu is available. Comida corrida is available for lunch, and seafood is served. While only Mexican food is served, the restaurant begins to approach some of the Mexico City style restaurants with all types of food including steaks, different types of soups, tortas, and non-spicy entrees.
I believe beer is served, but since I did not write it in my notes, I have not listed alcohol under the "restaurant details." I tried to get aguas frescas drinks but could not. I ended up with Jarritos, a brand of Mexican soda, that I thought was good.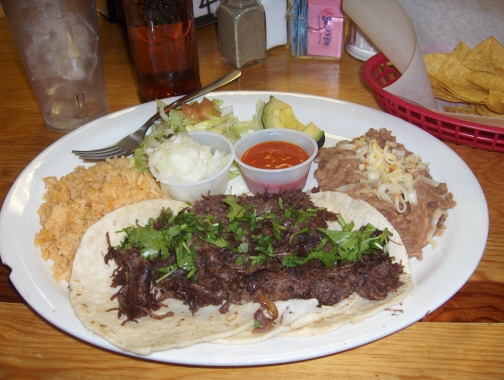 Tacos de barbacoa are listed on the menu as one of the "Favorites"
Tacos de Barbaoca can be quite flavorful when good, but quite dried up when not done properly. On the advice of the waiter I got an order, and when trying them I thought they were correctly listed as one of the "Los Jarrones Mexican Favorites." These were moist and flavorful, making them better than the barbacoa at some restaurants at which it is supposed to be a specialty. This is not usually on my list of things to try at restaurants, so I do not have a wide universe from which to compare. I believe the ones here, though, are my favorite in El Paso.
The menu gives patrons the choice on this dish and the tacos de bistec of baked potato and salad or rice and beans, but with my bad eyesight in the poor light I did not see the word "or," and ended up with rice and beans. The waiter did not point out the fact that there was a choice, and when I pointed out that I was expecting a baked potato, the owner gave me one. To me, though, if this were as upscale of a restaurant as it seems to be trying to be, it would have informed the customers of the choices available.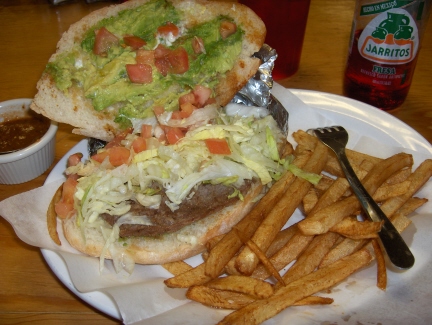 Torta de milanesa con aguacate
Tortas make a smaller meal than the dinner plates (but not a very much less expensive one), and several choices are available. I tried the Torta de Milanesa con Aguacate with a breaded beef cutlet and avocado. I have to refer back to the milanesa steaks at Lucy's Restaurant as the standard I use, with the one at Los Jarrones in comparison being rather dry and less flavorful.
The French fries seemed greasy to me, and forgettable.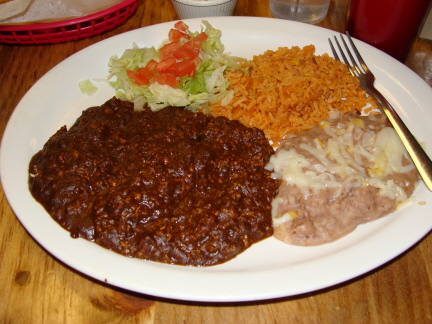 Mole with chicken
The Chicken and Mole plate was one of the best I have eaten, with some at other restaurants that were formerly my favorites being of lesser quality recently. I look for good quality, freshness, and flavor in the mole, and I found all of them here. The type of chicken used is not as big a concern to me, but I thought the chicken here was very good. I do not try mole at very many restaurants because it is so easy to be disappointed with this dish, but I am very glad I tried it here.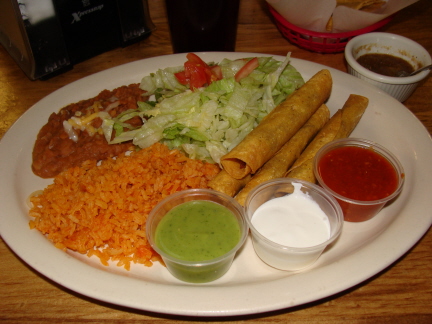 Flautas
I thought the Flautas had very good beef, and the shells were not greasy. This is about all I ask in a flauta, although it would have been nice if the guacamole had been more flavorful.
Both the chips and salsa were standouts, with the salsa being puréed (not chunky) with a jalapeño flavor.
The rice had a nice tomato flavor, and the beans were not greasy.
So far enough items have been a standout that I think this is a very good Chihuahua style restaurant. The lack of lemonade and other drinks prepared from scratch is a negative for saying this is a truly authentic restaurant, but ultimately I think the food is more important than the drinks.
The tortas and breakfast plates do not seem to be much of a bargain, but the dinner plates are very competively priced. Like all restaurants, I think Los Jarrones has its strengths and weaknesses. I would say its main strengths are the cook and the menu selection.
A bakery is attached to the restaurant next door, and this is a good source for dessert or take-home. Some of my readers may get the idea that I never met a baked good I did not like, and this is probably the case. In the case of Los Jarrones, though, I did not think the bakery was the same quality as many other Mexican bakeries in the city (although it still meets my taste test as being worthy to take home).
Go to Index
RESTAURANT DETAILS
RATING: 23
Cuisine: Mexican Chihuahua
Cost: $
Hours: Mon.-Sat. 7 a.m. to 8 p.m.; Sun. 8 a.m. to 4 p.m.
Accessible: Yes
Smoking: No Smoking
Special Features: Serves breakfast
| | |
| --- | --- |
| Chile Index: | |
Most Recent Visit
May 14, 2009
Number of Visits: 4
Best Items
Tacos de Barbacoa, Mole
Special Ratings
Tacos de Barbacoa:


Chicken Mole:


Flautas:


Torta de Milanesa:


Baked Potato:


Rice:


Beans:


Chips:


Salsa:

MORE ABOUT THIS WEB SITE