The concept of alta cocina, or gourmet Mexican food, is somewhat lacking in El Paso restaurants, with comida corrida or the Mexican combination plate being the norm at most establishments.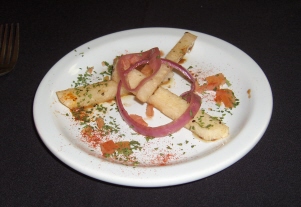 Mangos Café strives to fill a niche that is really needed in the Borderland, serving more upscale Mexican food that is more true to traditional cooking techniques that have been made popular by personalities such as Rick Bayless on the PBS program "Mexico One Plate at a Time."

Mangos is actually a restaurant and coffee bar, and invites customers to either dine at one of the tables or sit on a sofa to enjoy a drink and conversation. Either way the emphasis on on spending a leisurely time as is the custom south of the border.

Meals start out with a complimentary Jícama apptetizer that warms up the taste buds to other pleasures to come. This white colored root is enhanced by tomatoes and a sour dressing.

While Mangos' menu is somewhat limited, a good portion of the offerings consist of soups, salads, and bocadillos that include quesadillas, papalotes (potatoes), and chips that come with a spicy mango salsa. The fact that I have to consult my Mexican cooking reference books for some of these terms indicates that the food here is much more adventurous than is typically found in El Paso restaurants. The majority of the items served at Mangos seem to be unique to this restaurant, let alone that better versions could be found elsewhere.

Only two soups are served, but the Poblano Cream Soup made with roasted poblano chiles was delicious and spicy (and I would put the emphasis on delicious). This was creamy as advertized, and had the fresh flavor of home made soup. I think part of the reason for its quality is that the restaurant only serves this and tortilla soup, concentrating on a couple of things they can do well.

Nopal Salad was one of the few vegetarian items available, and is really intended as a side dish to one of the several meat entrées (the enchilada dinner is the only vegetarian offering). This salad made with cactus, tomato, avocado, and fresh panela cheese was one of the few in El Paso that exceeded my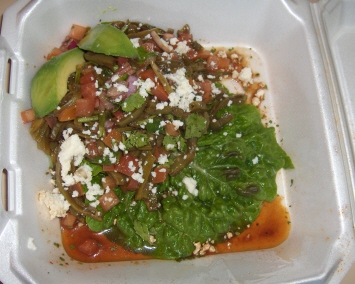 expectations for it, to the point that it would be satisfying as a main course. The cheese must have been home made or else shipped freshly from Mexico, since I do not believe I have seen this in any other El Paso restaurants. While I have known for some time that cactus was edible from many nopal tacos I have eaten south of the border, Mangos' salad brings this vegetable (if you can call it that) to a new flavor level that I think would please just about anybody.
The cactus salad and a few other items come with home made Corn Tortillas that are certainly not unique to this restaurant, but they are better here than at just about any place else. The quality and freshness of the tortillas was to the point that they really made the salad worthwhile ordering.
With a limited dinner menu, I thought I would like to try something that is not served in a lot of restaurants, Chicken with Cilantro Cream Sauce. This was a chicken breast covered with a cream sauce that rivaled the poblano soup in flavor. I do not know why cream sauces are the biggest disappointment at many restaurants, but it seems to be one of the best features of Mangos Café.
Side dishes to the cilantro chicken included an excellent green bean vegetable dish, and some even better spicy potatoes. I think the restaurant is experimenting with some of the vegetables, and the potatoes have been changed since Mangos first opened. The objective always seems to be to provide something better that the customers will appreciate.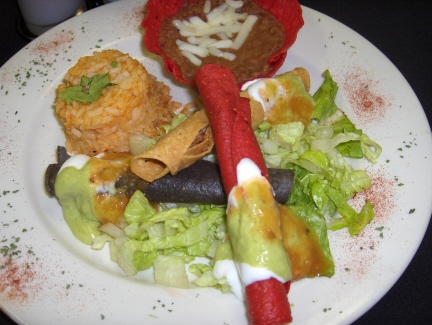 Tacos de Cochinita Pibil are a traditional dish from the interior of Mexico that contains three pork tacos with a citrus marinade. I thought the cochinita pibil flavor was very subtle, giving the emphasis to the meat, as it probably should be. Coming with rice and beans on the side, it did not seem to be as much of a special treat of Mexican food as some of the other menu items, and actually for pork dishes I tend to like the New Mexican versions of chile rojo and carne adovada better. Still the tacos de cochinita pibil were quite flavorful.
Flautas are a common item around El Paso, but the ones served at Mangos was far from ordinary. With good quality meat (I tried the chicken version) and tortillas shells coming in three colors (regular, red, and blue), their outstanding features were freshness and a lack of cooking oil taste. Three sauces are served that you pour on yourself: sour cream, a rather thick but pourable guacamole sauce, and a mild tomatillo sauce. I thought the latter provided the best flavor, although the other two were high quality as well. I even consumed the bed of lettuce since it is rare to find examples of this leafy substance in El Paso that actually have a good flavor as it does here. In addition, though, the flauta plate was a rather light meal compared to the normal dinners served in El Paso that seem to be measured in pounds rather than ounces of food. The small plate concept at Mangos is becoming quite popular around the U.S., but it is something about which customers should be aware at establishements that follow it.
Desserts are made with all the care and attention to detail as the main dishes, with some truly exceptional flavors being showcased. Mango Rolls are one of the desserts offered, with a fried crust that is similar to the spring roll desserts served at Asian restaurants. The use of cinammon and other flavors in the Mangos Café dessert, though, seem to set it above other versions I have tried.
Mangos has recently opened a second restaurant near the West Side Police Substation called a garden cafe with an international menu. This will offer an even greater opportunity for the management to experiment with new dishes, and I suspect that all of them will be good.