Michelangelo's Lil' Italy Ristorante (Closed)
3512 N. Yarbrough Dr.
El Paso, TX
(915) 598-3894

Note:&nbsp I have information that the restaurant has closed, but this has not been confirmed.

Just when I thought I had discovered all the good Italian restaurants in El Paso, a friend told me about Michelangelo's Lil' Italy on Yarbrough Drive just south of Montana Avenue. It actually took a friend's recommendation to get me to stop here, since the outside appearance did not indicate that this was one of the city's exceptional Italian restaurants (nor was the lack of cars in the parking lot a good sign).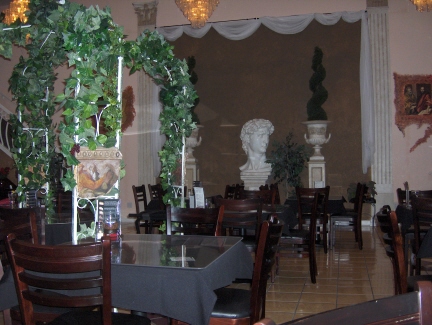 Michelangelo's spacious interior
I think Michelangelo's lacks the publicity of some of El Paso's newer Italian restaurants, but the food seemed to be as fresh and as much of a taste treat as some of the places that are receiving all the buzz. Despite the large size of Michelangelo's dining room, the food is cooked by the owner and chef, allowing the same consistency and quality control I find in the city's other high quality Italian restaurants. I did not get a complete sample of everything served at the restaurant, but I had enough to know that I liked what I tasted.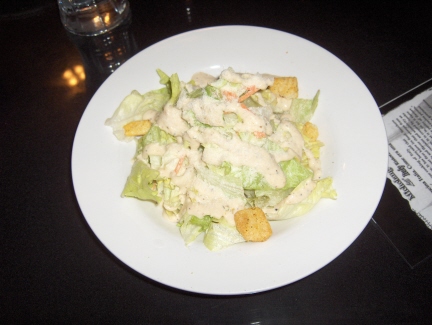 Caesar salad is an excellent compliment to a meal
The House Salad I ordered was the main disappointment at the restaurant. The lettuce had such a pale color it reminded me of many of El Paso's cheaper restaurants.
The Caesar Salad I sampled, however, had an excellent dressing with lettuce that seemed somewhat better. It tasted good even if it is hard to get the freshest lettuce to El Paso.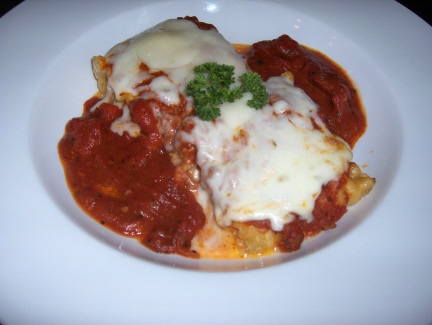 Lasagna is one of Michelangelo's specialties
Lasagna was not only recommended to us by the waitress, but I thought it went well beyond my expectations. The chef uses a special cheese that makes it better than others in the city, and I would say it was one of the best I have had anywhere. The pasta was fresh, and the tomato sauce had a flavor that exceeded its somewhat ordinary appearance.
The Chicken Parmiagiana had equally good sauce and ingredients, and was comparable in terms of quality. It did not stand out as one of the few exceptional Italian dishes I have experienced the way the lasagna did, though. I have no complaints or negative comments about the chicken, it is just that I really thought the lasagna was the best dish.
With a restaurant that serves food as good as Michelangelo's, I really think they could do better on the salads, so I am not sure how good some of the other dishes are. When it comes to pasta dishes, though, I think it is quite impressive, and is one of those places people will like once they find out about it.
Go to Index
RESTAURANT DETAILS
RATING: 23
Cuisine: Italian
Cost: $$
Accessible: Yes
Smoking: No Smoking
Most Recent Visit
Apr 24, 2008
Number of Visits: 1
Best Item
Lasagna
Special Ratings
Lasagna:


Chicken Parmigiana:


House Salad:


Caesar Salad:

MORE ABOUT THIS WEB SITE