Mike and Ana's Mexican Restaurant (Closed)
1850 Trawood Dr.
El Paso, TX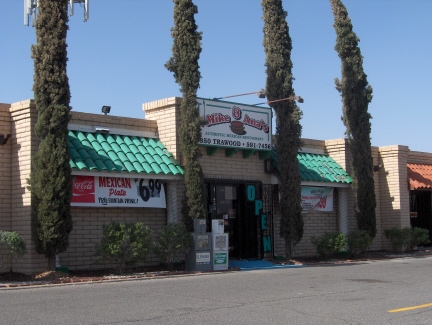 Mike & Ana's is a neighborhood restaurant owned and operated by (guess who??) in east El Paso. It has to get customers by word of mouth since Trawood Drive, on which it is located, is not as heavily traveled as some of the major streets, and the restaurant itself is easy to pass by without noticing the sign. The cheap prices and good food do attract a lot of customers, especially at breakfast and lunch. I became aware of it when my office relocated nearby, and although I haven't gone a large number of times, I have always enjoyed the food when I have been there.
Breakfast is very popular with locals, and even, it seems, a lot of police officers. Prices are low, but I have not had the cheap quality food that is served at some other budget restaurants. Mike and Ana's is a good place to get some food before going to the office, and is a great alternative to Dunkin Donuts, McDonald's, or some other places that allegedly serve "breakfast."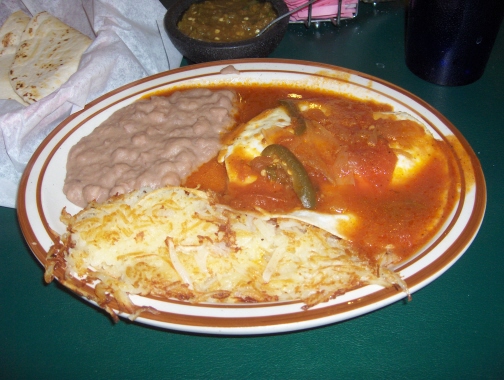 Huevos rancheros come with a delicous red sauce
Huevos Rancheros are excellent, and are some of the few I've eaten in El Paso that compare with the ones I used to get when I lived in Albuquerque. Topped with both red chile and green chile strips, the fact that the eggs are cooked the way I like makes this a deal that's hard to beat. In addition, the hash browns are not as greasy as those found at other places. The eggs are served on top of a corn tortilla, and a flour tortilla is served on the side. Although the green chile strips are fairly mild, salsa is served on the side that is quite a bit more spicy.
Orange juice comes in a bottle, is the kind you would find in a convenience store, is almost as expensive as the meal, and is the weakness of eating breakfast here (coffee may be better, but I don't know since I don't drink coffee).
Lunch specials, like the breakfast specials, consist of the items offered that day (Mon.-Fri.). Specials are the same every week, so if you are a regular you know what to expect. Regular items, though, are not much more expensive. The bonus of the lunch specials, though, is that you get the "soup of the day" (different every day Mon.-Fri.).
Caldo de Res (beef and vegetable soup) is a soup I have tried and enjoyed very much. While it is common for the beef to be gristly (using the more inferior cuts of meat in the soup), the one at Mike and Ana's is a flavorful roast beef that tears off in shreds, with very little gristle or fat. The customer is provided rice to put into the soup, making it almost substantial enough by itself for a meal.
I'm not as impressed with the chicken here as the beef. Chicken Flautas are served that are good, but not as outstanding examples as I have tried at other restaurants. There is an interesting version of the flautas on the menu called banderitas because they represent the Mexican flag (bandera mexicana). [See.... you even get a Spanish lesson here!!]. Normal flautas have guacamole and sour cream on top, and these represent the green and white colors of the flag, but these also contain a very spicy red chile for the red color (this chile is not for the faint of heart or tongue). Although I think these flautas are too greasy and the chicken is not the best, the guacamole is quite good, so it might be a good choice.
A lunch buffet used to be quite popular with my office, but as of 2008 the buffet was only served on Fridays.
Go to Index
RESTAURANT DETAILS
RATING: 21
Cuisine: Mexican El Paso
Cost: $
Hours: Mon.-Sat. 7 a.m. to 8 p.m.
Accessible: Yes
Cooking Oil: Vegetable
Smoking: No Smoking
Special Features: Serves breakfast
| | |
| --- | --- |
| Chile Index: | |
Most Recent Visit
Apr. 25, 2008
Number of Visits: 6
Best Items
Caldo de Res, Huevos Rancheros
Special Ratings
Caldo de Res:


Huevos Rancheros:


Flautas:


Chips:


Salsa:

MORE ABOUT THIS WEB SITE