Mi Tierra Restaurant
1035 Belvidere St.
El Paso, TX
(915) 584-5726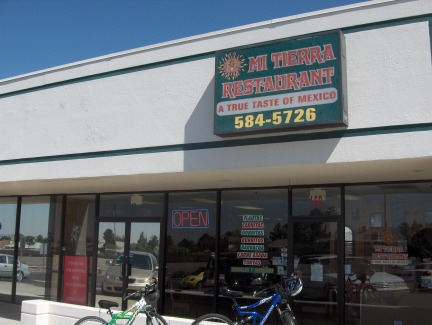 At many Mexican restaurants customers seem to have to choose between food that is authentic and food that is made with high quality ingredients, but at Mi Tierra they get both. The food has the "taste of Mexico" with all the rich flavors and varied menu items that would be expected in an authentic restaurant. Missing, though, are the greasy food and cheap ingredients found in some places that seem to offer an "authentic" experience that is too close to some of Mexico's "street food."
The food at Mi Tierra seems more like something that would be prepared at home for the special occasions when care is taken to serve the best food. Time is taken to prepare each order and the best ingredients are used. The small space and limited number of tables in Mi Tierra probably ensures that the kitchen will never have to resort to "mass production" techniques or pre-preparing large batches of food.
Mi Tierra is a family run restaurant that is only open for breakfast, lunch, or a very early dinner. I know a lot of such restaurants exist in El Paso, but I think Mi Tierra limits its hours as much to keep up the quality as to limit the overhead. I can imagine that they might easily run out of certain items, but I do not know this to be the case. I just know that the food served is fresh.
When I found the taste of the food to be a little different from the typical restaurant in El Paso I asked about the origin of the recipes, and found out that the owners come from the Mexican state of Durango. Each state in Mexico seems to have developed its own cuisine, and the one served here is distinct enough from the normal Chihuahua style food that I think customers will find it very interesting. So far I have only tried it for breakfast, but I suspect the lunch menu includes some distinctive cooking styles as well.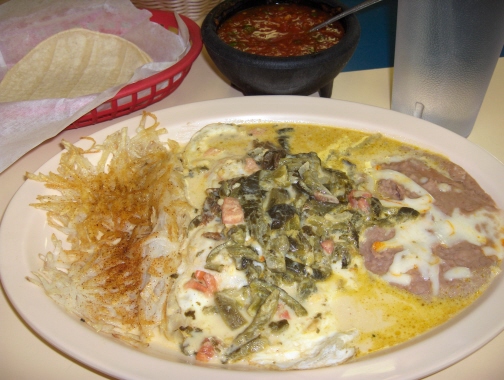 Huevos estilo de Mi Tierra with Rajas
Huevos Estilo de Mi Tierra is one of the specialties of the restaurant served on the breakfast menu. These are eggs with tomato, cheese, and rajas made with poblano peppers. The owners said the dish was typical of Durango style food, but I think it also reflects the traditions handed down by family recipes. While not as spicy as many of El Paso's huevos rancheros dishes, it seemed to be better than most breakfasts found in Mexican restaurants.
The hash browns and beans served on the side were good as well. If I had to point out a down side to the meal it was that eating the whole thing leaves little room for lunch. I am not used to eating such a big breakfast and ones such as this are only when I want to get out the normal routine.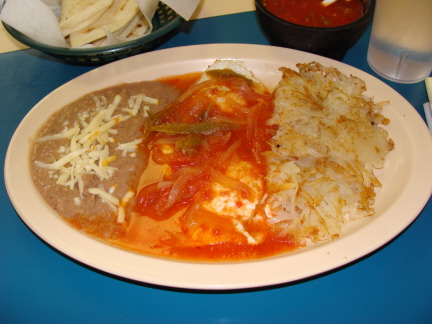 Huevos rancheros
Huevos Rancheros are served as well, and although this is not considered the "specialty" of the restaurant, I thought they were just as good as the huevos estilo de Mi Tierra. This was a fried egg with a tomato sauce and green chiles on top. It was not as spicy as the plate with rajas green chiles, and in some ways this makes it better for me to eat at breakfast.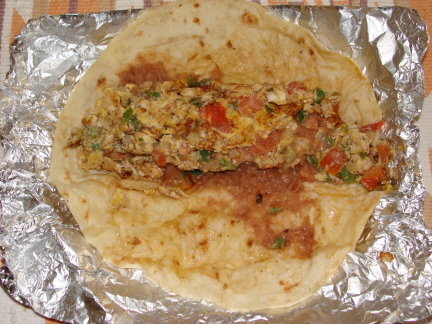 Burrito a la Mexicana
Burritos make an inexpensive and good breakfast if you do not have a huge appetite or want to get something to go. The Burrito a la Mexicana consisted of scrambled eggs, tomato, onion, and jalapeño peppers. They also provided a generous amount of home made salsa that was not spicy enough to make this a breakfast suitable only for serious chileheads, but rather added enough extra flavor to make this one of the best burritos I have tasted. I also think I enjoy the scrambled eggs here more than the fried ones, and I thought they made the scambled eggs with the right consistency (not too watery or too hard).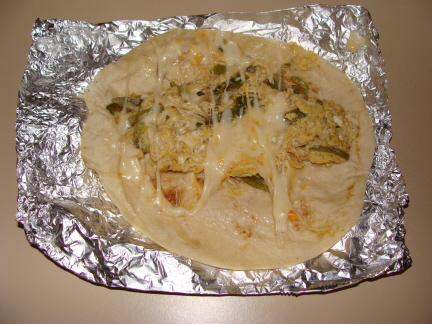 Burrito with rajas
Burritos with Rajas is a way to get a flavor similar to the restaurant's specialty with the same green chiles, but in a smaller portion. I would not say this was quite as good as the huevos estilo de Mi Tierra, but it was enjoyable.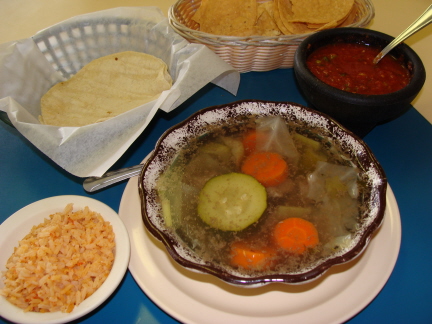 Caldo de res
Mi Tierra also has an extensive lunch menu with items such as Caldo de Res (beef soup) that can be ordered as a meal or to go with a main item. Although the soup was excellent, there are three places near downtown El Paso that I think have the best (Jalisco Cafe, El Jacalito, and Anita's).
Mi Tierra is not the cheapest Mexican restaurant in town but I know quite a few that would be more expensive. I think it is a good bargain for what you get.
If you are craving "real" Mexican Coke, Mi Tierra sells them by the bottle or the case.
I was surprised to find a restaurant in west El Paso serving authentic, home cooked style Mexican food, but Mi Tierra is the real deal. The owners also operate a lunch counter at one of the hospitals downtown, and I think having its roots in the heart of El Paso gives it more credibility as authentic Mexican food (although I also think I know it when it taste it regardless of the neighborhood in which the restaurant is located).
Go to Index
RESTAURANT DETAILS
RATING: 23
Cuisine: Mexican Durango
Cost: $$
Hours: Breakfast & Lunch only
Accessible: Yes
Smoking: No Smoking
Special Features: Serves Breakfast
| | |
| --- | --- |
| Chile Index: | |
Most Recent Visit
Jan. 29, 2010
Number of Visits: 6
Best Items
Huevos Rancheros, Huevos con Rajas, Burrito a la Mexicana
Special Ratings
Huevos Rancheros:


Huevos con Rajas:


Burrito a la Mexicana:


Caldo de Res:


Salsa:

MORE ABOUT THIS WEB SITE