Monteleone's Ristorante Italiano
3023 Gateway West
El Paso, TX
(915) 566-4320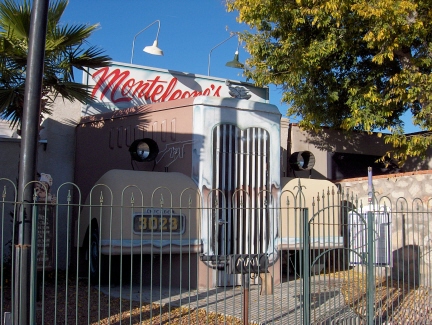 If you have driven along Interstate 10 near downtown El Paso and wondered how a Mack truck ended up in a neighborhood next to the freeway, it is actually part of the art work that gives Monteleone's Ristorante Italiano its unique style. This applies not only to the décor, but I have found the food to be different from anything else served in the city.
Monteleone's recipes come from the owner's grandmother from Italy (via Pittsburgh). Everything is handmade from scratch, and the quality shows. Unlike the "red sauce" Italian restaurants, Monteleone's uses light and healthy oils with fresh tomatoes that are served in chunks rather than a puréed sauce. I do not have firsthand knowledge of authentic Italian food, but I suspect the food here comes pretty close.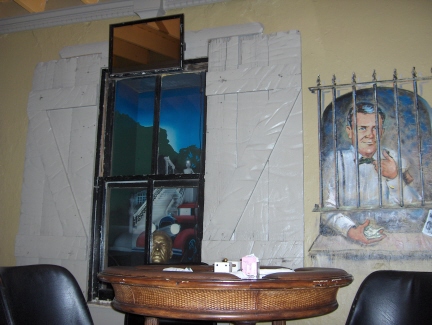 Beware of people watching you when you eat in the Mob Room
The décor is quite interesting--the front looks like a Mack truck and the inside has a gangster theme with several busts of Hollywood figures such as Marlon Brando and Al Pacino. With the restaurant being an old converted house, there are several small dining areas that used to be rooms in the house. The "Mob Room" looks like what used to be a small bedroom that now contains some of the more interesting art work as well as a real craps table and roulette wheel from Las Vegas that are now used as dining tables. I consider it a great honor to be able to eat in the Mob Room, as it is quite small with limited space. However, the food tastes just as good anywhere else within the restaurant or outside on the patio.
During the summer of 2007 the restaurant is serving what I think are Italian style hamburgers on the outdoor patio on Fridays and Saturdays (I have not tried the hamburgers, though). This is one of several promotions Monteleone's has used to create a "fun" atmosphere, including entertainment on weekends when the restaurant first opened. I used to hear Frank Sinatra music played inside the restaurant but I do not know if this is still the practice. Anyway, I do not think Monteleone's wants to be the type of Italian restaurant with dark lighting where you are paying for the atmosphere more than the food. Instead, it is a good place to enjoy yourself, talk to other patrons if you feel like it, and most of all to enjoy some very good Italian food.
The food seems to be enjoyable in its simplicity. I really do not know how difficult it is to prepare this type of food, but it seems to be just basic ingredients put together in a combination you would expect to find in Italian food. Judging from how few other restaurants match the flavor found at Monteleone's, though, it must be more difficult to prepare this type of food than it seems. Everything tastes as if it is freshly prepared, with top quality cheese, vegetables, and other ingredients being used.
The main factor that initially led me to give a lower score to the restaurant was the small menu and lack of vegetarian choices. Gary, the owner, says other dishes can be made with advanced notice (if you call him several hours ahead of time) such as spinach lasagna or chicken cacciatore. Chicken parmigiana, one of my favorite meat dishes, can also be prepared. I think it would probably be worth the effort to call ahead for one of your favorite dishes, although I have yet to have had the foresight to do so.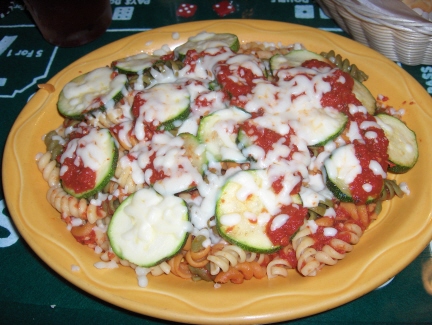 The tortiglioni with zucchini is even better than it looks
Tortiglioni with Zucchini, the only vegetarian entrée on the menu, is definitely something that has not been disappointing. This penne pasta dish has a light sauce with fresh tomatoes, as opposed to a puréed tomato sauce found in the "red sauce" restaurants. The cheese has been excellent, and I have enjoyed everything about it except that it is the only vegetarian dish on the menu. I do like meat dishes, but it is so hard to find vegetarian meals of the quality served at Monteleone's that I like to take advantage of the opportunity whenever possible. The tortiglioni even passed my "refrigerator" test when I took home some leftovers and they did not smell up the refrigerator with a garlic odor. I would have to say that not overwhelming the dish with garlic is probably one of its secrets.
Fresh rolls used to be served with olive oil, but now come with butter. They are still good, though.
A fresh romaine lettuce Salad comes with the dinners, and is a welcome change from the ones at other restaurants that are made with iceberg lettuce. Italian dressing is not made in the restaurant, but I was told it was "special ordered." In quality I thought it was equal to any I have tried in El Paso.
The Pizza is a great bargain-- it contains very fresh ingredients on a thin crust, and is more than enough for two people. I did not think it was as flavorful as the one at Hello Pizza, but its freshness was a definite plus.
Monteleone's closes at 8:00 p.m. Mon.- Thurs. (quite early for an Italian restaurant), is closed on Sunday, but is open for lunch. Prices are almost insanely cheap compared to other Italian restaurants. I do not know where they get vegetables that are fresh enough to make the food taste the way it does, since I usually do not find the same quality food in the local grocery stores.
Most of the available parking is on nearby San Marcial Street. A handicapped space is located behind the building in the alley. Gateway West, on which the restaurant is located, is the frontage road for Interstate 10. Monteleone's is located two blocks east of the Piedras exit.
Go to Index
RESTAURANT DETAILS
RATING: 23
Cuisine: Italian
Cost: $$
Hours: Closed Sun.
Accessible: Yes (parking is in back on the alley)
Smoking: No Smoking
Alcohol: Wine
Most Recent Visit
Aug. 4, 2007
Number of Visits: 6
Best Items
Tortiglioni with Zucchini, Salad
Special Ratings
Tortiglioni with Zucchini:


Pizza:

MORE ABOUT THIS WEB SITE