Moon Day Chinese Restaurant (Closed)
6600 N. Mesa St.
El Paso, TX
(915) 587-7115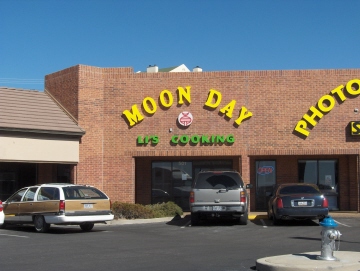 Sometimes it is easy to think El Paso will never have any truly good ethnic food other than at the numerous Mexican restaurants, but Moon Day is one of the few examples that may change such a notion. When Lili, the owner of Moon Day, opened the original restaurant at Mesa and Resler, the Asian food scene changed overnight. The concept at Moon Day was to run a small operation where all the sauces were individually cooked, high quality control was maintained, and the style of food served would be from Lili's home region of Beijing.
The original restaurant was closed for about a year, and reopened in early 2007 a few blocks away in the shopping center in which Savers is located. The new restaurant is larger, hours have been extended, and I think the dining room is more comfortable and attractive than before. The food is as good as ever, and although most of my favorite dishes have been carried over from the old menu, some new items have been added.
Since Moon Day first opened Lili has been offering different specials every two or three months, with the most successful ones being added to the menu (citrus chicken was one such item). The menu has grown to the point that it will almost take a plan of attack to be able to order a representative sample of the dishes that are available. Many of them are not likely to be offered anywhere else in El Paso or even in larger cities. Many of my favorite dishes are items that seem to be totally unique to Moon Day, and are items I have not found in any other restaurant in the United States.
One of the characteristics of Beijing style food is that it offers some of the most diverse types of food in China, ranging from spicy to non-spicy, and offering a variety of meats, vegetables, and sauces. As people from various parts of China migrated to the capital city, they brought different cooking techniques with them, influencing the variety of dishes now found. At the same time, Beijing's relatively dry and cool climate makes it suitable for growing wheat and other crops not found to the same degree in the south of China, with soups and other hearty dishes being particularly popular in the north. Rhonda Parkinson explains that Beijing cuisine reflects a variety of influences and specializes in delicately flavored dishes, many featuring exotic ingredients.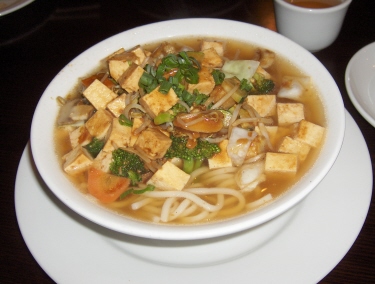 Northern Chinese style noodle soup with vegetables and tofu is on the "light and healthy" portion of the menu
One section of Moon Day's menu is "Light and Healthy Dishes," in which noodle plates and noodle soups are featured. I find this to be one of the best ways to experience northern Chinese cuisine, with the noodles being both filling and delicious. Vegetable and Tofu Noodle Soup is typcial of northern Chinese dishes, and is one of my favorite items at Moon Day. Noodles are made with wheat, and are probably not as flavorful as the rice noodles used in many southern China dishes. The broth, though, is one of the most delicious I have experienced, and provides all the flavor this dish needs. The vegetables and tofu provide additional substance, with the result that the soup is filling and provides a variety of flavors. This dish is non-spicy but chile can be added as desired.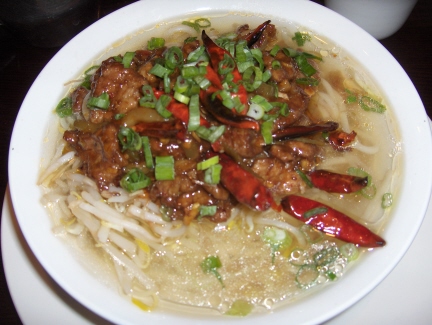 Northern Chinese style noodle soup with Chinese pickle comes from a family recipe
Several meat versions of noodle soup are also available, and are representative of Beijing style cuisine. Spicy Pork Pickle Noodles Bowl is a dish that is very popular in northern China, with the Chinese style pickle giving it a salty and pungent flavor (Lili explains that she cannot add too much or the soup will not taste right). When first served a clear broth is floating on top, but underneath is the same brown, flavorful liquid that constitutes the vegetable soup, except this one is permeated with chiles so that it could also be served in any respectable Sichuanese restaurant. Beef can be substituted for pork, and is an equally good representation of this authentic northern Chinese dish. All truly good Chinese dishes are balancing acts of different flavors and sometimes different food groups for balanced nutrition as well. This noodle bowl seems to provide a complete balanced meal, with all the ingredients contributing to the Chinese pickle being not only edible, but one of the more memorable and enjoyable Chinese ingredients that can be served.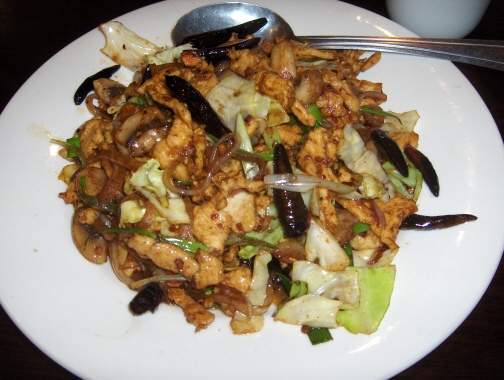 Spicy chicken with Chinese pickles and cabbage
Spicy Pork with Chinese Pickles is another authentic and very good dish that I think people would be hard-pressed to find in any southwestern city. The Chinese cabbage provides a balance of flavor and texture, and the Chinese pickles provide tartness. This "dry" style of Chinese food (with only a small amount of sauce) is available in many good Chinese restaurants throughout the country, but Beijing style dishes are rare even in larger cities. I like meals that are not your ordinary, everyday food, but this one is particularly good.
Spicy Chicken with Chinese Pickles is a variation of the same dish with chicken used as the meat. Since only the pork dish is on the menu, I gather that the chicken substitute is mainly an American preference and would probably not be as popular in Beijing. Nevertheless, the chicken and other ingredients come together to make one of my favorite dishes, not only at Moon Day, but among all the Chinese restaurants I have tried.
One of the first dishes I came to enjoy at Moon Day was the Spicy Crispy Shrimp, with fish that can be substituted if you prefer (although I think shrimp goes better with the sauce). This sauce was notable for going well beyond the typical El Paso "gloppy sweet sauce," and is a good example why Moon Day serves a different class of Chinese food than is found in the Americanized buffet restaurants.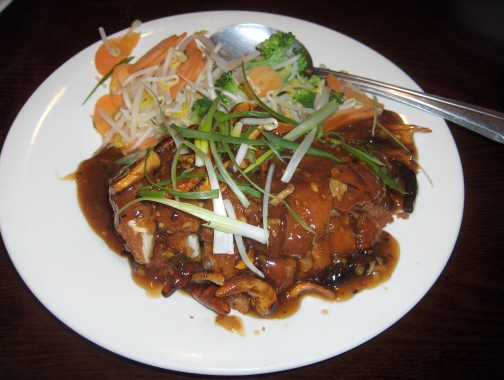 Citrus chicken is a more upscale version of orange peel chicken
If you follow the argument that Beijing cuisine encompasses the best of China's regional cooking styles as the Imperial Court attracted talented chefs from throughout China, then Citrus Chicken is one of the more worthy offerings at Moon Day. The dish is made with orange peels, but it goes well beyond most restaurants' version of orange peel chicken. Although the sauce is excellent and the dish contains good quality white meat, the secret may be the way the batter is made, leaving you feeling that you have eaten something light that just adds a small accent to the flavor of the chicken rather than something that covers up the other tastes. This is a more authentic version of Chinese "sweet and sour" than is found in the great majority of U.S. restaurants, and is one of my favorite dishes at Moon Day.
Sesame Fish is a slightly sweeter version of the "sweet and sour" theme. I thought it had the stereotypical "gloppy" sauce at the old restaurant, but it seems to have improved at the new Moon Day Restaurant (or else my tastes have changed). The Sesame Chicken I recently tried seemed to have more flavors to balance out the sweet component, and was an almost equally worthy representative of the true Chinese sweet and sour flavor as the citrus chicken.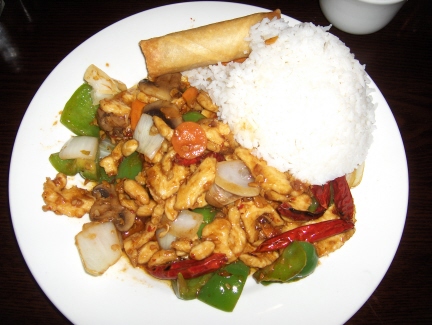 Kung pao chicken served as a lunch special with a spring roll
After trying Kung Pao Chicken in Sichuanese restaurants of some repute, it became apparent that the authentic versions were somewhat different than the ones usually served in American Chinese restaurants. While the "Americanized" kung pao has not been corrupted as much as most Chinese dishes, the true version that is popular in southwest and northern China seems to be less sweet, more vinegary, and with a sauce that is not as dark and runny as the American version. Moon Day's version seemed to be a good balancing act of the different flavors, with less sauce than is normally found, a flavor that was not too sweet, and fresh vegetables. Most of all, the chicken was of high quality that made the dish quite enjoyable. More than most dishes, kung pao chicken is not as much an issue of authentic versus Americanized as much as good versions that are carefully prepared versus ones that are haphazardly made. Moon Day's kung pao chicken is among the best I have tried.
I used to order Kung Pao Tofu at the old restaurant, that was a good alternative to the chicken version. It came with soft tofu that I normally do not like as much as fried tofu, but was very good with kung pao sauce. I tried just about all of Lili's tofu versions of the regular dishes, and kung pao was probably the best.
Family Style Tofu, made with black bean sauce, is one of the more unusual versions of this dish I have tried. The one here has a large selection of vegetables, and is an enjoyable mix of flavors. Northern style cooking is strong on meat dishes, but this is a good vegetarian option that still provides the northern flavors.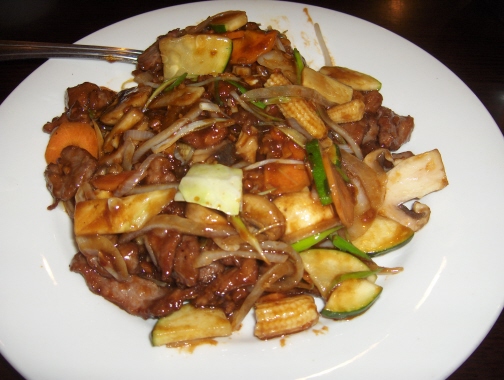 Mongolian beef
Over the years I have all but ignored the beef dishes at Moon Day, but I have discovered that very tender, high quality beef is used in all dishes served. A good example is Mongolian Beef that is a mixture of beef and vegetables. This was not spicy, and did not have the crispy cellophane noodles that I usually associate with the dish, but was quite good, even to the point of being one of my favorite items at the restaurant.
The brewed Jasmine Tea is very impressive--especially for El Paso. It is a special tea that Lili gets from Beijing, and is one example of the attention to detail and good taste that makes this a special restaurant. When El Paso summers hit their usual 100 plus degree days, a good option is the Ginger Citrus Green Tea that the restaurant began offering as a special in summer 2007. The best way I can describe this is as an herbal iced tea with a citrus flavor. I seldom like to have cold drinks with Chinese food but I enjoyed the ginger citrus tea quite a bit.
Prices at the old restaurant were rather high for Chinese food by El Paso standards, and they are even higher now (although lunch specials are now offered that give somewhat of a break). One of Moon Day's outstanding features, though, is that consistent quality is maintained. Noodle bowls are some of the least expensive items on the menu, but they are some of the best. I think the prices charged at Moon Day are only a reflection of the quality ingredients that are used.
I have tried several dishes at Moon Day that did not end up on my list of favorites, but the ones I enjoy the most are quite exceptional and caused me severe withdrawal pains during the year that Moon Day was closed. The menu at Moon Day is a little different than is found in the typical Chinese restaurant, but exploring it and experimenting a little can pay great dividends in enjoying the cuisine of northern China.
Go to Index
RESTAURANT DETAILS
RATING: 25
Cuisine: Chinese Northern
Cost: $$
Hours: Closed Mon.
Accessible: Yes
Tea: Jasmine (brewed)
MSG: No
Smoking: No Smoking
Most Recent Visit
Jun. 1, 2008
Number of Visits: 10+
Best Items
Spicy Noodle Bowl with Chinese Pickle, Citrus Chicken, Spicy Chicken with Chinese Pickle, Spicy Crispy Shrimp
Special Ratings
Spicy Noodle Bowl:


Citrus Chicken:


Spicy Chicken with Chinese Pickle:


Almond Chicken:


Kung Pao Tofu:


Kung Pao Chicken:


Sesame Chicken:


Mongolian Beef:


Tofu Family Style:


Hot and Sour Soup:


Spring Rolls:

MORE ABOUT THIS WEB SITE