Moon Star Chinese Restaurant
7040 N. Mesa St.
El Paso, TX
(915) 842-8238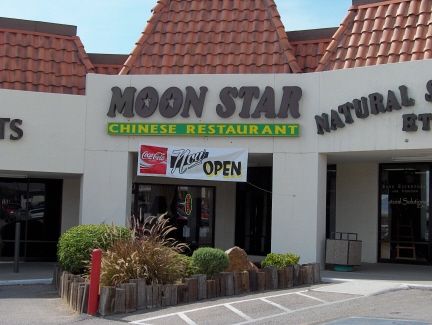 While there seems to be an ever growing number of upscale west side Chinese restaurants, Moon Star stands out from the competition. Outwardly Moon Star is similar to the others in its menu offerings, and the prices are at a comparable level with other restaurants in the area. At Moon Star, though, a higher percentage of the money charged goes into quality ingredients and skilled preparation than at some of the competition who have spent mega-bucks on expensive buildings and furnishings.
Moon Star occupies the location of the former Moon Day Restaurant in the same shopping complex as Albertson's at the northwest corner of Mesa and Resler. Owned by James and his wife, one of the couples who opened Sam's Chinese Restaurant, this automatically assures a higher quality than just about any place else in El Paso, and makes it a worthy replacement of Moon Day. Moon Star has a different menu than Sam's, though, offering "Chef's Creations" and a larger number of dishes than at Sam's. Moon Star is more expensive than Sam's, but I have also found it to offer more in the way of variety and traditional style Cantonese and Hong Kong style food.
The problem in reviewing Moon Star is that it offers several types of menu offerings (and some dishes that are not on the menu). The rating of the restaurant is based primarily on the "special" food that I request from James, consisting of traditional Cantonese style food that is both on and off the menu. I have had good luck, though, with many of the regular menu items as well.
Lunch specials are the same as the ones served at Sam's Restaurant, but come at a slightly higher price at Moon Star (but they are still reasonable). As of the latest writing of this review in 2010 I have not tried the lunch specials in several years, and thus I cannot give a recent assessment of them. I do know, though, that the owners of Moon Star always provide good quality, and that the sauces are closer to traditional Chinese style than is found in many El Paso restaurants where the sauces are very dark, oily, and salty.
Kung Pao Chicken is the best lunch special I have tried (although this was several years ago). This dish was impressive because of the strong sour-flavored sauce that approximated the authentic versions served in Sichuanese restaurants. The vegetable selection was equally impressive, having some of the same Chinese vegetable that are served in the authentic Sichuanese restaurants rather than the standard diced celery and carrot concoctions found in many Americanized versions.
The dinner menu offers a greater choice, but while many of the dishes are good it is hard to find items that break out of the mold of Americanized Chinese food. The Mango Delight is one of the top of the line items served--this is a whole mango split in two and filled with the cut-up mango slices and a choice of meats or tofu. It seemed a little on the sweet side, and I thought the one at Sam's had a better flavor. However, the fresh mangos used at Moon Star gave a better quality to the fruit than the same dish I have tried at Sam's.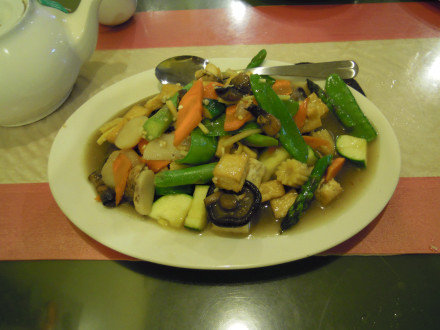 Buddha's delight
When Moon Star first opened I was mainly ordering the vegetable and fish plates, but now I prefer some of the traditional Cantonese style dishes made with meat. When I recently tried a vegetarian dish, Buddha's Delight, though, it was as satisfying as many of the meat dishes. The mixed vegetables were fresh, and were of the quality that deserved being served as a main course. The sauce, though, was the main thing that set it apart from many vegetable dishes I have had in Chinese restaurants in the past. It came with a "white" sauce, but it was really more of a traditional Hong Kong style garlic sauce with a slight brown color. This was the sauce recommended by the owner to go with this dish, and was a sauce that I liked very much.
The Seafood Iron Pot was one of the better dishes I have tried from the menu. The seafood was surprisingly fresh with a mixture of items normally seen in places such as Florida. The metal iron pot was so full it is a wonder the food could be made to fit. A light sauce and the few vegetables thrown into the dish boosted up the flavor a few notches and brought out the natural flavor at the same time. The iron pot kept everything warm long enough for a leisurly meal (a banquet would be a more accurate term). This dish is recommended for sharing, since I think it is too large, and too good, to be kept to one person.
Crispy Fish is included as one of the "Chef's Specialties." This was a flavorful cod covered with a light batter and a light, piquant sauce. I have had several versions at various restaurants, with this being one of the best. The cod is one of the best types of fish served in El Paso--it is not west coast quality but I found it to be very enjoyable. Like most of the "Chef's Specialties," the dish seemed more appropriate for sharing family style than ordering as a dinner for a single person, but the flavor is just as good either way.
Hunan Chicken had an excellent assortment of vegetables. Served with white meat, vegetables, and a brown sauce (but not the Americanized sauce that is mostly composed of soy sauce), everything went well together. I liked the fact that the vegetable to chicken ratio was very high, and it has been good with tofu substituted for chicken. I probably would not rate the sauce as high as other sauces served at Moon Star, but it is still in the running for the best Hunan sauce in El Paso. One of the few low points of Moon Star is that I have not always cared much for the chicken that was served. Even though it is white meat it does not taste like the chicken I try to get at the market (I usually try to buy organic meat or as close to it as possible).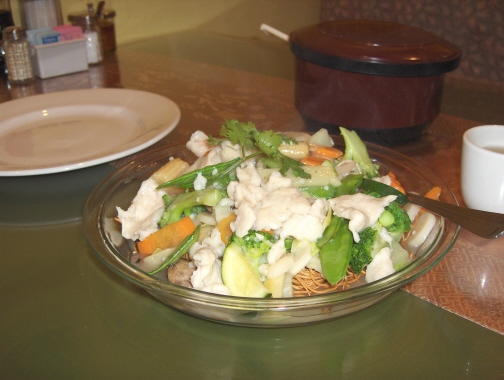 Pan fried noodles with chicken
Pan Fried Noodles with chicken has been one of the best dishes served from the menu. This is a Hong Kong style dish with light garlic sauce with chicken and vegetables, served on a bed of crispy noodles that retain their crispness around the edges while succumbing to the moisture from the sauce in the middle. This does not taste like a world class version of the dish compared to ones I have tried in other cities, but it is one of my favorite Chinese dishes in El Paso.
The Szechuan Style, another one of the "Chef's Specialties" on the menu, was quite good. Although the sauce was rather sweet, it had the complexity I would expect to find in quality Chinese food. After having eaten in Seattle I do not think the Szechuan sauce here is totally authentic, but it is not far off. Szechuan Style comes with a choice of meats or tofu--the tofu I ordered was cooked the way I like it and I thought went quite well with this dish. Although it could have used some more vegetables, the bamboo shoots and other ingredients that were included were a welcome addition to the tofu.
I would advise against the Hong Kong Style chicken on the "Chef's Specialties" unless you want the really sweet type of dish you can get across the street at Paco Wong's. This was one of the few disappointments I have had at Moon Star.
Beef is not usually my first choice of meats at Chinese restaurants, although I do enjoy a good Mongolian Beef. After sampling the dish at Moon Star, though, my search continues for a good version in El Paso.
The Barbecue Pork had a quite nice flavor, and although it was not on the origianl menu it has now been added as an appetizer.
SPECIAL DISHES
Beyond the menu items, though, Moon Star can prepare a vast array of choices that can be ordered by special request or the customer can simply have the chef make suggestions. The items prepared will probably not be found on any El Paso menu, although because of the difficulty in obtaining ingredients the variety will not be as great as in west coast restaurants.
One example in which it is best to let the chef make suggestions is with tofu dishes. While the standard ma po or family style tofu can be ordered, the best dishes I have tried have been ones in which the chef has prepared his own sauce and used Chinese vegetables. Moon Star serves very good Hong Kong style non-spicy sauces, but some of the spicy sauces are good as well (but if possible, ask the chef for suggestions).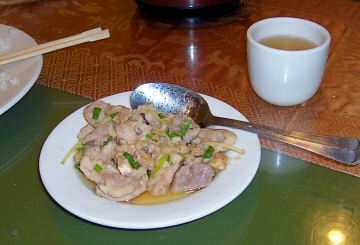 A sample of salted fish with pork
The non-menu choices change from day to day, but it is always worthwhile to ask about items that are available. Occasionally some dishes are available such as steamed chicken, Chinese barbecued meat, and salted fish with pork (shown in photo).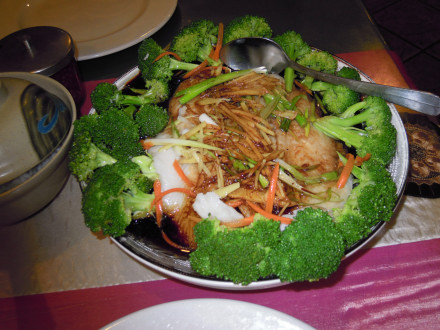 Steamed fish fillet
Steamed Fish was exceptional, and I was told that it is always (or almost always) available. The Chinese style is to serve a whole fish, but a fillet can be served for smaller orders. This is served with ginger and soy sauce in a cooking style that would be found in the best restaurants in New York or San Francisco. Sam's restaurant sometimes serves a similar steamed fish made with tilapia, but when the owner James prepared one here made with bassa it was not only more flavorful, but also tasted fresher. I would have to say that the steamed fish at Moon Star was by far the best I have tried in El Paso. My general rule is never to eat fish in El Paso if I am looking for something truly fresh and west coast quality, but this dish may cause me to reconsider.
One of the items I have enjoyed most at Moon Star has been the Soup. The menu lists the standard selections of egg drop, hot and sour, and wonton soup, but the really good ones are the "Chinese style" soups the chef sometimes prepares. These come with a light broth and various types of meat or seafood. If some Chinese vegetables are floating around that makes it even better (otherwise it will probably contain some tofu). This type of soup is not prepared nearly as much as I would like, but it might become a menu item if enough people request it (the owner points out, though, that it would be more expensive than the soups that are now listed).
Moon Star gives El Paso customers a rare opportunity to experience authentic Chinese food with items that are not available at other restaurants, and in fact have never been available in this area.
I began eating at Moon Star shortly after its opening, and I was very impressed with Michael, the original chef. Mike is now one of the owners of China Star Bistro and Red Lantern, and serves as head chef at Red Lantern. James, the head chef at Moon Star, divides his time between this restaurant and the original Sam's Restaurant downtown. When I have gone to Moon Star I have always seen James there, and the food has always been excellent. I do not know who the backup cooks are and if the food would be the same if James were not cooking, but I can say that I will plan to keep going back as long as I get food as good as it has been so far.
In my experience Moon Star has always been among the better Chinese restaurants in El Paso, and has been one of the few places where I could get authentic Cantonese and Hong Kong style food.
Go to Index
RESTAURANT DETAILS
RATING: 23
Cuisine: Chinese
Cost: $$
Hours: Open Daily
Accessible: Yes
Tea: Jasmine (bags)
MSG: No
Smoking: No Smoking
Alcohol: No
Buffet: No
Most Recent Visit
Jul. 25, 2010
Number of Visits: 10+
Best Items
Seafood Iron Pot, Steamed Fish, Crispy Fish, Fish Soup, Szechuan Tofu, Pan Fried Noodles
Special Ratings
Braised Tofu:


Buddha's Delight:


Crispy Fish:


Family Style Tofu:


Fish Soup:


Hot and Sour Soup:


Kung Pao Chicken:


Noodle Soup:


Pan Fried Noodles:


Seafood Iron Pot:


Steamed Fish:


Szechuan Tofu:


Tofu Iron Pot:


Young Ginger Chicken:


Chicken Lo Mein:


Hunan Chicken:


Hunan Tofu:


Mango Delight:


Mongolian Beef:

MORE ABOUT THIS WEB SITE