Oh! Taco Grill (Closed)
4131 N. Mesa St.
El Paso, TX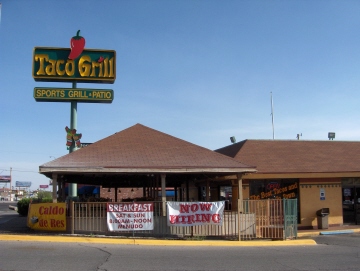 Oh! Taco Grill is sort of an authentic Mexican style fast food restaurant. You order at the counter, take your food to a table or take it out, and get your own drinks and salsa at the salsa bar. The menu is limited-- almost everything is a meat item, and most are beef.
In fact, the idea here seems to be that you are to make tacos out of anything you order. With each order you are given a package of hot tortillas wrapped in aluminum foil, and with a trip to to salsa bar the grilled meats can be made into delicious tacos.
I tried a two-piece order of Chicken-- one of the few non-beef items available. It would be easy to compare this to Pepe's-- both have the same concept of making tacos out of the meat. Compared to Pepe's, though, I thought this was better chicken. It contained a huge chicken breast, the meat was moist and delicious, and the acid test of chicken was that I even liked the dark meat (in fact, it almost tasted better than the white meat when put on a tortilla and smothered with pico de gallo). However, this chicken is not soaked in fruit juices as at Pepe's, so if you want chicken it is kind of a toss-up whether to come here or go to Pepe's.
Another non-beef item is the Chicken Adobada dish where marinated chicken is mixed with chiles and onions for a delicious and very spicy dish. Served with steaming hot corn tortillas, this is one of the better tacos you will find. Although you can experiment with adding different types of salsas for additional flavor, the flavor of the adobado really stands on its own.
Taco Tote is another Mexican "fast food" restaurants that is similar in concept and quality. Based on what I had, though, Oh! Taco Grill is just as good as Taco Tote and gives you more for your money, so if you can make it to Mesa Street just south of Executive Center Oh! Taco Grill would be recommended.
Go to Index
RESTAURANT DETAILS
RATING: 19
Cuisine: Mexican Chihuahua
Cost: $
Hours: Open Daily
Smoking: No Smoking
Most Recent Visit
Dec. 31, 2005
Number of Visits: 2
Best Items
Chicken, Chicken Adobado, Charro Beans, Tamales
Special Ratings
Chicken:


Chicken Adobado:


Charro Beans:


Rice:


Tamales:

MORE ABOUT THIS WEB SITE