Pei Wei Asian Diner
7500 N. Mesa St.
El Paso, TX
(915) 581-8540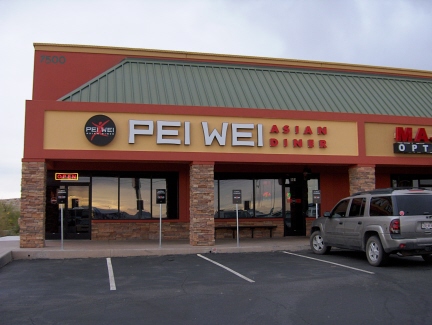 With the apparent success of P.F. Chang's in El Paso, the company thought it would be a good idea to bring in its downscale and less expensive outlet known as Pei Wei Asian Diner. The menu is abbreviated from P.F. Chang's, but more importantly the prices seem to be at a much more reasonable level for the food that is received.
While I had read on the Internet that Pei Wei might be a little bit more authentic than the Americanized P.F. Chang's, I decided to try the Dan Dan Noodles that seemed to be about the most Asian dish on the menu. While I know that the Chinese tend to use noodles as more of a staple diet than would be suggested by most Chinese menus in the U.S., I doubt that many noodle dishes in Asia are as bland as the one served at Pei Wei. The menu says it contains "chile seared garlic soy sauce, minced chicken, scallion, bean sprouts, cucumber, and egg noodles." However, I did not expect to be able to taste each of these ingredients individually. While most Chinese dishes are a skillful blend of ingredients in a complex mixture, this was more a bunch of things that were thrown together (or at least that is the way it tasted to me).
The food was fresh, with good ingredients, but in the end it seemed to be the same uninspired food that is served at P.F. Chang's.
Go to Index
RESTAURANT DETAILS
RATING: 15
Cuisine: Chinese
Cost: $$
MSG: No
Smoking: No Smoking
Most Recent Visit
Dec. 1, 2006
Number of Visits: 1
Special Ratings
Dan Dan Noodles:

MORE ABOUT THIS WEB SITE