Important Notice:
An update of this review can be found at okgourmet.com .
Ripe Eatery
910 E. Redd Rd.
El Paso, TX
(915) 584-7473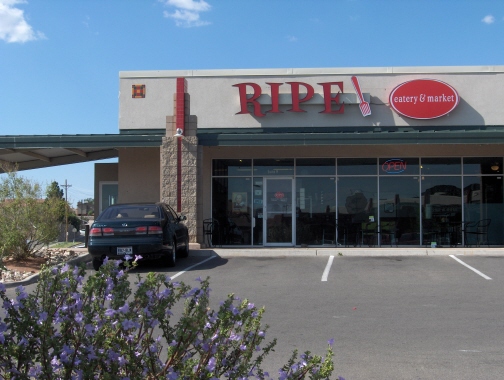 The brother and sister owners of Ripe Eatery had a dream of going into the food business, but I would say the opening of this new restaurant across from Hornedo Middle School is more the result of a smart business plan and hard work than the imaginations all of us experience nightly. Ripe is directed to a niche in the El Paso dining scene that is all but neglected--providing a la carte orders cooked in small batches made from the freshest ingredients. While some other restaurants try to fill this need, the closing of Kern Place Market has reminded me just how few of the higher quality restaurants actually exist in the city. I think people will be quite happy with the results they find at Ripe.
Ripe serves International cuisine, and I think the menu now more truly reflects the diversity found around the world than when it first opened and concentrated largely on Italian and American dishes. A green chile hamburger and other Southwest style dishes are served, but I would not say there is anything that reminds me of the typical Mexican restaurants in town. The "world" menu here is also lacking food from east Asia, but includes Mediterranean, European, and American.
One word that describes Ripe is that it is "evolving." This means that many of the items I tried on early visits, although quite good, are no longer on the menu. Other items have been added, but it is probably not very helpful to recommend individual dishes here because they are constantly changing. Instead, it is enough to say that generally everything is of good quality and flavor. Ripe has also placed a high priority on serving vegetarian dishes, and there is a greater selection now than in the past.
Ripe started out as an "Eatery and Market," but now the deli has been phased out and the original glass cases of the market are no longer there. Take home items are still available, either from the menu or the daily specials. When the emphasis is on freshness, it is to be expected that the menu will change from time to time.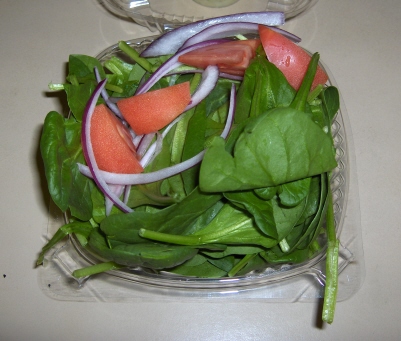 The spinach salad is fresh, and the dressing is delicious
The Spinach Salad shown in the picture is no longer served, but other salads are available. From the prices listed on the menu I am judging that they are larger than the salads that were previously served. It is apparent, though, that these are not the typical salads served in most restaurants (some of the salads available include Greek, West Texas cobb, and poached pear).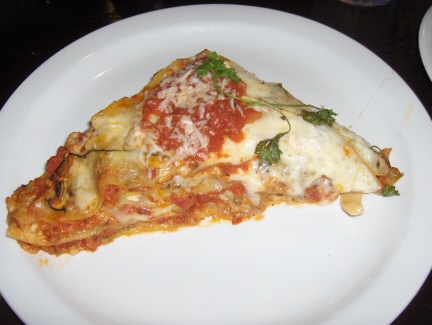 Vegetable lasagna not only has good quality ingredients, but has a good balance of flavors
Vegetable Lasagna is one of the many dishes I have tried that was not on the regular menu, and I do not think is currently served (but I am including it just in case it is available again). The one at Ripe was probably noteworthy for the cheese--not that versions at other restaurants were not good, but the one at Ripe tasted fresh with a quality of cheese that probably went even beyond what I would purchase for home use. The tomato sauce tasted fresh, and the lasagna had a good texture and temperature.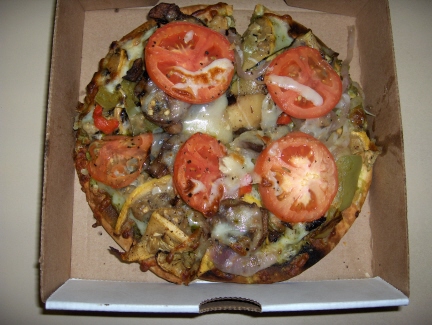 Veggie pizza is piled high with fresh vegetables
Pizza is no longer served, but it may be available sometime as a special. Most of the time pizza would be thought to be mainly a cheese dish, but the Veggie Pizza at Ripe was piled so high with fresh vegetables it really provided a greater vegetable to cheese ratio than the lasagna. This was a light, delicious pizza with a slight olive oil flavor, but mostly the vegetables were the main feature.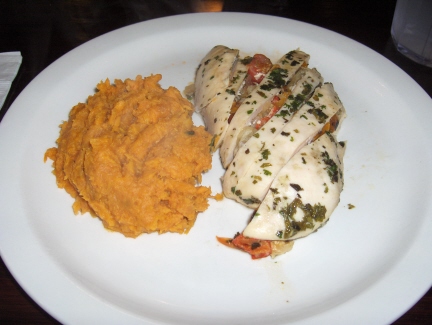 Stuffed chicken is one of the first entrees I tried
Stuffed Chicken looked quite innocuous in the display case, as if it were another ho-hum American dish. This chicken, though, wrapped around a vegetable and herb filling, not only aroused the taste buds, it aroused feelings of disappointment that I could find this type of flavor at so few other places. This was the type of chicken I remember from growing up when the supply link from the farm to the store was much shorter and mass production corporate farms were not the norm as they seem to be today. The seasoning made the chicken even more juicy and flavorful, for an overall experience that would have to be classified more as fine dining than simply "American food." So far I would have to say this has been my favorite dish (although it is not currently on the menu).
An order of two Chicken Skewers from one of the special menus was also quite good, but the amount of meat was quite small compared to the stuffed chicken and other types of chicken dishes that are served. Still, with the fresh tomatoes, pineapple, and other veggies, I thought it was quite worthwhile (and I do not mind a small quantity of chicken if the vegetables are good).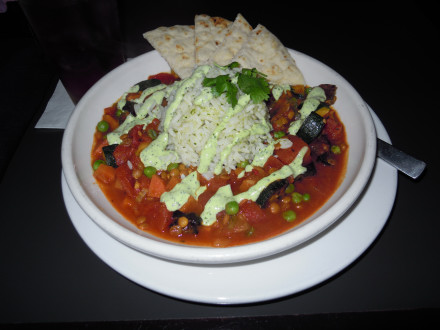 Moroccan vegetable tagine
Moroccan Vegetable Tagine is a sample of the entrees that are currently on the dinner menu (and this particular dish is also served for lunch). Co-owner Becky said this was an example of the type of food that has been recently added to the menu--representing the chef's interpretation of a traditional dish. The ingredients listed on the menu include stewed lentils, tomatoes, zucchini, eggplant, cilantro pesto rice, feta yogurt drizzle, and toasted almonds. Some ingredients not listed on the menu included carrots, peas, tomatoes, mushrooms, and pita served on the side. It was almost impossible to get all these ingredients in my mouth at the same time, but the blending of all these flavors in one dish made it a very special experience.
Ripe seems to have stopped serving vegetables as a separate side order, but the Asparagus had all the freshness and flavor I have experienced from the ones served fresh from the farm in the Midwest. Ripe uses an outstanding cooking technique that makes this vegetable just about perfect (and hopefully it will be available on specials or on the daily menu).
Couscous was a refreshing side dish with large sized semolina grains (Israeli style) and a light flavoring that made it a good choice for eating with a meal or storing in the refrigerator for a later snack. I was disappointed, though, that it was not served with the Moroccan tagine.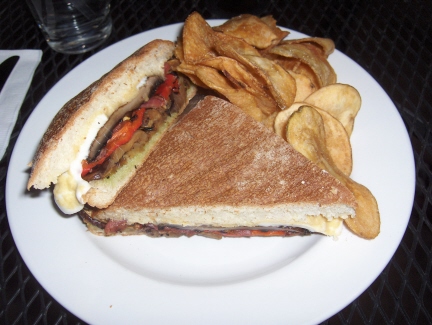 Veggie panini at Ripe
Panini sandwiches come with a variety of ingredients and excellent potato chips. The Veggie Panini that I tried made me agree that the sandwiches are one of Ripe's specialties. While many of the same vegetables were available on the pizza or lasagna, I liked the sandwich a little bit more. The current menu offers a turkey pesto or meatloaf panini, and I imagine that both are very good.
Ripe usually offers a daily dinner plate or dinner special (sometimes meant for two persons), but otherwise a meal is composed of individual items ordered separately. I usually find the dinner plates beyond my price range, and this is one of the reasons I have concentrated on the sandwiches and a la carte orders. Ripe has become one of the most expensive restaurants in El Paso if one were to order a full course meal (based on ordering the individual items separately), but I found the Moroccan tagine to be quite filling and ordered alone, made a moderately priced meal.
I would have to call Ripe upscale, as opposed to the casual atmosphere that it had when it did more business as a deli and take out business. It now has live music several nights a week, and is designed to make customers want to enjoy a relaxing (and leisurely if desired) meal. For vegetarian food it is one of the few good choices in El Paso, and for meat dishes it is one of the city's better choices. The biggest problem may be deciding which of the many cuisines served to choose. All of the ones I have tried have been outstanding.
Go to Index
Restaurant Web Site
RESTAURANT DETAILS
RATING: 23
Cuisine: International
Cost: $$$
Hours: Closed Mon. & Sun. Dinner
Accessible: Yes
Smoking: No Smoking
Alcohol: Beer, Wine
Most Recent Visit
Sep 2, 2010
Number of Visits: 10+
Best Items
Stuffed Chicken, Asparagus, Panini, Moroccan Vegetable Tagine
Special Ratings
Moroccan Vegetable Tagine:


Stuffed Chicken:


Chicken Skewers:


Vegetable Lasagna:


Veggie Panini:


Asparagus:


Green Beans:


Spinach Salad:

MORE ABOUT THIS WEB SITE