Important Notice:
An update of this review can be found at okgourmet.com .
Saigon Taste Vietnamese Cuisine
6940 N. Mesa St.
El Paso, TX
(915) 760-6026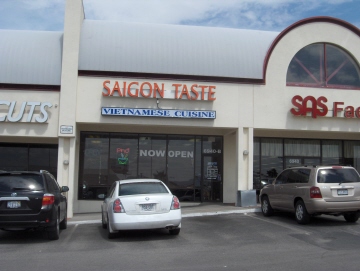 When Pho Tre Bien in east El Paso introduced the Sun City to Vietnamese cuisine, it seemed to be a perfect arrangement--the owners received a large amount of business and customers were treated to spicy, healthy food that offered an alternative to the borderland's ever present Mexican restaurants. To me the reason Pho Tre Bien has such customer loyalty is that it offers food that tastes as if it is actually from Asia, something that is largely missing from most of the large Chinese buffet restaurants.
Saigon Taste does not seem to be drastically different from Pho Tre Bien in terms of the food. Instead, it is mainly providing a more convenient alternative to those on the west side of El Paso. Opened in the summer of 2007, the menu is very much like the one at Pho Tre Bien. Much of the staff at Saigon Taste has had experience at Pho Tre Bien, and Saigon Taste follows the same strategy of serving medium priced food in a casual atmosphere.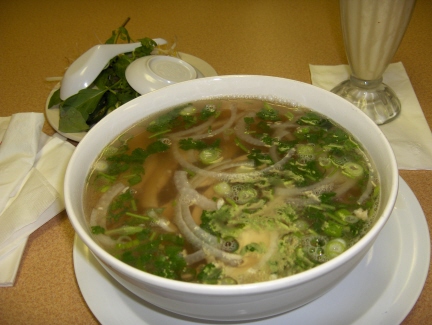 Several types of pho are available, but beef is the most popular
Pho is probably Saigon Taste's signature dish, but I was reluctant to try it because of the MSG. The truth seems to be while Pho Tre Bien says they do not use MSG, and Saigon Taste does, they both probably contain a miniscule amount. In any case I did not have any problem eating the one here, and on the contrary, I found it to be delicious and satisfying. Several types of meat are available, but one I enjoyed was Pho Tái, made with rare steak.
I would not really recommend the Pho Chay, or vegetarian pho at Saigon Taste, which I found to be somewhat flavorless, and of course not as filling as the ones with meat. It does come with the promise that there is absolutely no MSG, but there are plenty of excellent vegetarian options at Saigon Taste that can be ordered.
Anything at Saigon Taste made with noodles or prepared from scratch can be made without MSG, including both meat and vegetarian dishes. If in doubt it is best to ask, but it is primarily the meats that need to be slow cooked (and pre-prepared), as well as dishes that have pre-prepared sauces, that contain MSG. While the charbroiled chicken vermicelli noodle dishes contain MSG, the lemongrass chicken does not. Some, like the pho, contain such small amounts I would not worry about it.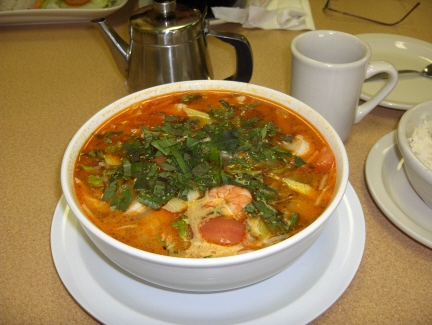 Canh Chua Saigon, or Saigon sweet and sour soup
Saigon Sweet and Sour Soup is one of the soups that can be made without MSG, and provides the complex "sweet and sour" flavor. This one was not as red in color as others I have tried, and had a rather clear broth. The tomatoes and shrimp had a good flavor, and it made a substantial meal. In this case being different from others I have tried does not make it less desirable, it merely reflects the variety that I am sure is characterized by the cuisine in Vietnam.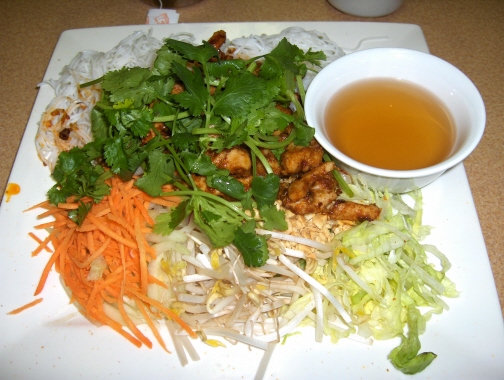 Bún Gà Xa Ot, or lemongrass chicken
One dish I have always enjoyed is Lemongrass Chicken, made with lemongrass flavored chicken on vermicelli rice noodles. The cilantro, nuts, bamboo shoots, and fish sauce are standard in Vietnamese restaurants, and were very good on this plate. I thought the quality of the chicken was very good, something that is not always the case with Asian restaurants. After having tofu as my primary "meat" for a number of years I have come to the point that chicken has to be of very good quality for me to prefer it over a bean curd dish. I know my approach is opposite from the majority of people, but from me it is an enthusiastic endorsement of the lemongrass chicken at Saigon Taste.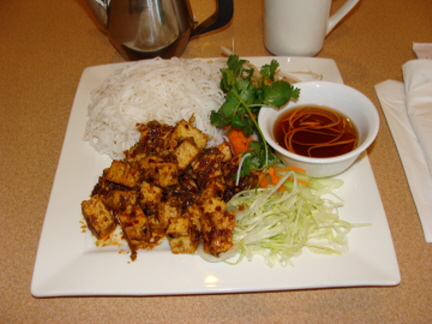 Lemongrass tofu
I have also been able to try the Lemongrass Tofu that has the main advantage of being a vegetarian meal that is actually enjoyable. It is not totally vegetarian if you pour on the fish sauce, but at least the tofu provides a non-meat alternative. While I was not quite as impressed with this dish as with the chicken version, it was still quite good, and had the advantage of being a little bit less expensive. The thing I look for in this dish is one with so many spices and vegetables that the lemongrass is just one of many that can be discerned. Saigon Taste's version did not seem to be as complex as the ones at many other restaurants, making it a little less special than it could be. Still, it was something I enjoyed quite a bit.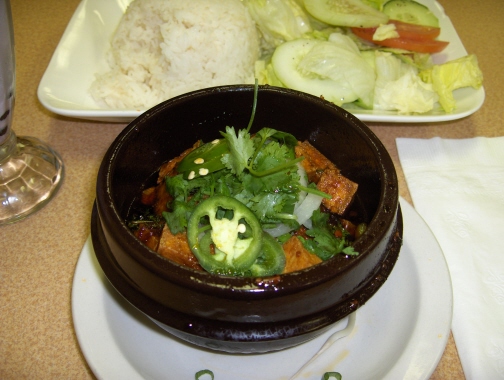 Cóm Tàu Hù Kho Tô, or clay pot tofu
The Clay Pot Tofu, another meal from the vegetarian menu, was a better demonstation to me that Saigon Taste knows what vegetarian food should be all about. The tofu was spiced with a chile and garlic sauce that I thought was so good I now prefer it to the lemongrass dishes. In fact, it was the whole presentation of the dish and the way the flavors were combined that really made it so good. The clay pot kept the tofu simmering while portions of it could be spooned over rice to eat it like a rice plate. Salad ingredients were supplied (lettuce, tomato, and cucumber) to place on top of the rice and tofu for ingredients that did not look as if they should go together, but which made an excellent Vietnamese dish. I thought the key to it was the sauce at the bottom of the clay pot that had a noticeable amount of garlic, but was very good. If you do not like spicy chile, though, other choices such as the lemongrass dishes would be better.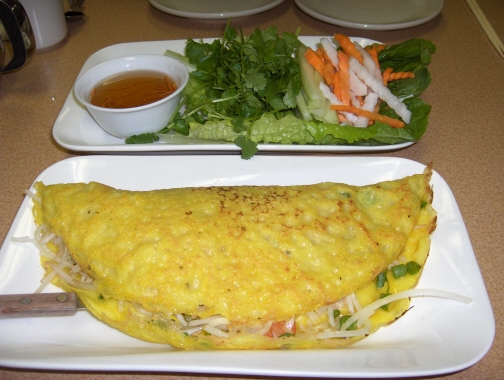 Bánh Xèo, or Saigon pancake with shrimp and pork
The Saigon Pancake was originally listed in the "Appetizer" section of the menu, but is now more appropriately listed as one of the available main dishes. This is a large omelette style pancake filled with shrimp and pork (a vegetarian version is also available) that I thought was more delicious than it looked. Bean sprouts are stuffed inside, and vegetables are served on the side, along with fish sauce. I like to add chile, but it comes unspicy unless you add it yourself.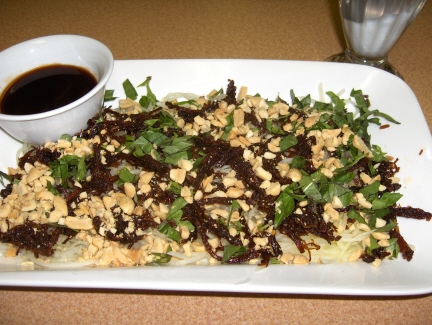 Papaya salad with dried beef
Saigon Taste also lets customers branch out to some less well known dishes, such as the Papaya Salad. This dish contains dried beef and a very sour sauce, but as with most Asian dishes, the sourness is balanced with other flavors. I am mentioning this to point out that there is much else on the menu from which to choose.
Saigon Taste has a selection of Bubble Tea that I enjoy enough to pay the somewhat inflated price for it. Only the Thai tea and jasmine tea actually contain tea, with the rest seeming to be a milk based drink. I have had a limited amount of bubble tea at Pho Tre Bien, and the one at Saigon Taste seems to be just as good if not better.
Saigon Taste started out serving the same loose leaf brewed Jasmine Tea that is prepared at Pho Tre Bien. In October 2007, though, barely two months after Saigon Taste's opening, it had already switched to commercial tea bags that made the tea a barely adequate supplement to the meal rather than an enhancement to it. In my opinion, though, the food has improved since the restaurant opened, so the tea is probably not a big issue.
Several dishes have been better at Saigon Taste than at Pho Tre Bien, but I do not think this is true across the board (I liked the Vietnamese sweet and sour soup better at Pho Tre Bien). It is good to try both restaurants if you can. The menu at both restaurants may seem a little strange and intimidating, but a good approach can be to see what other patrons order and ask for the same thing. Pictures are supplied of many of the items, and the menu provides good descriptions of the dishes.
Go to Index
RESTAURANT DETAILS
RATING: 23
Cuisine: Vietnamese
Cost: $$
Hours: Closed Mon.
Accessible: Yes
Tea: Jasmine (bags)
MSG: Yes
Smoking: No Smoking
Alcohol: No
Most Recent Visit
Feb. 14, 2010
Number of Visits: 10+
Best Items
Clay Pot Tofu, Lemongrass Chicken, Saigon Pancake, Pho
Special Ratings
Clay Pot Tofu:


Lemongrass Chicken:


Pho:


Saigon Pancake:


Lemongrass Tofu:


Saigon Sweet and Sour Soup:


Bubble Tea:

MORE ABOUT THIS WEB SITE