Salma Farah's Mediterranean
4126 N. Mesa St.
El Paso, TX
(915) 544-4404

Mediterranean cuisine is one of the few types of food other than Mexican food that I have found at good quality on a consistent basis in El Paso. Fortunately, the city gained an additional Mediterranean restaurant in 2009 with the opening of Salma Farah's Mediterranean Restaurant that not only offers its own recipes, but is competitive with some of El Paso's other restaurants in terms of quality and flavor. The main attraction of Salma Farah's (and several of the other Mediterranean restaurants) is that it serves flavorful food and tastes as if the ingredients came fresh from the market. At Salma Farah's the "fresh" flavor was even more pronounced than in some of its competitors. Probably what Salma Farah's is lacking compared to other Mediterranean restaurants is an extensive menu with a lot of choices.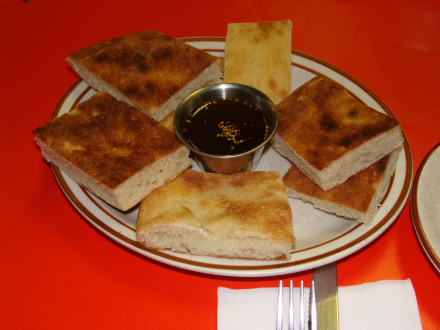 Bread served as an appetizer
One item missing from Salma Farah's is pita bread. This is not necessarily a bad thing, since most pita bread in El Paso is prepackaged and really lacking in quality in my opinion. Salma Farah's serves a type of flat bread for an appetizer, and wraps for sandwiches instead of pita. Both are good, and have the advantage of tasting fresh.
I tried to order lentil soup as an appetizer but the restaurant was out. Thus, in addition to not having many choices on the menu, I found that even some items on the menu were subject to availability.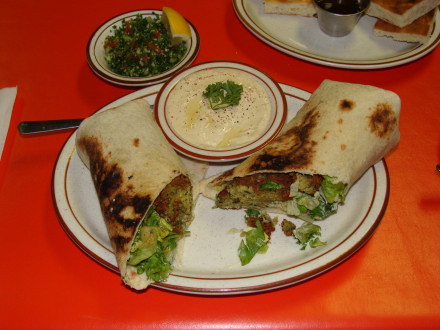 Falafel sandwich
The good news is that I was not disappointed by the items I was able to order. Falafel came as a sandwich, and was moist with a good flavor. It came as a wrap rather than a traditional sandwich made with pita, and I think this was an effort to provide a better quality bread than is traditionally served in El Paso's Mediterranean restaurants. I liked the flavor of the wrap, but even more the flavor, texture, and quality of the falafel.
The sandwich came with a small bowl of Hummus, and this was very good as well.
Tabouli is another side dish available (served at no extra charge with dinner orders) that was even more impressive than the hummus. In my notes I wrote that it was "balanced and fresh," meaning that it was very good by not having any noticeable features that detracted from it (as I usually find with different versions of tabouli). I still consider Su Casa to have my favorite tabouli in town, but the one here was quite good as well.
The Gyros was also very good, although I only tasted a small sample.
I found everything at the restaurant to be quite good, with the only negative being that I could not order everything that I normally like to try at Mediterranean restaurants. Even though I ordered a sandwich, I thought it was the same in quantity that I normally get with a falafel plate.
Salma Farah's is normally open only for lunch, but serves dinner on weekends. I am not sure of the exact hours, though, so it is best to call.
Go to Index
RESTAURANT DETAILS
RATING: 22
Cuisine: Mediterranean
Cost: $$
Hours: Lunch only (dinner on Fri. & Sat.)
Smoking: No Smoking
Most Recent Visit
Mar. 12, 2010
Number of Visits: 1
Best Items
Falafel, Tabouli
Special Ratings
Falafel:


Gyros:


Tabouli:

MORE ABOUT THIS WEB SITE