Important Notice:
An update of this review can be found at okgourmet.com .
Sam's Chinese Restaurant
1501 E. Yandell Dr.
El Paso, TX
(915) 577-0961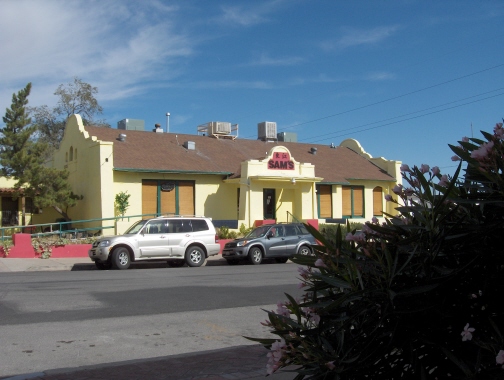 Sam's Chinese Restaurant, located on Yandell Drive just north of I-10 in central El Paso, is in an area of the city that has traditionally not been kind to upscale and non-Mexican restaurants. Sam's, however, not only has a good lunch crowd, but also seems to have a large clientele at night and on weekends. Sam's in not the typical low quality Chinese buffet restaurant found in El Paso, and particularly downtown El Paso, but serves upscale food that I have been told is fairly authentic, with the result that people seem to be making special trips to the center of town just to enjoy a meal here.
The owners and cooks not only brought California style Chinese food to El Paso, but made a deliberate attempt to renovate an old building in the central area rather than locating in a strip mall where the majority of ethnic restaurants are located. The old house on Yandell where the restaurant is located is easy to spot because of its yellow exterior. The interior has a comfortable Chinese decor that is also a nice change from the typical strip mall restaurant.
My initial visit was at night, giving me a chance to sample the somewhat upscale dinner menu. Seeing that the first item on the menu was Mango Shrimp indicated that this was not an ordinary El Paso Chinese restaurant. I modified the dish by substituting tofu for the shrimp, a change that Sam's is glad to make on just about any dish except the lunch specials. The modified version of the dish was made with soft tofu (fried tofu can be substituted), and had a delicious spicy sauce. It is likely that word of this dish alone has brought many customers to this downtown restaurant.
Shanghai Tofu (substituted for chicken) had an equally gourmet sauce, and was a further example of the type of food that sets Sam's apart from other restaurants. With just the tofu, sauce, and a garnish made from seaweed, it is not very interesting as a main course but it goes great with other dishes in a "family style" meal. Served this way it is one of my favorite things on the menu. The Shanghai Chicken is delicious as well, but for some reason I think the tofu goes better with the sauce.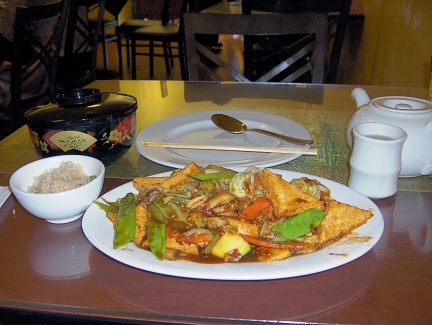 Family style bean cake
The Family Style Bean Cake can be ordered spicy according to taste, and has some of the better vegetables I have found in this dish. I recommend ordering it as spicy as you can stand, since the chile adds a necessary component to the mix of flavors. Probably to make it worthwhile ordering at all a "five out of ten" on the spiciness scale should be requested--if this is not enough there are bowls on the tables that contain the same chiles used in the kitchen. The sauce is dark and more complex than the typical soy based sauce.
Kung Pao Chicken has turned out to be my favorite item on the lunch menu, and from my experience in bigger cities the one at Sam's seems to be quite authentic. Moon Star, the more gourmet version of Sam's with the same owners, also has a good version of this dish.
The Hunan Fish has a dark sauce that I think contains far too much soy sauce and does not have the complex Chinese flavor found in some of the other dishes. This is one of my favorite lunch specials, though, for spicy Hunan style food. The main attractions of the dish are the fish and vegetables that are satisfying in their simplicity.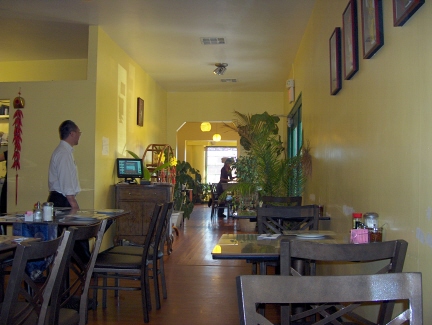 Sam's dining room is less crowded after a busy lunch hour
Lunch specials come with the soup of the day (hot and sour, egg drop, or corn soup), and are just about the best bargain in town when it comes to Chinese food. There is nothing very cutting-edge in the menu selection, particularly with the Cantonese dishes, and just about everything comes with either a brown or white sauce. For standard Chinese lunch specials, though, I think they are better here than just about anywhere in town.
Rice costs extra with dinners, but is included with lunch specials. Fried Rice is the default unless you request steamed. The fried rice at Sam's is lighter than in most U.S. restaurants, and I would say is very close to the true Chinese style.
The concept of the restaurant is rather interesting when it comes to the cuisine. The owners, James and Bob, offer several traditional and very good Cantonese style dishes. Some examples of this are the fish specials that are sometimes advertised on the "specials" board with black bean sauce, ginger, or other traditional cooking styles.
A large percentage of the menu items are spicy, though, and the chefs seem to specialize in Hunan regional cuisine, as evidenced by the Hunan fish, kung pao, and other dishes served as lunch specials. The family style bean cake is one of the best spicy versions of this dish I have tried.
I have concluded that the Hunan and Szechuan style spicy dishes are the best ones from the regular menu, but if you get an opportunity to order a special Cantonese style dish that is not on the menu these are the best examples of authentic Chinese food served at Sam's. These dishes are not always available, and they are seldom the same from day to day. It is always worth asking what is available, though, if you want this type of food. Sometimes the food being prepared for the employees' meal is available to customers, and sometimes the staff is able to pick up special vegetables or meats from the Chinese market. There is usually at least one dish available that is not listed on the menu.
Special Dishes
Some dishes not listed on the menu are available on request, but either take longer than normal to prepare or the owners thought there would not be enough demand to place them on the menu. I was anxious to illustrate some of the variety of special dishes available, since I think this is one of the main factors that puts Sam's a step above many of the city's other Chinese restaurants.
One dish that I think is always available is Pan Fried Noodles, crispy noodles topped with meat, vegetables, and sauce (it comes with a choice of chicken, beef, or seafood). I usually leave it up to the chef to determine the type of sauce to use, and this one was a dark sauce that the owners said was primarily oyster sauce. While this dish has usually been topped with white sauce in other restaurants, I have no doubt the dark sauce used at Sam's is just as authentic as the others. This dish does take longer than normal to cook, since the noodles have to be prepared a certain way. It can also be prepared to order with the type of sauce the customer wants.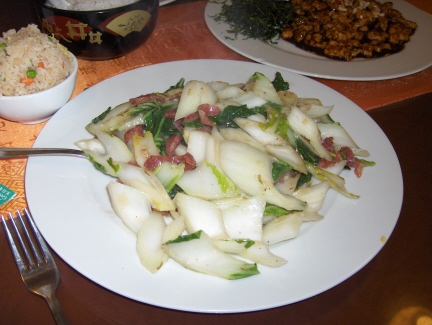 Steamed sausage and bok choy, with Shanghai tofu barely visible in the background
Steamed Bok Choy with Sausage was an excellent special dish that was only available because the staff was preparing it for their lunch. Bok choy is so variable in quality and size at the Chinese market that I do not think any El Paso restaurant can put it on their menu. When it is available, though, it makes an excellent dish with meats such as the Chinese sausage that was in the dish I tried. Good quality sausage is also difficult to obtain in El Paso, but Sam's Restaurant tries to do so as much as possible. Again, it is worth asking if they have it when you go.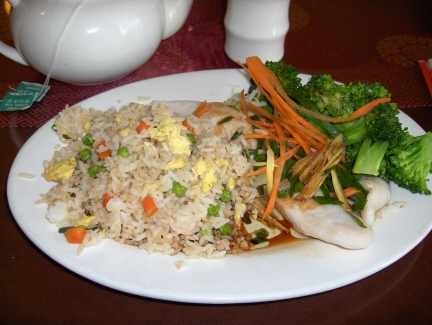 Steamed sole makes an excellent lunch or dinner
Steamed Sole served Cantonese style with ginger was an excellent special dish that I think may be available more frequently than some of the other dishes. The ginger on top and soy sauce on bottom gave the fish an excellent flavor, and I enjoyed the fish as well. In fact, this was about as good of a fish dinner as I have ever had in El Paso. The only thing I did not like was that rice was put on the same plate as the fish and it soaked up much of the sauce.
Some of the other fish, particularly ones listed on the menu, have tasted as if they were frozen and shipped into the city. I am sure the sole was frozen as well, since no El Paso restaurant to my knowledge makes the claim of having unfrozen fish except for some of the sushi restaurants. I am not really attempting to make claims about the quality of Sam's fish, only that I thought the sole was better than many of the others I have tried.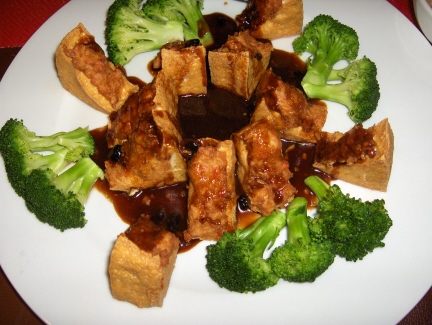 Stuffed tofu Cantonese style with shrimp balls stuffed inside the tofu
Cantonese Style Stuffed Tofu is another special dish that may or may not be available, but was available when I ordered it. This was braised tofu stuffed with shrimp balls (sometimes the shrimp is mixed with chicken) with a special sauce. I do not think broccoli is necessarily part of the traditional dish, but it added a nice touch. The special sauce was similar to the one used in the Shanghai tofu, and may in fact be the same. James, who prepared the dish for me, said he would like to have advanced notice to prepare the shrimp balls properly, but in this case he did an excellent job in about a half hour. While giving advanced notice for special orders is usually a good idea, most of the time I have been able to get a very good Cantonese style dish even if it was not what I had in mind ordering before I went in.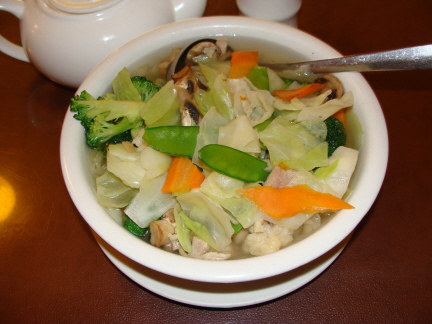 Cantonese style noodle soup
Noodle Soup is a simple dish made with chicken and vegetables, cooked in a chicken broth. When prepared in the traditional Chinese method, though, it is really anything but simple, being slow cooked and having a rich flavor of the broth that is not found in many Chinese restaurants that serve Americanized food. I will not state that Sam's Restaurant has no American style Chinese food, but when you request something cooked the traditional Chinese style (with a specialty in Cantonese or Hong Kong style food), that is the way it will be done.
I should also mention the special steamed whole chicken that has been served on special occasions such as Chinese New Year. It is definitely a good idea to order dishes like this one ahead of time, and to bring a group of friends who have a good appetite. I think the chicken used for steaming is ordered from California, and the owners seem to make quite a few special orders provided they can serve it to customers or eat it themselves.
Update 2010
Two of Sam's original owners now spend much of their time at their own restaurants (James at Moon Star on the west side and Bob at Red Lantern on the east side). While the lunch specials and menu at Sam's has not changed very much, the "special food" at Sam's is cooked mainly by these two chefs (and both are at Sam's only at limited times). I think the "special menus" and changeable boards listing special Cantonese style dishes have been discontinued at Sam's.
I ordered the Cantonese style noodle soup at a time when neither James nor Bob was there, indicating that other chefs at the restaurant can also prepare traditional Chinese food if you do not want American style food. The choices, though, seem to be more limited than in the early years soon after Sam's opened.
Regardless of which chefs are cooking at the time, though, Sam's has always been a good place to order lunch specials and other menu items. All of its dishes have a more traditional Chinese flavor, with better sauces, than at just about any other Chinese restaurant in El Paso (particularly compared to the other choices downtown). Best of all, though, various "branches" of Sam's have opened serving the same or similar food. Listed in the approximate order of my preference, these branch restaurants include Red Lantern, Mayflower, Moon Star, and China Star.
Go to Index
RESTAURANT DETAILS
RATING: 22
Cuisine: Chinese
Cost: $$
Hours: Open Daily
Accessible: Yes (Parking is on street)
Tea: Jasmine (bags)
MSG: No
Smoking: No Smoking
Most Recent Visit
Apr. 26, 2009
Number of Visits: 10+
Best Items
Shanghai Tofu, Mango Tofu, Kung Pao Chicken, Family Style Bean Cake, Special Cantonese Style Dishes
Special Ratings
Mango Tofu:


Family Style Bean Cake:


Kung Pao Tofu:


Shanghai Tofu:


Hunan Fish:


Pan Fried Noodles:

chicken
Sam's Salmon Special:

MORE ABOUT THIS WEB SITE