Sinbad Restaurant
2716 N. Mesa St.
El Paso, TX
(915) 351-1350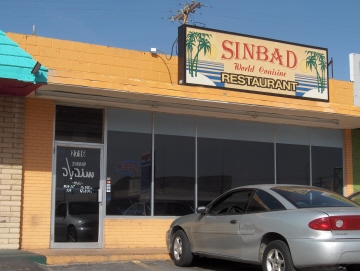 Sinbad is in the strip of restaurants along Mesa Street near UTEP that functions primarily as a college hangout. The restaurant is small, the tables are scrunched together, and I don't think this would be a very comfortable place for family dining. However, the food is somewhat better than other nearby places, and at least food-wise, a date might be favorably impressed by Sinbad.
Sinbad is not cheap, but it's a little more reasonable than other Middle Eastern restaurants in town. I have not tried a lot of items but I am able to report on a few.
The Grape Leaves with rice are probably the best I've ever had.
The Falafel was mushy but had good spices and a delicious sesame sauce covering it that pretty much outweighed the bad texture.
The Lentil Soup was excellent, but I don't like this yellow variety quite as much as the one served at the Mediterranean.
Chicken Fatoush is one of the dishes listed as "specials," meaning that it has been added since the menu was printed. The chicken fatoush contained chunks of chicken breast (mine had quite a bit of gristle and was overcooked) covered with a creamy yogurt sauce. To the side was a huge pile of rice and a cucumber salad. I don't know how this dish is supposed to taste, but I thought it followed the usual El Paso pattern of providing quantity over quality.
On my second visit I felt even more uncomfortable than on the first-- not only was the seating arrangement rather awkward, but the parking lot was almost a nightmare with cars too close together and people frequently parking in the handicapped stiped zone.
The food seems "hit or miss," and going to the "UTEP strip" is just not a very pleasant experience for me. At Sinbad, though, you do have a chance that the food will be a hit.
Go to Index
RESTAURANT DETAILS
RATING: 17
Cuisine: Middle Eastern
Cost: $$
Hours: Open Daily
Accessible: Yes
Most Recent Visit
Apr. 12, 2005
Number of Visits: 2
Best Item
Grape Leaves
Special Ratings
Lentil Soup:


Falafel:


Grape Leaves:


Chicken Fatoush:

MORE ABOUT THIS WEB SITE