Important Notice:
An update of this review can be found at okgourmet.com .
Singapore Café
4120 N. Mesa St.
El Paso, TX
(915) 533-2889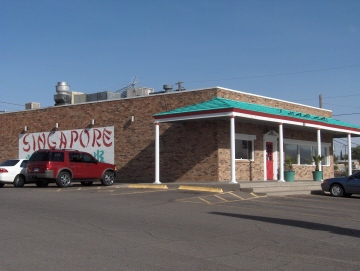 To truly enjoy Singapore Café I think customers need to place greater importance on fresh ingredients, healthy eating, and a home cooking style of food than on truly authentic Thai cooking. I call it "Thai fusion" because many of the best dishes are ones created by Becky, the owner and chef, rather than the traditional Thai dishes that are on the menu. Even the name of the restaurant implies that she borrows recipes from Singapore, Malaysia, and surrounding countries.
Singapore Café has fulfilled a great need in my life by providing vegetarian dishes at a time when that was the only type of food I was eating, preparing them with individual care and making them flavorful enough so that a meatless meal could be genuinely satisfying. I have enjoyed the food a lot more by asking for fish sauce and other normal Thai flavorings to be included that are not necessarily vegetarian, but Singapore Café has a greater variety of tofu dishes than I can find anywhere else in town. True vegetarians have always flocked to Singapore, though, knowing that any dietary request made here will be honored, and that it will be made as flavorful as possible. Becky, the owner and head chef, makes sure the food is cooked to customer's specifications.
I cannot say for sure that the food at Singapore Café is inauthentic or unlike the food that would be found in Thailand. I do know, though, that patrons are not supplied a tray of Thai style condiments as they are at many other Thai restaurants. I definitely do not taste some of the flavors here that I have found in Pacific Northwest Thai restaurants, and the menu offers quite a small selection compared to most Thai restaurants. Instead of ordering the traditional Thai dishes, though, I have found that some of Becky's creations are quite good, and in fact many of them seem to be "one of a kind." Some of the best sauces also seem to be on the Malaysian and Singapore style dishes.
Curry dishes are the ones that have been the most disappointing to me. They do not seem to have the rich and full flavors I have experienced elsewhere, and in this case I would like them to be more "authentic" (as I have experienced them in other restaurants).
The Southwest in general and El Paso in particular does not do vegetarian food very well, thus I usually think meat dishes are the best choices. Singapore Café, though, is one of the few restaurants that serves good quality tofu, but more importantly makes tofu dishes that are balanced and provide a satisfying meal. I have tried some of the meat dishes at Singapore, but most of the time I go back to the vegetarian dishes because this is one of the few places that does them really well (although I usually make sure to ask that fish sauce be added).
Over the years one of my favorite entrées at Singapore Café has been Veggie Ginger Tofu, although I would not rate it the same as many of the ginger dishes served in the Seattle area and other cities. The one here includes tofu, ginger, mushrooms, peanuts, and snow peas as the primary ingredients, set on a bed of lettuce that I only consume if the rest of the plate is not sufficiently filling. I find the dish to be sickly sweet and off balance in flavor, but still the vegetables and tofu are of good quality and this is something I do not mind ordering. It is much better with fish sauce, which does not come in the vegetarian version, but can be requested.
I have not ordered the Ginger Chicken, but I have been told that the chicken is somewhat greasy.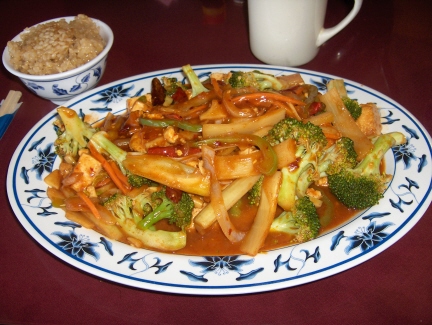 Yu sang broccoli with brown rice
Yu Sang Broccoli is generally good in its vegetarian version, but can also be ordered with meat. Becky describes this as a "Chinese ex-patriot" dish, and it probably came from the large Chinese population in Thailand that mixed their own recipes with the local ingredients. To me this is one of the few dishes at Singapore Café that does not taste too sweet or "Americanized;" rather it has a good balance of flavors. It is surprisingly spicy, though, considering the lack of spice found in many of the other dishes.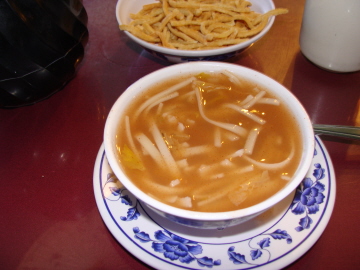 Soup served with lunch specials
Lunch specials come with a delicious, slightly tomato flavored soup that I think is better than the soups found at just about any Chinese restaurant in the city. The crispy noodles that come with it are excellent, and even if the choices for luncheon specials is limited the soup is always good. I am sure this is a big factor for the restaurant's popularity at lunch time.
The lunch menu comes with about six choices, and besides the soup includes lumpia. The lumpia, a small fried spring roll, has meat inside, and most of the menu items are meat dishes. Two of the lunch specials can be made vegetarian (pad thai and kao pad), but if you order it vegetarian they do not bring the lumpia unless you ask for it. I will admit to having ordered pad thai quite a few times not because I was craving it, but because I wanted the soup that comes with the lunch specials (and the lumpia is good also).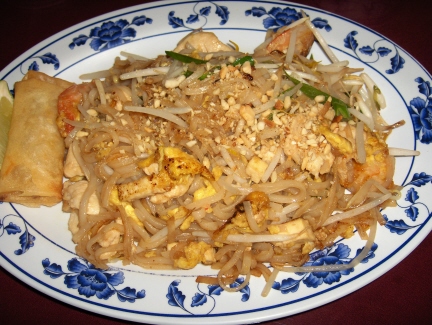 Lunch portion of pad thai
Pad Thai has been my favorite dish from the lunch menu, but I cannot say it is the best because I have not tried all the others. I do think, though, that the pad thai at Singapore Café is better than average in the universe of American Thai restaurants. This is a white to slightly brown colored dish that I was told is made with vinegar and soy sauce. The regular (non-vegetarian) version is also made with fish sauce (nam pla), and personally I think it needs the fish sauce to have the full flavor that it should. Some restaurants use tamarind sauce that turns the noodles a red color, but Becky does not (perhaps this is why I like Singapore's version better than others). Bean sprouts provide substance but not much flavor, and are traditionally included in the dish. Crushed peanuts are spread on top, and fresh limes and chiles are provided on the side for extra flavor. While many dishes at Singapore Café seem to be too sweet, the pad thai is not. Scrambled eggs are mixed in, and it is topped off with shrimp and chicken. I think the shrimp is better quality than the chicken, as I have not been impressed with the chicken at Singapore except in some of the soups and Becky's special dishes. I prefer ordering it with tofu instead of the chicken and shrimp, since Singapore serves better than average tofu.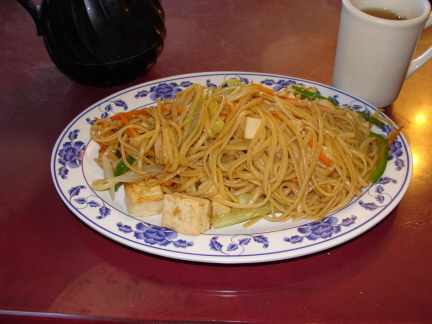 Mi goreng
Another good vegetarian choice (but not a lunch special) is the Veggie Mi Goreng, consisting of noodles with tofu and vegetables. I think this is usually considered to be a Malaysian dish, and over the years has been one of my favorites at Singapore Café. It is not one of the dishes that taste "sweet," although it seems to have a sweet and sour contrast done in a traditional Asian way.
Several soups are served as entrées, but many of them are not as satisfying to me as at other Thai restaurants. The Tom Kha Gai (with coconut), however, has frequently been better than at many other places.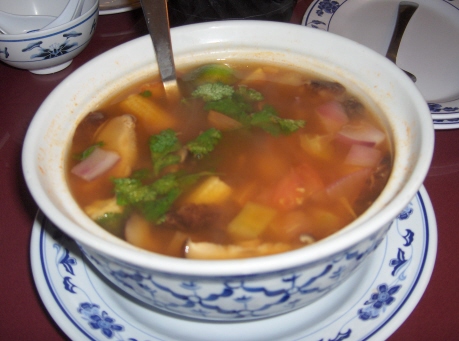 Tom yum is a spicy soup with lemongrass
Tom Yum is a spicy soup with pineapple and tomato, flavored with lemongrass. This is similar to Vietnamese style sweet and sour soup, but is rather different from the versions of tom yum I have found at other Thai restaurants. I liked the chicken version better than the one with shrimp, even though the opposite is true with most dishes.
Some of the best dishes at Singapore have been specials that are not always available including Mango Tofu that may not be great when compared to Thai food available in other cities, but is one of the more delicious and healthy dishes available in El Paso. This is an example of the food at Singapore that may not be the best that can be found anywhere, but is certainly enjoyable (or at least I have found it to be so).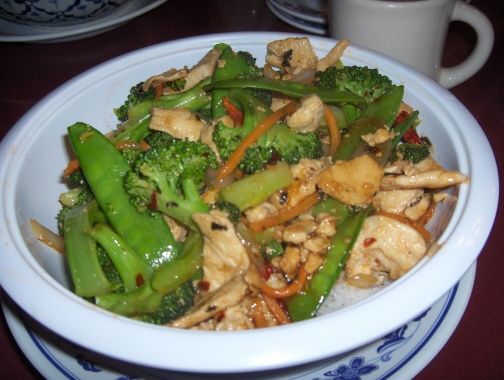 Green Tea Chicken at Singapore
The Green Tea Chicken started out as a special but was added to the menu in 2005. This is a spicy dish served in a bowl on top of rice with broccoli and other vegetables. When Becky served it as a special I liked it so much I made it a point to tell her, and perhaps this was one of the reasons it was added to the menu. I still think it is probably the single best dish served at Singapore. There is also a tofu version but I think the chicken has a better flavor.
One of Singapore's main claims to fame (and to my heart) is that it is one of the few vegetarian friendly restaurants in El Paso, and offers dishes that actually have some flavor at times when I do not want to eat meat. It is also noteworthy for the specials and other dishes that are not served in any other restaurant. Most of my favorite dishes at Singapore Café are Malaysian rather than Thai, but calling the restaurant "Thai fusion" probably works as well as any description I can think of. In any case, I know I can call it "delicious."
Go to Index
RESTAURANT DETAILS
RATING: 20
Cuisine: Thai Fusion (Thai, Malaysian, and Asian)
Cost: $$
Hours: Mon.-Sat. 11 a.m. to 9 p.m.
Accessible: Yes
Tea: Jasmine (brewed)
MSG: No
Smoking: No Smoking
Alcohol: No
Most Recent Visit
May 11, 2009
Number of Visits: 10+
Best Items
Green Tea Chicken, Pad Thai, Mi Goreng, Tom Kha Gai, Soup served at lunch
Special Ratings
Green Tea Chicken:


Green Tea Tofu:


Pad Thai:


Tom Kha Gai:


Tom Yum Gai:


Tom Yum Gung:


Yu Sang Broccoli:


Mi Goreng:


Ginger Tofu:


Ginger Chicken:


Soup served with lunch specials:


Lumpia:


Thai Tea:

MORE ABOUT THIS WEB SITE