Sushi Place
2604 N. Mesa St.
El Paso, TX
(915) 838-8088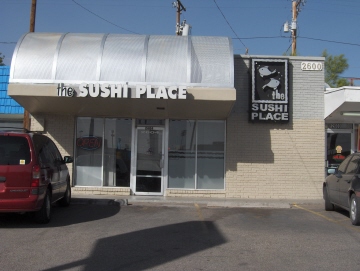 The Sushi Place is part of a somewhat unexplainable trend around El Paso-- Mexican style sushi restaurants. These restaurants have Mexican sushi chefs, and serve a style of sushi that seems to be popular in Ciudad Juarez, where most of these restaurants originated.
The main dishes here are California rolls and other specialty rolls-- something I never ate in Seattle except as appetizers. Since it is difficult to obtain sushi grade fish in El Paso, it probably makes sense to concentrate on this type of food. I have had some pretty bad experiences at some other restaurants, but The Sushi Place may be the best of what I consider to be a mediocre class of sushi restaurants.
One thing that makes The Sushi Place better than its competition is the quality of fish used. A Rainbow Roll gave me an introduction to several types of fish-- the best by far was the salmon, and in fact I would almost classify it as "good sushi" (but not quite). The flavor was good, but in Seattle the flavor of the sushi almost explodes in your mouth, and such is not the case here. Another characteristic of Seattle sushi is that it seems to invigorate your brain, making it an ideal food while attending school, but I have yet to experience this type of sushi in El Paso.
If The Sushi Place were not so expensive I would recommend it, but I think for the same amount of money there are better food options.
Go to Index
Restaurant Web Site
RESTAURANT DETAILS
RATING: 16
Cuisine: Japanese
Cost: $$$
Hours: Closed Sun.
Accessible: No Handicapped Parking
Tea: Green
MSG: No
Smoking: No Smoking
Most Recent Visit
Apr. 18, 2005
Number of Visits: 1
Best Item
Sushi
Special Ratings
Sushi:

Salmon
Sushi:

Tuna
MORE ABOUT THIS WEB SITE