Tara Thai Restaurant
2606 N. Mesa St.
El Paso, TX
(915) 533-1300

By the time of this writing most people know that Tara Thai has been open near UTEP for a while, taking over the space where Golden Buddha used to be. This is not El Paso's first Thai restaurant, but it seems to be the most authentic out of the ones I have tried. The now closed True Thai on Fred Wilson had good curries and soups, but I did not find the full selection of items that I thought made a Thai restaurant that could be satisfying on multiple and frequent visits. Other restaurants have had similar problems that left me somewhat dissatisfied with El Paso's Thai food.

One thing Tara Thai has accomplished is serving food with a real Thai taste (and this has not always been the case in El Paso). I make this statement comparing the Thai food I have tried in a number of cities. I think Thai food, like American food, leaves a lot of room for individual cooking styles and interpretations of the traditional cuisine. When I can taste so many spices and flavorings, though, I believe I have found the "real deal," as at Tara Thai.

Another important element of Tara Thai is high quality ingredients, and this again has not always been the case in El Paso Thai restaurants. Tara Thai charges high prices to give customers the best meat and vegetables, but it also takes time to make the sauces the right way. I certainly do not complain about the prices when the food is worth it, but I do think that Tara Thai is more of a special occasion restaurant than one that I could afford every day (although the lunch menu is only slightly more expensive than many nearby restaurants).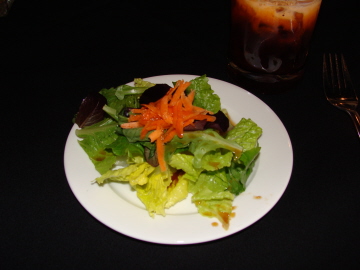 Lunch salad
A complementary Lunch Salad is an extra benefit of going at noon time. The greens were very good and the dressing goes very well with Asian food.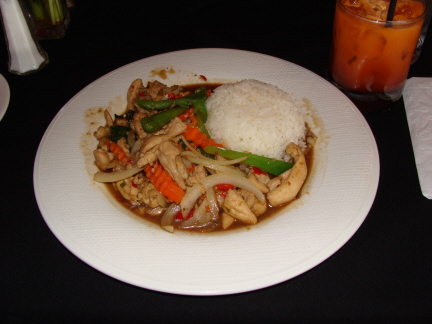 Spicy basil from the lunch menu
The Spicy Basil I ordered at lunch was so good I may be tempted to keep ordering it on return visits. The menu item is made with chicken, chili, garlic, onion, bell pepper, carrots, and sweet basil leaves. The menu states that tofu is available for substitution, although I think some of the lunch items may not be very good as vegetarian dishes. There are several interesting items on the lunch menu, and it seems to have more of the traditional Thai dishes than on the dinner menu, so I think this is a good and affordable way to try the food at Tara Thai.
When a restaurant has Thai cooks (as Tara Thai does) I usually do not specify how spicy I want the food, but I let the cook blend it so it will be balanced with the flavors and ingredients used in the individual dish. In the case of the spicy basil this turned out to be quite spicy, and this was a pleasant surprise compared to some of the area's other Thai restaurants that seem to make everything milder than I would expect. I enjoyed the way it was prepared (and relied on the iced Thai tea for relief), but I also would have enjoyed it one or two levels less spicy.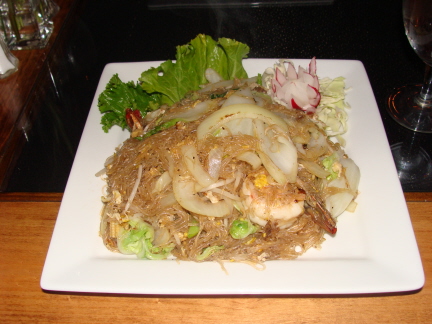 Pad woon sen
In addition to the regular dinner menu, there were several items that were either new (and had not yet been added to the printed menu) or were specials. Thus the dinner menu is not entirely made up of "chef's creations" (as I tend to call dishes that I do not see at other restaurants). The main point of the dinner menu, though, is that customers can order items that they may not find anywhere else.
A order I made on the "traditional" side, though, was Pad Woon Sen, a noodle dish with shrimp. I did not find this as notable as the other dishes I tried in the sense that this could be classified as a unique dish not served anywhere else. It was good, though, and sometimes Thai noodles are exactly what satisfies my craving.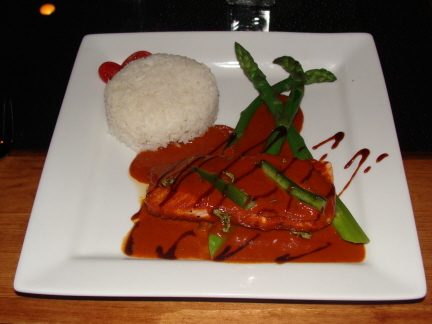 Salmon with chuchee sauce
Salmon with Chuchee Sauce was something, though, that really turned out to be better than I expected. The salmon was good quality (although I do not know what kind of salmon was served). The chuchee sauce made this one of the best salmon dishes in El Paso, with a complex flavor worthy of a good Thai dish (actually I had not tried a salmon dish at a Thai restaurant before, even in Seattle). In fact, ordering salmon in the desert Southwest can be a frustrating and disappointing experience, but I did not feel this way with the salmon at Tara Thai.
Thai food, like American food, runs from simple noodles and everyday dishes to the fine dining experience available at Tara Thai. The good thing about Tara Thai is that even when more traditional everyday dishes are ordered, I feel that the same care is taken to prepare complex sauces and seasonings. Tara Thai does not have an extensive menu compared to other restaurants, but I feel that the items offered are the ones they have perfected (and, of course, will still taste good given the constraints of serving Thai ingredients in the desert Southwest).
Tara Thai shares a parking lot with the Rib Hut next door, and this sometimes makes finding a parking space, and especially an accessible space, somewhat difficult. I think the owner of Tara Thai is not able to change the parking situation, but this could be a factor if you come at a busy time.
The restaurant, though, is apparently able to handle customers even when the restaurant is full (as it has been when I have gone). With the quality of the food served and the lack of alternatives for similar food, I do not see how it could not be full most of the time.
Go to Index
RESTAURANT DETAILS
RATING: 23
Cuisine: Thai
Cost: $$$
Hours: Open Daily
Accessible: No (no marked handicapped parking)
Tea: Thai tea
MSG: No
Smoking: No Smoking
Alcohol: Beer and wine
Buffet: No
Most Recent Visit
Apr. 14, 2010
Number of Visits: 2
Best Items
Salmon Chuchee, Spicy Basil
Special Ratings
Salmon Chuchee:


Spicy Basil:


Pad Woon Sen:


Thai Tea:

MORE ABOUT THIS WEB SITE