Tony's Deli (Closed)
8500 Dyer St.
El Paso, TX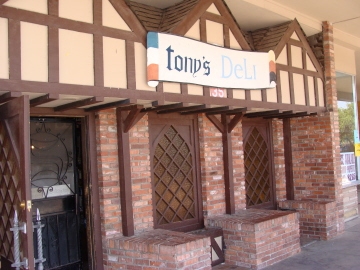 If I had to make a criticism of Tony's Deli it would be that it needs to advertise more, and let people know that a true gem exists in northeast El Paso. When I first came to El Paso one of my favorite places to go for lunch was Smit's in Sunrise Center, famous for grilling bratwurst sandwiches in front of the store on the sidewalk on Saturdays. Tony was a long time employee and friend of the family who took over when Smit's closed, and has continued the tradition ever since. The bratwurst is no longer cooked outside on a grill, but otherwise things are pretty much exactly as they were when the restaurant was known as Smit's.
There is an extensive sandwich menu, and I have found that good sandwiches are becoming hard to find. Although I think Tony's Deli (and Smit's beforehand) should be recognized for its bratwurst, it is important to point out that this is not all it serves. Tony's is not open for dinner, but for lunch it pretty well has things covered.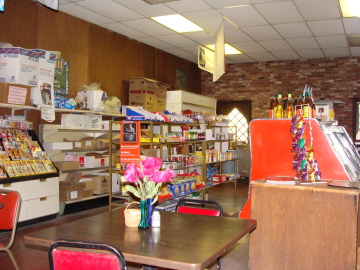 Tony's Deli sells German grocery products, candy, and other items
The German deli and market has been operating since Smit's Deli opened in the early days of Sunrise Center, and Tony's still carries a wide variety of products. For me, German cookies are a tradition at Christmas, but they are great the rest of the year also. Tony's carries German mustard and other food products, as well as all types of candy and sweets.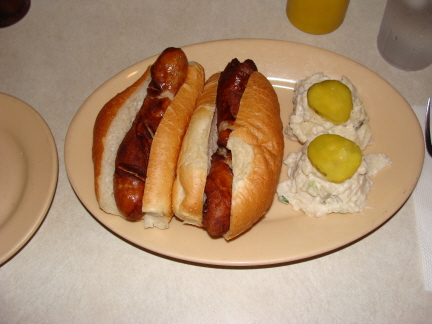 Tony's Deli sells the same famous bratwurst that was served at Smit's
When I say that Tony's claim to fame is its Bratwurst, this would not be considered an overstatement by those who remember Smit's Deli. Smit's bought bratwurst made in Alamogordo, New Mexico, and cooked it outside on a grill on Saturdays, giving me one of my strongest favorable memories of my early days in El Paso. Tony's cooks the same bratwurst, made by the same family, except it is now made in El Paso instead of Alamogordo. The bratwurst is cooked in the kitchen, but it tastes the same as when Smit's grilled it outdoors. I have been to many German restaurants around the country, but I have yet to find any bratwurst as good as this one (and it is rare that I can make this claim about something from El Paso). I highly recommend trying this, even though I know Tony's has many other types of sandwiches.
Go to Index
RESTAURANT DETAILS
RATING: 22
Cuisine: German, Sandwiches
Cost: $
Hours: Lunch only
Accessible: Yes
Smoking: No Smoking
Most Recent Visit
May 18, 2009
Number of Visits: 1
Best Item
Bratwurst
Special Ratings
Bratwurst:

MORE ABOUT THIS WEB SITE