Important Notice:
An update of this review can be found at okgourmet.com .
Toro Burger Bar
2609 N. Mesa St.
El Paso, TX
(915) 533-4576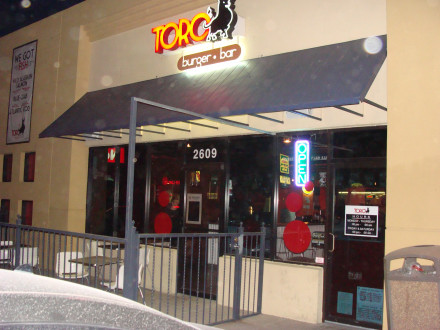 Toro Burger Bar is part of what seems to be a growing trend in El Paso of providing higher quality, healthier, and better tasting food than has been served up to this point. I probably would not argue that hamburgers are the healthiest diet that can be found, but Toro's selection of Angus beef, Wagyu beef, veggie burger, and alternative meats such as turkey, chicken, and salmon offer some of the healthiest choices available. Soups and salads are also served, as well as fries that are light on the grease and the calories.
The food I sampled was mixed as far as how I judged the flavor, but the quality was uniformly good. The price was just a little higher than I would expect from one of the "greasy" hamburger restaurants, and I thought Toro was quite a good bargain.
My take home menu did not have drinks listed, and I remember the drinks being a little higher than in other restaurants. Toro also offers many choices of toppings and extra features that can raise the price. I judged everything I ordered, though, to be worth the price.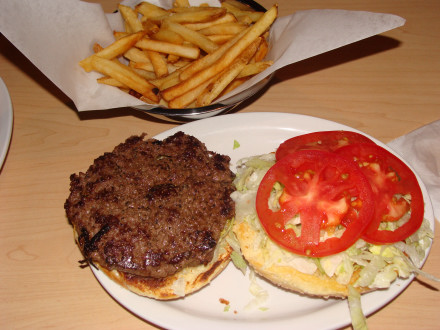 American Kobe burger with regular fries
Most of the hamburgers are made with Angus beef, supposedly of higher than average quality (although I did not try it). The burger I did try was slightly more expensive (currently selling for $10) called "American Kobe," and made with "Snake River Farm American Wagyu beef" (American beef is labeled as Wagyu rather than the Japanese Kobe beef). In terms of flavor this was probably the best I have ever had. I have had other Wagyu beef that tasted little different from other good quality beef, but the one at Toro had a deep, rich flavor that left no doubt that this was a special hamburger. In fact, it tasted more like a steakburger with just enough fat to give some flavor. It is my understanding that Wagyu beef has strict standards that would classify it as organic, and the one at Toro certainly tasted like it was the highest quality beef available.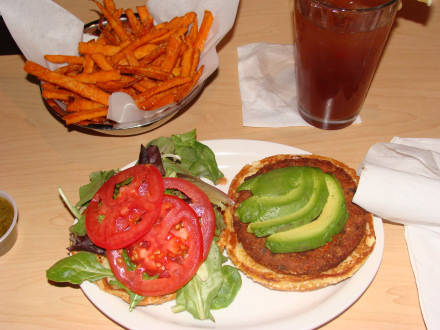 Veggie burger with sweet potato fries
I actually eat more veggie burgers than regular burgers, so I have had a good sample of the meatless patties in various restaurants. The one at Toro was fresh, but did not have as good of a flavor as at Jaxon's (my favorite in El Paso). Still, I thought the one at Toro was better than average. I probably would have preferred more black beans and other ingredients to give it a sharper flavor.
Toro is supposed to be famous for its Sweet Potato Fries, and they were also very good. I will not try to claim that the fries at Toro taste as good as the traditional greasy ones served at most restaurants, but I do like the fact that Toro's seem to be more healthy. I thought the sweet potatoes had a good texture and were a good change from the traditional potatoes.
One feature that is evident from the pictures is how red and ripe the tomatoes are, with high quality ingredients used even in the sandwich toppings. The avocado and greens used with the veggie were also quite a nice feature.
Go to Index
RESTAURANT DETAILS
RATING: 23
Cuisine: Hamburgers
Cost: $$
Additional Locations: 1700 N. Zaragoza Rd., 6590 Montana Ave.
Accessible: Yes
Smoking: No Smoking
Most Recent Visit
Apr. 29, 2010
Number of Visits: 1
Best Item
Kobe Burger
Special Ratings
Kobe Burger:


Veggie Burger:


Sweet Potato Fries:

MORE ABOUT THIS WEB SITE