Important Notice:
An update of this review can be found at okgourmet.com .
Trattoria Bella Sera
9449 Montana Ave.
El Paso, TX
(915) 598-7948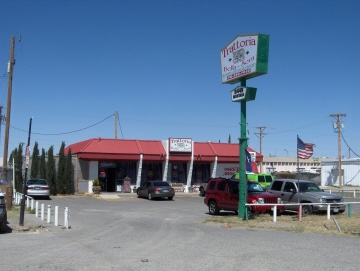 Trattoria Bella Sera opened its doors in 2007, occupying the space of the former Savino's Restaurant, which I understand has now moved to Las Cruces. The building, located on Montana Avenue (U.S. 62) just west of McRae, was never the most elegant setting for a restaurant. The way Bella Sera has been furnished, though, I think is a big improvement over Savino's rather plain decor.
Trattoria Bella Sera's web site explains just about everything we need to know about the restaurant. The owner, Giuliana Leardini came from Verona, Italy and opened the restaurant to serve recipes that have been passed down from generation to generation. I understand that before opening the restaurant she had quite a bit of experience preparing food, so that this new venture is the culmination of not only the best recipes but years of practice preparing them.
"Trattoria" means home made, and I think the food at the restaurant reflects the name. I thought it tasted about as close to home made Italian cooking as one could ever expect in the United States. Unlike my experience with Mexican food, I have not been to the home country where Italian food is produced, so I have to go by what tastes good and fresh as opposed to what is "authentic." If others informed me that Trattoria Bella Sera was authentic, though, I would certainly believe it.
Dinners start with a soup or salad included in the price of the entree. The fresh green Salad I ordered was quite good and was definitely a step above the ones made at some other restaurants that are primarily iceberg lettuce. Bella Sera also has more expensive salads that can be purchased, but I found nothing wrong with the one they give you free.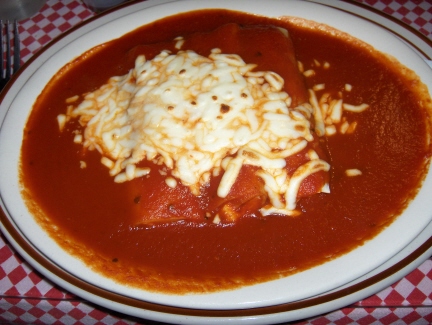 Manicotti at Trattoria Bella Sera
Many of the meat items will raise the cost of the meal into my next price category, but this is one place where vegetarians can have an excellent meal and save money as well. One example is the Manicotti that came with three pasta tubes filled with ricotta cheese and topped with mozzarella and red sauce (I hope I described it correctly since this came directly from the menu). What the menu does not describe is that this was a totally fresh ricotta cheese that certainly tasted home made, and made this one of the best manicotti dishes I have eaten. The red sauce was even more impressive, having a flavor I had previously experienced only on the east and west coast (although a couple of restaurants in Oklahoma come close). The chef's background from Italy was certainly evident here. If you think "red sauce" Italian restaurants have gotten somewhat of a bad name in the United States, Trattoria Bella Sera will go a long way to change that image.
Of course, this dish as well as many other meatless ones are made with cheese, so are not vegetarian as defined by some. I do not know if Bella Sera has any truly vegetarian dishes other than some of the salads, but the chef does some pretty good things with cheese at a level that I think few other Italian restaurants match. I would definitely suggest giving it a try.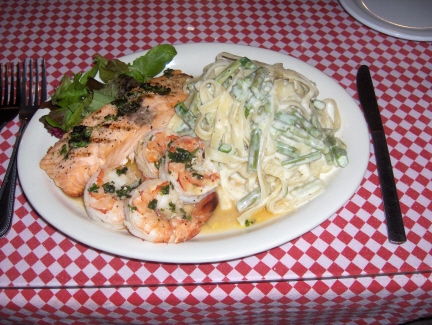 Salmon and Shrimp Special
The restaurant offers daily specials that I think are repeated frequently. One was a Salmon and Shrimp plate that I sampled. Salmon is normally my favorite seafood but in El Paso shrimp is usually better, as it was here. Neither the shrimp nor the salmon particularly impressed me so that I would choose them over other dishes, but they were both about as fresh as can be found in the desert Southwest. Outside of eating it in Galveston I just have never been a really big fan of shrimp.
To me the best part of the plate was the Fettucini Primavera made with alfredo sauce and fresh asparagus (the fettucini on the menu has different vegetables than the one served as a side dish on the special). As good as the vegetables were, I thought the sauce was the main factor that made the pasta stand out from others I have tried. Alfredo sauce is usually my biggest disappointment at Italian restaurants, but I would not hesitate to order it as a dinner at Trattoria Bella Sera.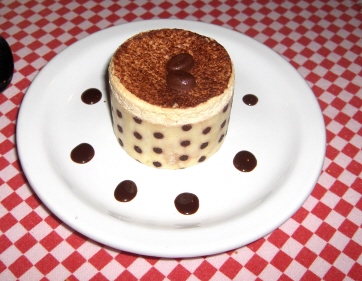 One of the many desserts at Trattoria Bella Sera
Quite a few desserts are offered, and I suspect they are all good. The restaurant has an espresso machine and offers various kinds of Italian style drinks.
I got an e-mail from a reader named David who said Trattoria Bella Sera is "Italian food the whole family can enjoy and afford." I have to agree completely with this statement. The restaurant is casual enough to take the family and it will not break the bank.
Go to Index
Restaurant Web Site
RESTAURANT DETAILS
RATING: 24
Cuisine: Italian
Cost: $$
Hours: Open Daily
Accessible: Yes
Smoking: No Smoking
Alcohol: Wine
Most Recent Visit
Nov. 13, 2007
Number of Visits: 1
Best Items
Manicotti, Fettuccine Primavera
Special Ratings
Manicotti:


Salmon:


Fettuccine Primavera:


Salad:

MORE ABOUT THIS WEB SITE