Important Notice:
An update of this review can be found at okgourmet.com .
Villa del Mar
7988 Gateway East
El Paso, TX
(915) 591-1446

For years Villa del Mar has been a popular destination in Ciudad Juárez, Mexico for locals and people crossing the border from El Paso. Known for its "Boquilla bass" (fresh water bass caught from the Boquilla Lake in Mexico) and other seafood items such as shrimp and oysters, it has always been fresher and better prepared than just about any seafood place in the borderland.

Villa del Mar is actually one of my long time favorite restaurants, even though I only ate at the El Paso location for the first time in 2005 (it is located on the frontage road to I-10--take the Yarbrough exit on the east side of town). The original Boquilla bass is long gone, I think both in El Paso and in Juárez. I have heard that the lake is now contaminated, but I don't know the full story.

I am impressed, though, that Villa del Mar continues to look for sources of fresh tasting fish, and there are not only more choices available now, but they seem to be better. Just as in the early days when Villa del Mar found good sources of fish that most other restaurants did not serve, I also think the same is true today.

Villa del Mar used to serve whole fish using both bass (that I think was farm raised) and snapper. I am not sure what they serve now, but the menu lists several styles of whole mojarra fish, which Wikipedia explains as several types of shallow water fish including tilapia.

I don't know... after a meal I had in Matamoros, Mexico on the Gulf coast I don't think anything in the desert could ever come close to that experience. However, I do enjoy the fillets at Villa del Mar. On my initial visit I was told they were made with white fish from the Gulf of California, traditionally the best source for fresh fish in western Mexico and El Paso. On my most recent visit I was told they use tilapia (which may be the same thing). In any case, though, the concept of the food here seems to be that they will use whatever is the freshest.

I speculate that the main difference between the "old" Villa del Mar (in which I ate numerous times in Mexico), and the "new" one (operating today in both El Paso and Ciudad Juárez), is that the fillet is now their highest quality fish rather than the whole fish. This was indicated to me by the waiter, who recommended the fillet, but I am sure it is best to ask any time you go. I know I certainly had good results ordering the fillet.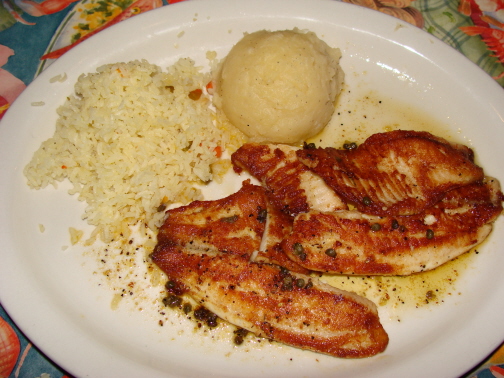 Lemon pepper fillet
The Lemon Pepper Fillet had a great breading that brought out the flavor of the fish, and was very well prepared. It came in a large serving that was very satisfying, but not expensive compared to other restaurants.
The Filete Veracruzano has traditionally been one of my favorites that I order at different restaurants. Many times the topping covers up the taste of a less than premium fish. Here, though, the fish not only tasted fresh, but the tomato, celery, and olive topping was one of the best, if not the best, I have had in El Paso.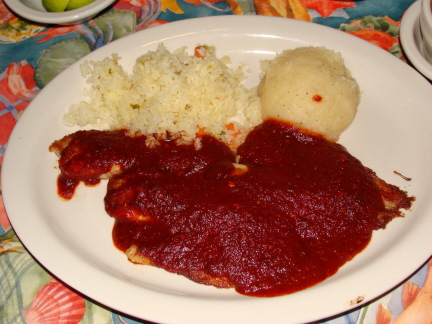 Filete diabla
At other restaurants I have enjoyed the Filete Diabla with a spicy chipotle sauce, but I found the one here to be a bit overwhelming in the spiciness.
The mashed potatoes that come with the fillet are excellent, and the rice is just there (nothing special).
A salad comes with dinners, and it is hard to complain about anything that is free. I did enjoy it, though, especially because of the dressing.
The Fish Soup was outstanding, though, and was also free with the dinner.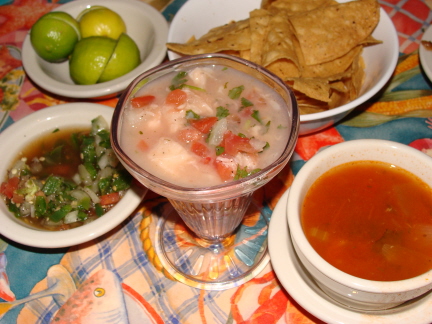 Small fish ceviche with fish soup
I tried the Fish Ceviche as an appetizer. This had good fish, but I did not think the ceviche came off quite as well as others I have tried. I recommend the half order as an appetizer, but for a meal I would go with the fish or shrimp dinners rather than a full order of ceviche.
My only real complaint has been that the green olives were too skimpy on the veracruzano dish. In other respects, though, I felt that they were more than generous in the quantities of food that were served.
El Paso has some very expensive seafood restaurants that I haven't tried, but for traditional Mexican fish, Villa del Mar is easily the best in El Paso (and I suspect, in Juárez also).
Go to Index
RESTAURANT DETAILS
RATING: 23
Cuisine: Mexican Seafood
Cost: $$
Hours: Open Daily
Accessible: Yes
Smoking: No Smoking
Alcohol: Beer
| | |
| --- | --- |
| Chile Index: | |
Most Recent Visit
Feb. 1, 2010
Number of Visits: 2
Best Items
Fish Fillet, Fish Soup
Special Ratings
Lemon Pepper Fillet:


Filete Veracruzano:


Filete Diabla:


Fish Ceviche:


Fish Soup:


Salad:


Chips:


Pico de Gallo:

MORE ABOUT THIS WEB SITE