Yamato Japanese Restaurant
2500 N. Mesa St.
El Paso, TX
(915) 351-2415
11
Japanese
Cost: $$
Tea: Green (brewed)
MSG: No
Hours: Closed Sun.
Smoking: No Smoking
Best Item: Miso Soup
Sushi: Tuna

Miso Soup: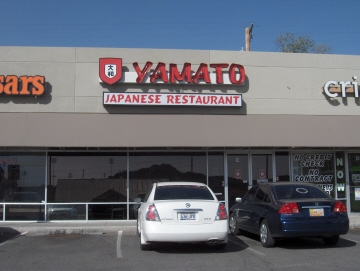 Good Japanese food, such as is served on the west coast, is some of the best food in the world. I was excited when I saw Yamato's menu, since it is one of the few restaurants in El Paso that approaches the range of items served in cities such as Seattle.

As has been the case often before, though, the reality did not live up to the expectation. There are a number of combo plates, most of which offer the opportunity to sample sushi and at least one other item. I had miso soup (good) and Vegetables Teppanyaki (uninteresting).

When I tried the Tuna Roll, though, the food went downhill. The tuna really had no flavor as you normally find in sushi. The fish's color made me think I might get sick from eating it, but such was not the case. Having eaten the "good stuff," I am just not satisfied with what is served here.

I am trying to support other types of ethnic foods besides Mexican, but they really need to give us something worth going to, and this is not it.